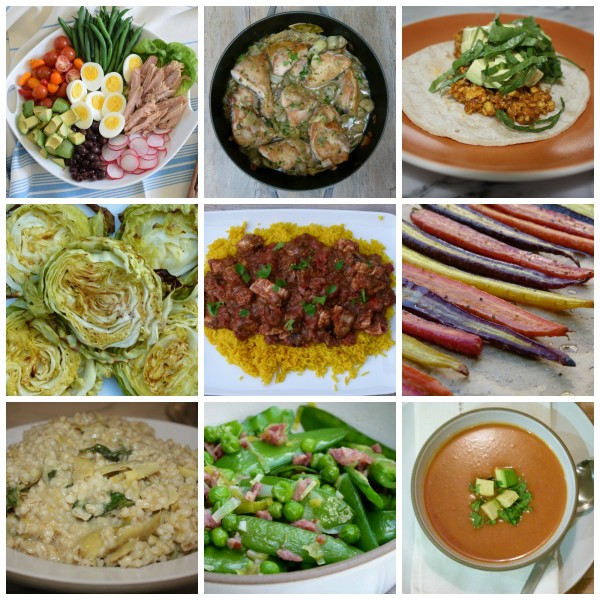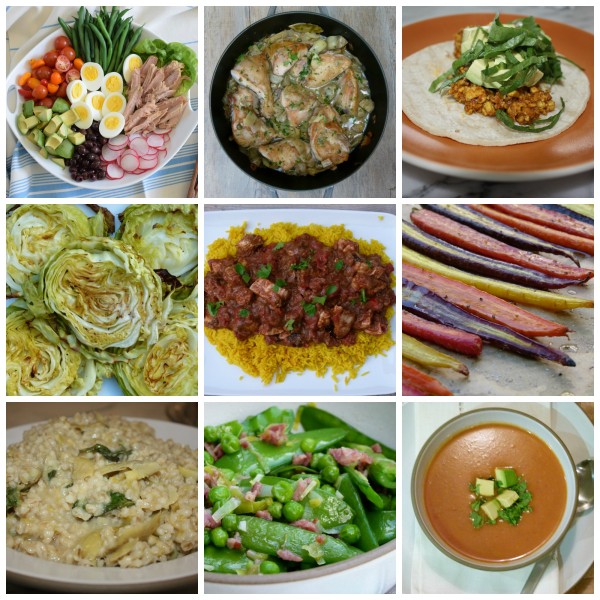 Happy Easter to all of you celebrating!  The beginning of spring is my favorite time of year.  It is a time to clean out the old and bring in the new, to start fresh, a new beginning, a rebirth.  Doesn't that sound like what we all need?  Well, the universe is conspiring to support that energy right now!
I have been and will continue to cook up a storm, recipe-testing for my classes, blog, magazines and other blogs all week long.  So I will be adhering very loosely to this dinner plan, in case you check out my instagram and wonder why I am eating something else.  As always, see what you can do to prep ahead to make your week go much more smoothly.  Here's your dinner planner for this week:
Monday:  Spring Nicoise Salad — use up some of your leftover hard boiled eggs from Easter!  I would look at my California Nicoise recipe here and sub blanched asparagus for the green beans and cooked golden beets for the tomatoes. I might use canned salmon for the tuna, but you can omit the fish to make this meatless for Meatless Monday.  White beans like cannellini or great northern would be a great sub.  Use the white wine vinaigrette in the recipe or the mint dressing from this recipe.  Here is a previous post about what you can do with those leftover hard boiled eggs.
Tuesday: Braised chicken with artichokes and capers, basic cooked millet (just follow the package directions) or or any cooked grain or polenta or mash
Wednesday: Tempeh tacos (or you can go with turkey or beef), guacamole, kale salad (I'll probably add radishes, orange segments, and red cabbage)
Thursday: Teriyaki-glazed mahi mahi or halibut (whichever looks better at the market), roasted sweet potatoes, roasted cabbage (I usually make my own teriyaki, but you can use store-bought.)
Friday:  Chicken tikka masala, steamed rice or cauli-rice, roasted carrots (see this recipe for basic method)
Saturday:  Artichoke and spinach barley risotto, three pea sauté with turkey bacon
Sunday:  Tortilla soup (great way to use up leftover corn tortillas), veggie quesadillas (see what leftover cooked veggies you have and use those, otherwise spinach, sautéed onions, roasted cauliflower or cabbage are all great
Here's what you can do ahead:
Sunday
Make hard boiled eggs if you don't have any for the Nicoise salad
Cook beets and blanche asparagus for the Nicoise
Make all salad dressings
Wash and dry all salad greens and kale
Salt chicken for Tuesday
Make taco seasoning mix
Click here to see all previous dinner planners.