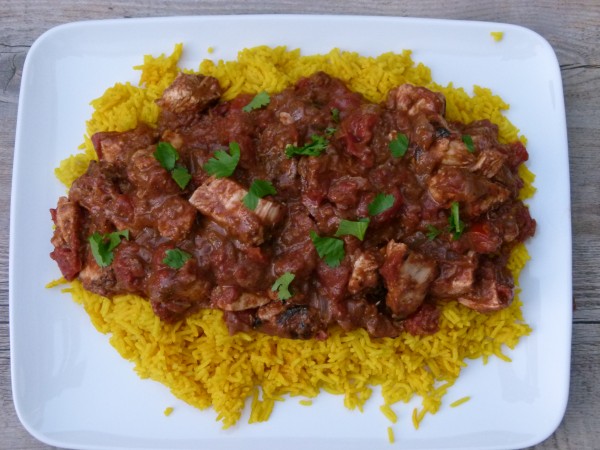 Did you know that Chicken Tikka Masala is the most popular dish in Indian restaurants in the US and it's not even Indian?  Nope, you won't find families in India sharing Tikka Masala recipes because as the story goes, this dish was created in a London curry house.  Interesting, no?  Did you know I had the most difficult time trying to make this dish look appetizing in these photographs?  Just needed to get that off my chest.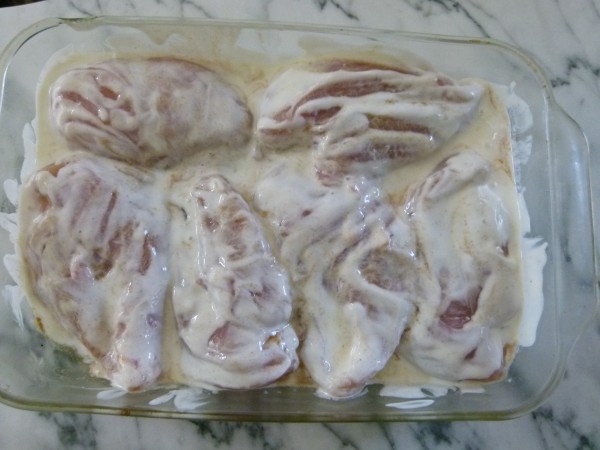 Regardless of what it looks like, I love this recipe and so does my family.  It is so full of flavor and very easy to make.  Chunks of chicken are smothered in a rich sauce of tomatoes, spices and some coconut milk to balance it all out.  Normally heavy cream is used in tikka masala, but coconut milk is the perfect substitute and I actually like it here better than cream.  Yum.  For you do-aheaders, you can make the masala sauce the night before and then cook the chicken right before dinner, heat up the sauce and you're done!  Prepping in advance like that is my ace in the hole, allowing me to pull together a delicious and healthful dinner on a busy weeknight with no stress.  It's like having a jar of tikka masala sauce from Trader Joe's in the pantry.  But before you think about doing that, as much as I like Trader Joe's, this sauce blows theirs away.   Fact.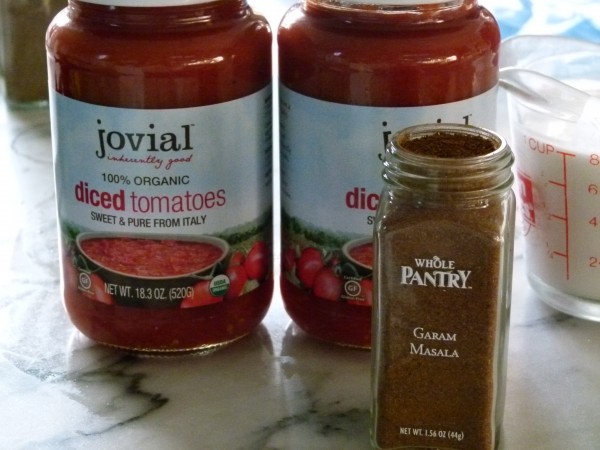 We eat this with my Indian Basmati Rice and Peas recipe and a green vegetable, either green beans, spinach or even a green salad.  You can go even simpler by making some plain steamed rice and that is perfect here too.  The only ingredient you'll need for this recipe that you might not have is garam masala, which is a sweet and spicy (not hot-spicy) spice blend that contains coriander, green and black cardamon, cinnamon, cloves, bay leaves, nutmeg, ginger, pepper, and cumin.  All awesome anti-inflammatory and warming spices which are great for your health and perfect for this time of year as the weather starts to cool off a bit.  Of course you can make your own by toasting the whole spices and grinding them up and I am sure that would make a world of difference in your cooking, BUT…I kind of don't have time for that so I think store-bought garam masala is perfectly fantastic.  All the markets in my area carry garam masala, but you can order it here if you can't find it.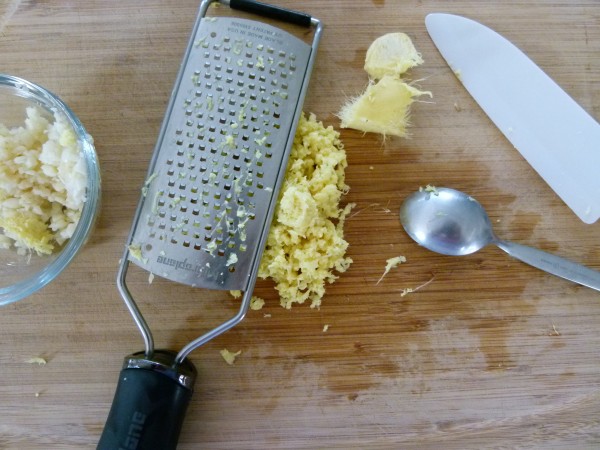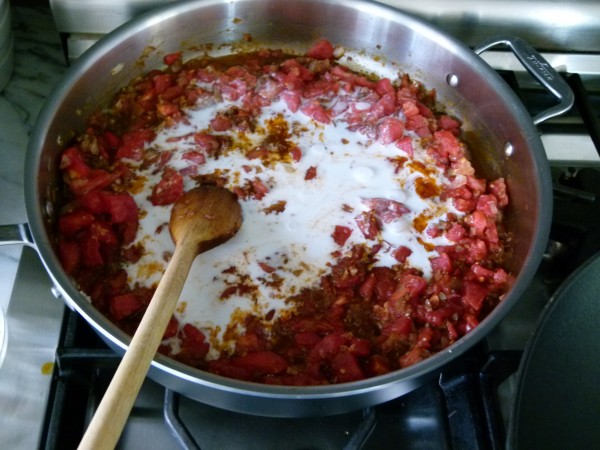 I am also very excited that my Whole Foods started carrying organic tomatoes in a glass jar by Jovial Foods.   Very excited!  Remember, canned tomatoes contain tons of BPA which is toxic, especially in large doses for kids.  You already consume BPA in places you can't control (water, eating in restaurants), so try and avoid it when you can.  Unfortunately, I have yet to find a company that doesn't use BPA in their canned tomatoes.  Pomi is what I normally use since the tomatoes are boxed in BPA-free tetra-paks, but the tomatoes are not organic.  Not ideal, but Pomi says they don't use pesticides.  Anyhow, now my tomato dreams have come true with Jovial Foods and you can also find them on amazon.  Is there anything you can't find on amazon?  Just a random thought.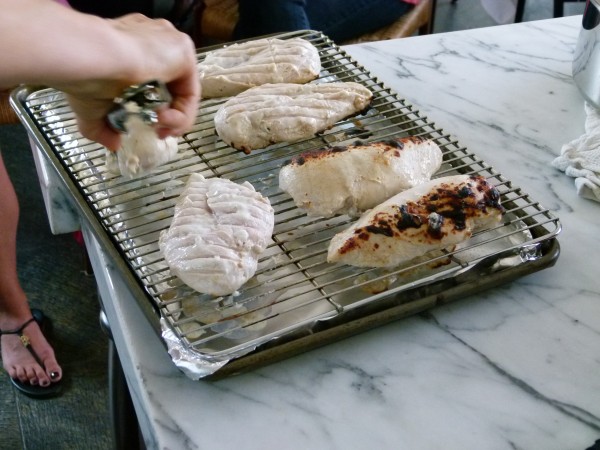 While we're talking about making our lives easier, the classic way to make the chicken in tikka masala is to marinate it in yogurt, which tenderizes it, and then broil or grill it.  I know some of you are not going to want to use yogurt on chicken and I know others will not want to grill.  No problem.  If you want this to be authentic, you'll follow the recipe.  If you've never had this before and won't know the difference, by all means grill or roast plain chicken seasoned with salt and pepper or roast a whole chicken and cube up the meat.  The tikka masala police are not going to get you in trouble.  Can you tell I am giving you every excuse to make this??  Let me know if you do!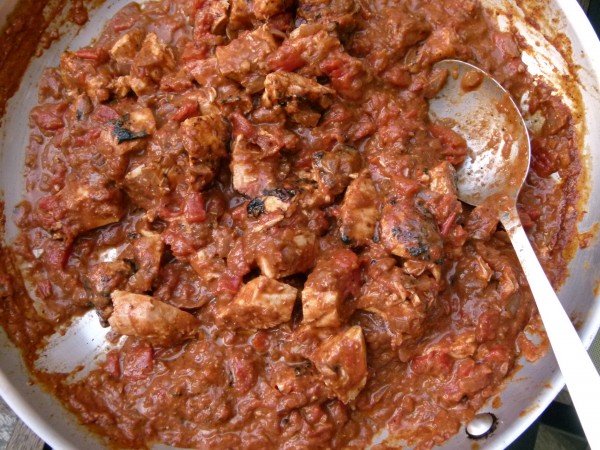 Chicken Tikka Masala
Author:
Pamela, adapted from The Pioneer Woman
Ingredients
3 boneless, skinless chicken breasts
1 Tablespoon sea salt, divided
½ teaspoon ground coriander
½ teaspoon cumin
½ cup plain whole yogurt
2 Tablespoons ghee (clarified butter) or unrefined coconut oil
1 large onion, finely diced (you can do this in a food processor)
4 cloves garlic, minced
1 2-inch piece fresh ginger, peeled and grated
1 ½ Tablespoons garam masala
2 pounds fresh, peeled and seeded tomatoes, diced (or the equivalent of boxed or jarred tomatoes, about 28 ounces)
1 Tablespoon maple sugar, coconut sugar or natural cane sugar
1 cup coconut milk, preferably full-fat (you can use the whole can if you want the sauce to be creamier)
Instructions
Place chicken in a dish.  Mix 1 teaspoon salt, coriander and cumin together in a small bowl. Sprinkle the chicken breasts with spice mixture and pour the yogurt over the spiced chicken breasts.  Turn to coat well.  You can do this several hours in advance and refrigerate until ready to cook.
Preheat broiler to high and set the oven rack on the second level.  Line a baking sheet with foil.
Place a metal cooling rack on top of the foil-lined baking sheet and arrange the chicken on top of the rack. Broil for 5-7 minutes on each side until charred but not burned. Chicken should be cooked through.  Remove from oven and set aside.
In a large skillet over medium-high heat, melt the ghee. Add onions and cook until tender and slightly browned. Stir in garlic, ginger, 2 teaspoons salt and garam masala.
Add diced tomatoes and continue cooking and while scraping up the brown bits from the bottom of the pan.
Add sugar, lower heat and simmer for about 5 minutes or until sauce has thickened.  Pour in coconut milk.
Cut chicken into chunks (remember, it should be cooked through) and stir into sauce until heated through.  Taste for seasoning.  Serve with basmati rice.