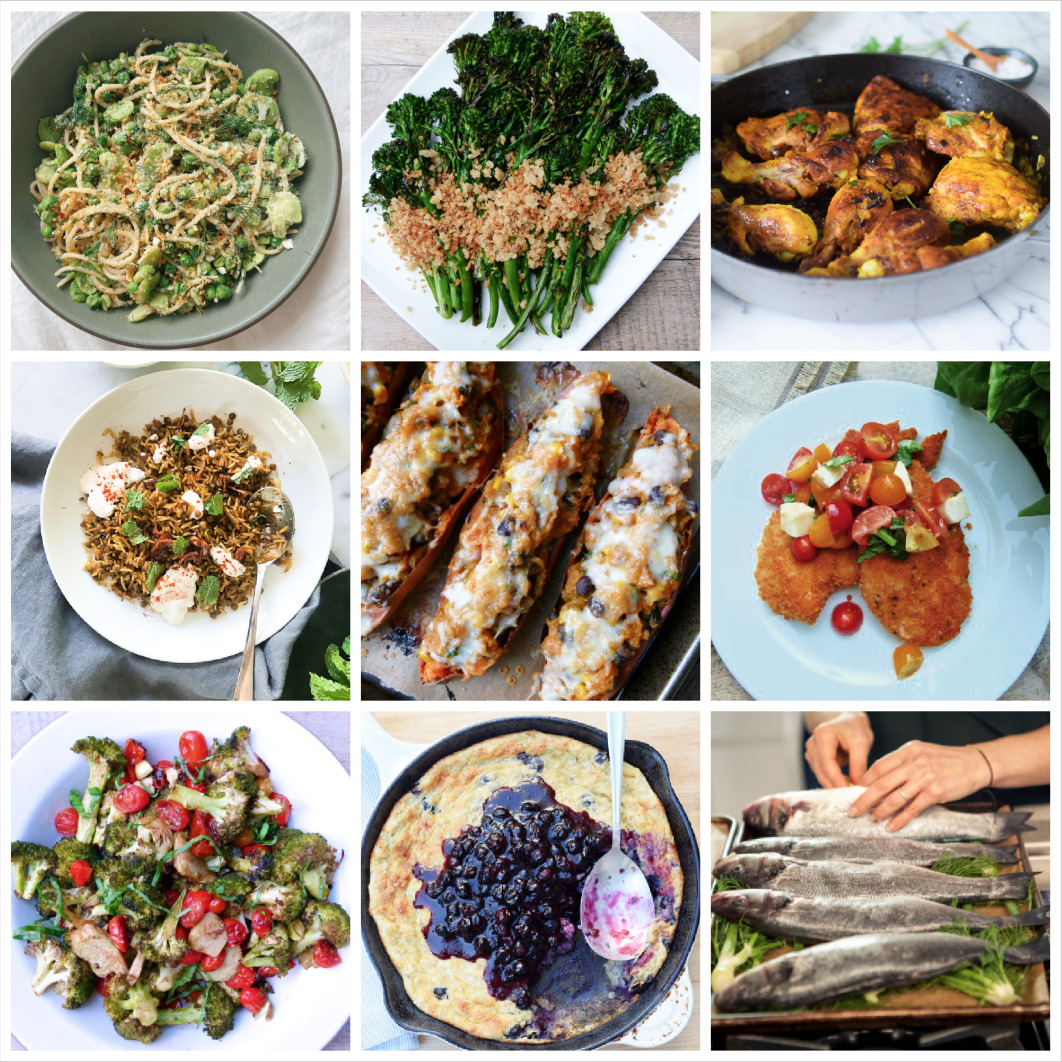 Happy Spring!! I am currently figuring out my Passover menu and I'll give you some recipe links next week. I am not going to my Mom's for Easter this year, but I will provide you with ideas for both holidays. My biggest piece of advice if you are hosting any holiday is to commit to a menu as soon as possible. I know you have a lot of options and that it can feel overwhelming deciding on what to make, but just decide and move on! Here's your dinner planner for the week:
Meatless Monday: Persian green pasta with fava beans, peas, and dill from Sydney Navid, broccolini with lemon breadcrumbs (you can omit the breadcrumbs if using them in the pasta)
Tuesday: Everyday turmeric chicken, cooked rice, cauliflower rice or mejadra rice with lentils + favorite roasted vegetable
Wednesday: tex-mex stuffed sweet potato skins, green salad with everyday salad dressing #2
Thursday: baked parmesan chicken caprese, balsamic roasted broccoli and cherry tomatoes (but skip the cherry tomatoes since there are tomatoes on the chicken and use thinly sliced red onions), toss with warm lentils or white beans if you need more or serve grilled garlic bread on the side.
Friday: Roasted spaghetti squash with pesto and shrimp, arugula salad with everyday salad dressing #1. I'll saute the shrimp in a skillet with olive oil, garlic and crushed red pepper, which takes a few minutes on each side.
Saturday brunch: blueberry oatmeal soufflé
Sunday: Zesty lemon quinoa, whole roasted branzino (so easy, try it!), grilled or steamed whole artichokes (using the dipping sauce in the recipe or just make a balsamic vinaigrette
Here's what you can make ahead if it helps you:
Sunday:
Wash greens
Make salad dressing
Make pesto if using homemade
Cut broccoli into florets
Make breadcrumbs for broccolini, if using
Monday:
Roast sweet potatoes
Wednesday:
Roast spaghetti squash
I have LOVED seeing all your creations of my recipes on Instagram. If you make any of my recipes, please tag me @pamelasalzman #pamelasalzman so I can check them out! I have a free Monday newsletter with my thoughts, new recipes, and things I'm loving lately. Subscribe here!
Order my cookbook, Quicker Than Quick! If you have 1 minute, would you mind leaving a review on amazon? I would be so grateful, thank you! Take a peek at my first cookbook "Kitchen Matters"!