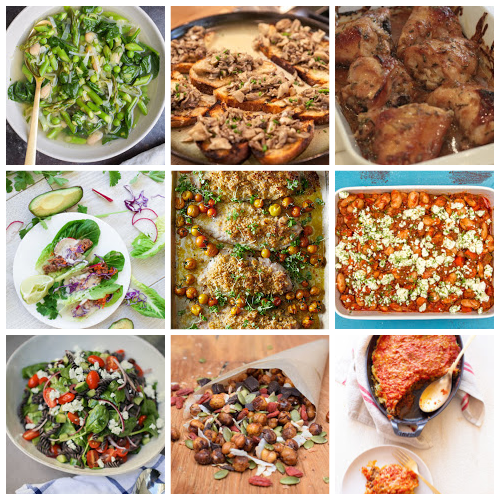 Wow!  Spring is almost here.  I am feeling a positive shift in energy, friends.  I really think things are starting to look up.  Spring is Nature's New Year, so let's hope we have only good change in our future!  I have a few things I am looking forward to, namely starting TWO cooking bootcamps this week!!!  If you haven't done a course with me yet, there is no time like the present.  I will change the way you cook and create long-lasting new systems for you.  I am repeating the following 4-week online courses:
Healthy Cooking Made Quick and Easy  | use my code EASY100 for $100 off
Plant-Based 1.0 | use my code PB100 for $100 off
Click on the links above to learn more, read testimonials from previous bootcampers, and register.  I have payment plans available, too.  Please email me with any questions you have! pamelasalzman@gmail.com Here's your dinner planner for the week:
Meatless Monday: Spring green minestrone, hen of the woods mushroom toast – Either of these is great with a fried or soft boiled egg.
Tuesday: Orange and rosemary glazed chicken, sautéed mixed veggies (I start with olive oil, sliced garlic and a pinch of crushed red pepper, then I add quick-cooking veggies and salt and pepper to taste.  I sauté whatever needs to get used up in the fridge.)
Wednesday: Raw Tacos or refried beans, riced veggies (you can follow the steps for cauliflower rice here, but lots of vegetables work such as broccoli, zucchini, carrots and cabbage), guacamole
Thursday: Parmesan baked rockfish with cherry tomatoes p. 250 from Quicker than Quick, grilled or roasted eggplant
Friday: Oven baked giant beans with tomatoes, dill and feta, greek pasta salad (this might be overkill, so skip the feta on the pasta; it's awesome as leftovers for the next day for lunch)
Saturday brunch: leftover greek pasta salad OR full-fat or dairy-free yogurt topped with my Crunchy Chickpea Trail Mix and diced mango. Feel free to replace the yogurt base with oatmeal.
Sunday: Deconstructed stuffed cabbage casserole
Here's what you can do in advance if it helps you:
Sunday:
Wash greens
Make stock
Wipe mushrooms clean
Make crunchy chickpea trail mix
Monday:
Marinate chicken
Wednesday:
Cook gigantes beans
Saturday:
Blanch cabbage leaves
My new-ish cookbook, Quicker Than Quick, is here!  I have LOVED seeing all your creations of my recipes on Instagram. If you make any of my recipes, please tag me @pamelasalzman #pamelasalzman so I can check them out!  If you have 1 minute, would you mind leaving a review on amazon?  I would be so grateful, thank you!
Take a peek at my first cookbook "Kitchen Matters"!