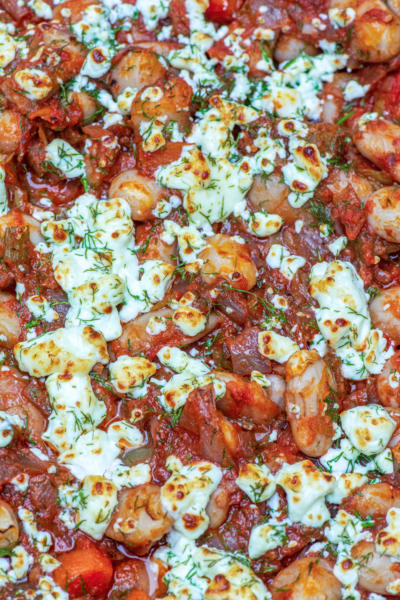 My friend Devon, the one who also gave me the recipe for my favorite Spicy Guava Tequila cocktail, served us these unbelievable giant Greek beans for dinner one night and I immediately asked for the recipe.  Not only did Devon give me the recipe, but sent me home with some leftover beans, too.  I stashed them away in my second fridge in the garage so that I wouldn't have to share with my husband.  I had a selfish moment, but I redeemed myself by making a whole baking dish of these beans soon thereafter.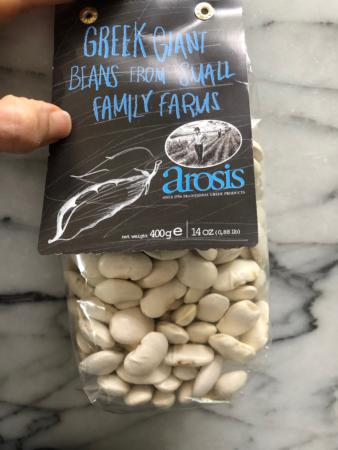 I know everyone is expecting pumpkin spice recipes right now.  Sorry to throw you for a loop, but I am trying to limit my sweets.  October is when it all starts to go downhill for me because I am a sugar addict.  I am fine for months and then I have my first bite of a pumpkin muffin or a pumpkin spice latte blondie, and I'm looking for sugar in all the wrong places.  I might post a fun pumpkin treat before Halloween, but for now, I'm going to post a recipe that I'd like to eat this week!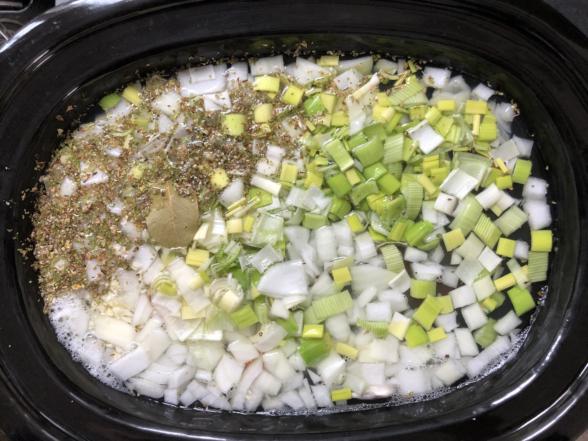 First, you might be wondering what these giant (hence the name "gigantes" or "gigandes") beans are. They are a variety of very large white bean that is creamy and kind of sweet tasting.   You see them more in Spain and Greece.  I found these on amazon. I love all legumes and I love even more mixing it up a bit from my standard chickpeas or lentils.  When I was growing up, if my mom made beans, it was usually a main dish.  Beans have loads of protein and "good" carbs since they are paired with lots of fiber, too.  These are the kind of carbs that I want to eat – ones that won't spike my blood sugar and have me craving more carbs (sweets tend to do that.)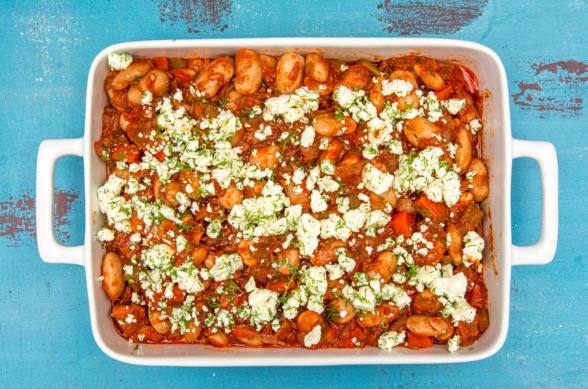 Back to these beans though.  There is so much flavor and saucy goodness here.  The feta and dill give it a distinctive Greek flair, but I think you could also take this recipe as inspiration and pair an Italian marinara sauce with canellini beans and pesto and ricotta or pecorino for a delicious bean bake.  I'm not much of a bread eater (blood sugar spiker), but this would be a nice place to use it to mop up the sauce.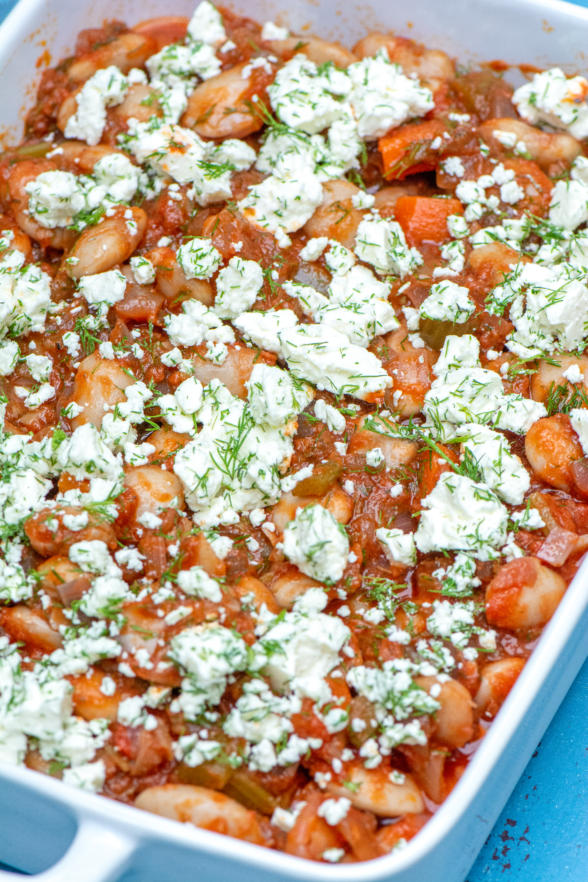 This is not a quick recipe.  There's soaking the beans and cooking the beans and then making the sauce and baking the whole thing.  I know, I know.  I love a quick recipe just as much as you do, but some recipes are worth the effort.  I will argue that the time required is not all hands-on, active time in as much as planning ahead, inactive time.  In fact, you can cook the beans and the sauce several days in advance if you like and assemble the casserole in the morning to bake later.  Perfect for a dinner party or a weeknight.  In my head I was kind of thinking this could be part of a hearty and healthy Halloween (already!) dinner, too.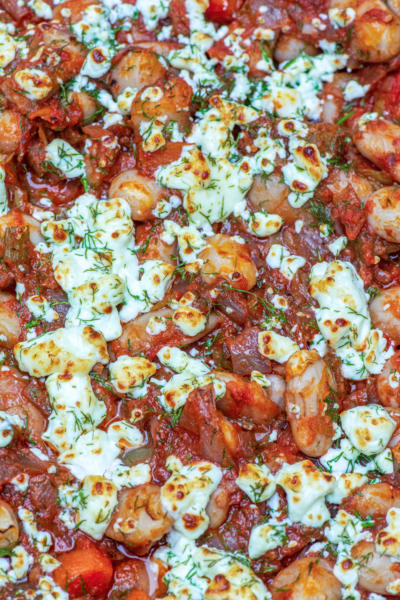 Food you make at home with ingredients you know are clean is the way to better health.  Trust me that you'll never regret spending at least some time cooking for yourself and your loved ones.  Not every dish has to look Instagram-worthy and you don't need a culinary degree to feed your family 3 meals a day.  I love seeing the pride and excitement in the images of your creations on IG.  Please keep tagging me @pamelasalzman #pamelasalzman.  It absolutely makes my day!  XOXO
Shop the tools for this recipe by clicking on the images below:

Oven Baked Giant Beans With Tomato, Dill and Feta Recipe
Author:
Adapted from "Kokkari: Contemporary Greek Flavors"
Ingredients
1 pound dried gigantes (giant white beans) or other white beans
Kosher salt and freshly ground black pepper
1 large onion, coarsely chopped
1 large carrot, peeled and coarsely chopped
2 inner ribs celery, coarsely chopped
1 large leek, white and pale green parts, cleaned well and coarsely chopped
1 clove garlic, minced
1 Tablespoon dried Greek oregano, crumbled
2 bay leaves
2½ cups Kokkari Tomato Sauce or your favorite sauce
½ cup unrefined, cold-pressed extra-virgin olive oil
4 Tablespoons minced fresh dill
¼ pound Greek feta cheese, crumbled
Kokkari Tomato Sauce:
28 ounces tomatoes, with juice
2 cloves garlic
¼ cup unrefined, cold-pressed extra-virgin olive oil
1 Tablespoon tomato paste
½ teaspoon dried Greek oregano, crumbled
1 sprig fresh basil
Sea salt
Instructions
Cover the beans with 3 inches of cold water and allow to soak overnight. Drain and rinse.
Put the soaked beans in a stockpot and cover with 2 inches of cold water. Bring to a simmer over high heat, skimming any surface foam. Cover, and adjust the heat to maintain a gentle simmer. After 45 minutes, add 2 teaspoons salt, the onion, carrot, celery, leek, garlic, oregano, and bay leaves. Raise the heat to return to a simmer. Adjust the heat to maintain a bare simmer and cook, uncovered, until the beans are tender, 45 minutes or more depending on their age. Test several, as they do not always cook evenly. (I did this in a slow cooker for 6 hours on LOW after soaking overnight.)
Drain the beans in a colander, reserving the broth for another use like soup. Remove the bay leaves. Return the beans to the pot and stir in the tomato sauce, olive oil, and 3 Tablespoons of the dill. Season to taste with salt and pepper. You can prepare the beans to this point 1 day ahead; cover and refrigerate. Reheat gently before continuing.
Preheat broiler. Transfer beans to an 11-by-7-inch baking dish, or dish of comparable size, spreading them evenly. Combine the feta and the remaining 1 Tablespoon dill and sprinkle evenly over the beans. Broil on the top rack until the beans are heated through and the surface is appetizingly browned. Serve hot.
Notes
To make the Kokkari Tomato Sauce:
In a food processor, puree the tomatoes with their juice. Set aside. Crush the garlic cloves with the heel of your palm against the side of a chef's knife. In a medium saucepan, heat the oil over medium heat. Add the garlic and sauté just until it begins to brown, tipping the pan so the cloves remain covered in oil. Remove from the heat and discard the garlic cloves. Add the pureed tomatoes to the hot oil – the mixture will sizzle and splatter – then return the pan to medium heat. Cook, stirring often and adjusting the heat to maintain a gentle simmer, until the sauce has thickened and lost its raw taste, about 15 minutes. If the flavor does not seem rich enough, stir in the tomato paste. Add the oregano and simmer 5 minutes more. Add the basil sprig and remove from the heat. Season to taste with salt. You can refrigerate any unused sauce for up to 3 days.
Instant Pot Beans: I made the beans in the Instant Pot with the vegetables. The vegetables do get a bit overcooked, so next time I would chop them a little larger. 50 minutes on high pressure seemed to be good. It's possible they would have been perfect at 45 minutes. But at 40 minutes, they weren't done yet.