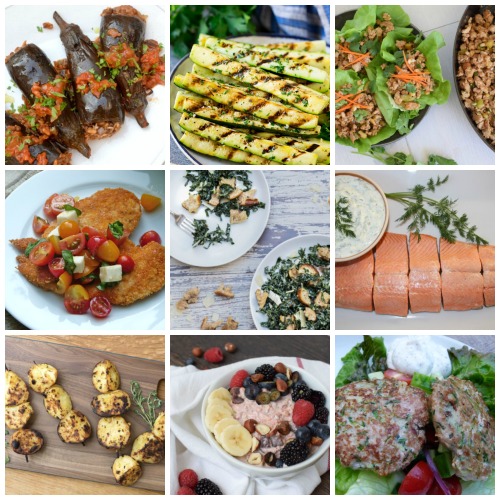 I hope you are in the midst of a fabulous holiday weekend.  I am taking my relaxing very seriously if you must know ;).  My older daughter came home from Dallas and accompanied my husband and me to our friends' house in Montecito for a few days and other than writing this blog post, I have checked out!
For my cooking class students, I am not teaching in person July or August, only online.  I can teach a class by request, but I am out almost the entire month of July.  Please email Erika for August availability:  
Meatless Monday:  Lentil and rice stuffed eggplant, green salad (click here for my favorite everyday salad dressings)
Tuesday: Chipotle shrimp tacos from my book with pineapple slaw, grilled zucchini
Wednesday: Asian turkey lettuce cups, black rice (follow package directions)
Thursday: Oven baked chicken caprese, vegetarian kale caesar salad
Friday: Poached salmon, zesty potato skewers, sauteed green beans (I like to blanch the beans in salted water for 3 minutes, drain, shock in ice water, drain, pat dry and saute with shallots, salt and pepper and a squeeze of lemon or lemon zest.)
Saturday brunch: Berry Bircher muesli 
Sunday:  Turkey and zucchini burgers, sauteed corn, tomatoes with basil, salt and pepper (I love to saute in a mix of butter and olive oil or Miyokos vegan butter and olive oil – although you could even do this uncooked with raw corn if the corn is SUPER fresh.)
Here's what you can do ahead if you need to:
Sunday
Make all salad dressings and sauces
Make seasoning for tacos
Prep veggies for the next three days
Thursday
Make muesli
I have LOVED seeing all your creations of my recipes on Instagram. If you make any of my recipes, please tag me @pamelasalzman #pamelasalzman so I can check them out!
Click here to learn more about my online cooking classes! If you like my recipes, you'll LOVE my cookbook!  If you have 1 minute, would you mind leaving a review on amazon?  I would be so grateful, thank you!