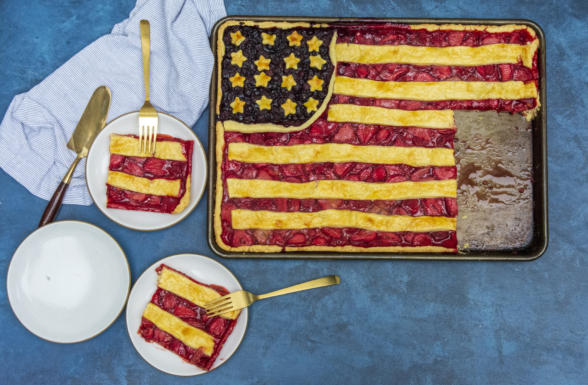 I don't know what took me so long to make a pie like this since pies are MY FAVORITE thing to bake.  The irony is that pies aren't exactly the most healthful thing in the world to eat, and I hardly touch them when they're offered.  But it's hard to beat a homemade pie.  They taste light years better than store bought and now more than ever, it's imperative to be using the cleanest ingredients possible, especially when it comes to grain flours (see this article about glyphosate and wheat and other grains)  and sugar, which is often genetically modified and overused in commercially prepared desserts.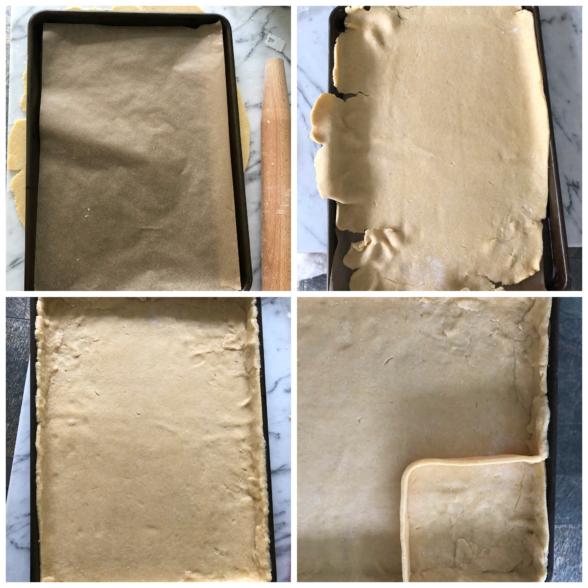 I've said it before and I'll say it again, fruit desserts taste much better with less sugar because you will taste the flavor of the fruit and not just sugar.  If you use seasonal fruit, like in this case berries, the fruit will taste sweeter naturally.  This will be especially true in this pie because there's really only one crust and it is otherwise mostly fruit.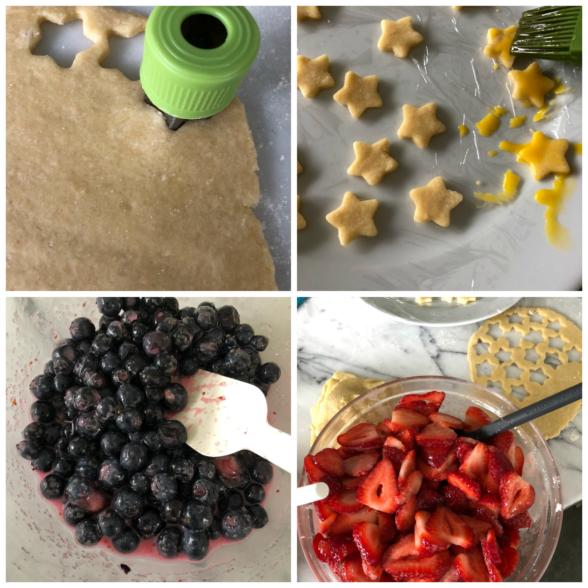 I had so much fun making this pie, and I mean that.  I can't wait to make it again.  It was definitely something that I would recommend making the day before you want to serve it since it has a few steps and I personally like fruit pies better once they have has a chance to sit and the juices settle.  If you are not great at making homemade pie crust and/or rolling it out, this could be a bit more challenging here since we're trying to make a pretty big sheet of pastry.  The good news is that no one will see the bottom crust, so if you have to do this in a few sections and press them together, do it and don't worry about it.  That's what I did!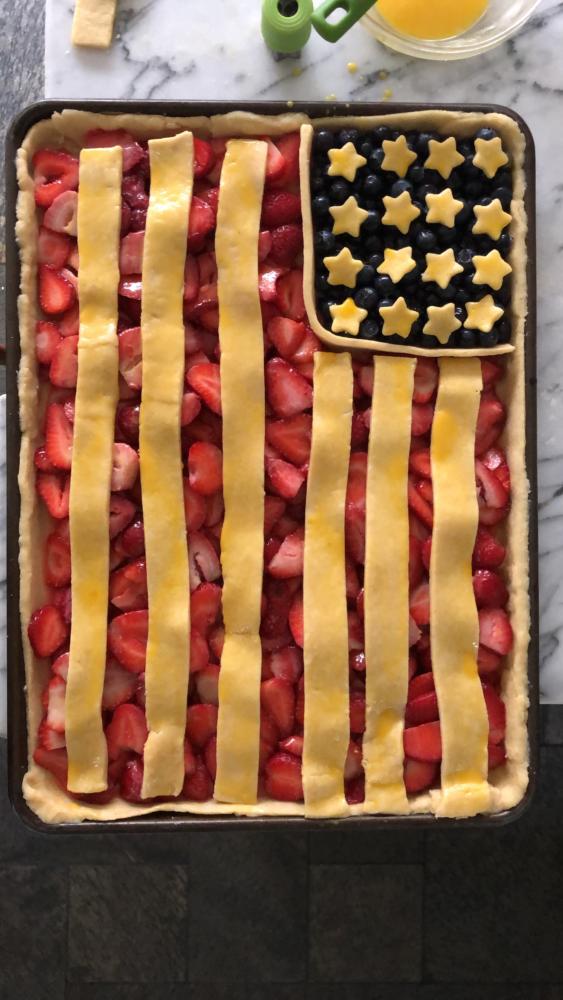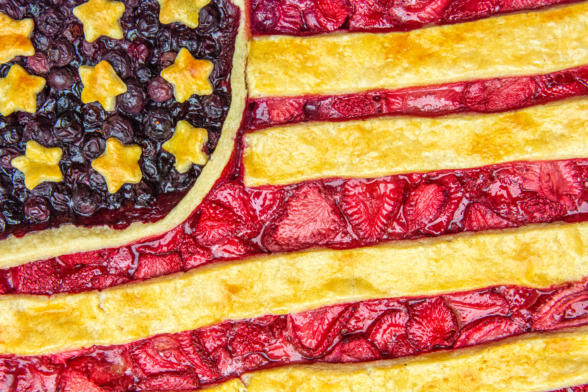 If you don't have time to make your own pastry, feel free to buy 4 high quality frozen pie crusts, thaw them out and do your best to make them fit in the sheet pan and create the stripes.  Whatever you decide, have fun with this pie.  It will be a hit for sure and I think it can be a great addition to any summertime BBQ or get-together!  Happy 4th!
Shop the tools for this recipe by clicking on the images below:

American Flag Pie
Serves:
1 10 x 15 slab pie
Ingredients
1 large egg yolk
1 Tablespoon heavy cream, half-and-half, whole milk, or buttermilk
1 cup fresh or frozen/defrosted blueberries
5-8 Tablespoons maple sugar, pure maple syrup, or granulated cane sugar, divided
4 Tablespoons arrowroot, divided
4 teaspoons fresh lemon juice
Drizzle of cassis liquor (optional)
5 cups fresh or frozen/defrosted strawberries, sliced
½ teaspoon pure vanilla extract
pinch of sea salt
All purpose or white spelt flour for dusting the countertop
Pâte Brisée (see recipe below)
Instructions
Preheat oven to 375 degrees.
In a small bowl, whisk together the egg yolk and cream. Set aside.
In a medium bowl, toss together the blueberries, 1-2 Tablespoons sugar, 1 Tablespoon arrowroot, 1 teaspoon lemon juice, and cassis, if using, until no arrowroot is visible. Set aside.
In a large bowl, toss together the strawberries, 4-6 Tablespoons sugar, 3 Tablespoons arrowroot, 1 Tablespoon lemon juice, vanilla, and salt, until no arrowroot is visible. Set aside.
Roll the larger disk of pie dough on a lightly floured countertop, regularly checking to make sure disk is not sticking to counter. You want to roll the dough to exceed the border of a 15 x 10-inch baking sheet by 1½ inches on all sides. Fold the dough and fit in and up the sides of the baking sheet. If you have to patch some pieces of dough in there, go for it. Trim the edges with a sharp knife and transfer the baking sheet into the refrigerator.
Take the second disk of dough and roll it out in the same manner, but keeping in mind you'll need the following 1-inch wide strips: 3 strips 15½ inches long + 4 strips 10½ inches long + dough scraps you'll roll out to cut stars.
Take 1 short strip and create a reverse "L" and make a square in the upper left corner of the baking sheet. Fill this with the blueberry mixture.
Fill the remainder of the shell with the strawberry mixture.
Take the 3 long strips and arrange across the lower half of the baking sheet. Take the 3 remaining shorter strips and arrange across the upper portion of the baking sheet. You want the "stripes" to be equi-distant from each other.
Take the leftover scraps of dough and using a very small, 1-inch star cutter, make as many stars as you can that will fit over the blueberry section. Brush the stars with reserved egg wash and place across the blueberry filling.
Carefully brush the stripes with egg wash. Bake until crust is golden brown and filling is bubbling, about 45-55 minutes. Transfer pie to a cooling rack and allow filling to set, at least 45 minutes. Serve warm or at room temperature. I make this pie the day before and keep it covered at room temperature.
Notes
Pâte Brisée (make this in 2 batches if your food processor is less than 16-cup capacity)
5 cups all-purpose flour or white spelt flour
2 Tablespoons organic cane sugar
2 teaspoons sea salt
4 sticks unsalted butter, cut into cubes
2 Tablespoons fresh lemon juice or white vinegar (or use all water)
8-10 Tablespoons ice water

1. Place the flour, sugar and salt in the bowl of a food processor fitted with the metal blade and pulse a couple times until blended.
2. Add the butter to the flour and pulse until the mixture resembles small peas.
3. Pour lemon juice and ½ cup of ice water on top of the flour mixture and pulse about 10 times. Avoiding the blade, carefully grab a small handful of dough and squeeze together. If the dough holds together without crumbling, it's ready to be formed into a disc. If it's too dry, pulse in another few teaspoons of ice water until dough holds together,
4. Transfer dough onto the counter and bring dough together to form a ball. Divide dough into two portions, one slightly larger than the other. Form each into a disk, and wrap each disk in plastic wrap and refrigerate at least 30 minutes at which point it will be ready to roll out.