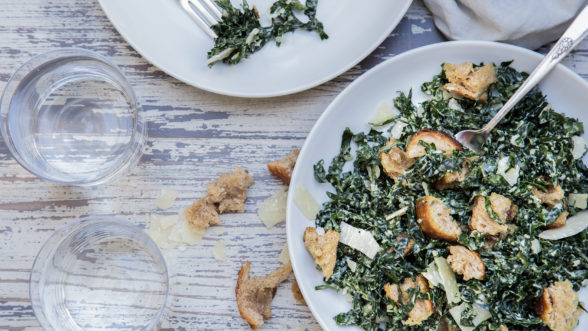 Vegan husband update:  STILL VEGAN!!  Can you guys even believe this?  MY meat and potatoes guy went vegan in October for 6 weeks and he's still at it.  He feels great, lost weight and is keeping it off and I'm trying to support him the best I can.  BUT, the rest of us are not vegan, so I have to have a lot of flexibility in our meals.  No problem.  I've been trained for this in my classes over the last decade teaching in LA.  Who's avoiding this food group, who's Paleo today, who's mad at gluten…I've got this one!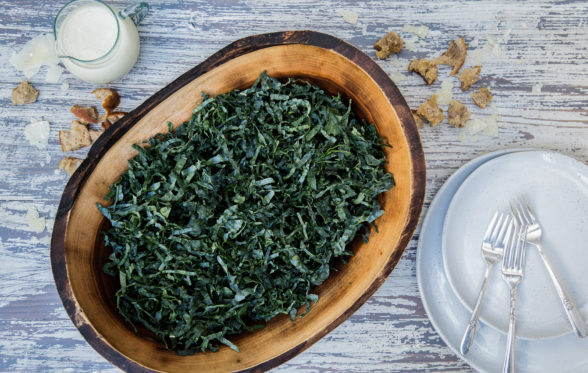 One of my husband and my son's favorite salads is Caesar.  They both love that flavorful, creamy dressing whether it's on crunchy romaine lettuce or massaged into thin ribbons of kale.  As long as there are crunchy croutons to be had, they're in.  Caesar salad dressing generally contains anchovies or anchovy paste, which is why it's not vegetarian.  But that's what I decided to change so that I could make this for hubs.  It's still punchy and delicious and you won't miss a morsel of umami.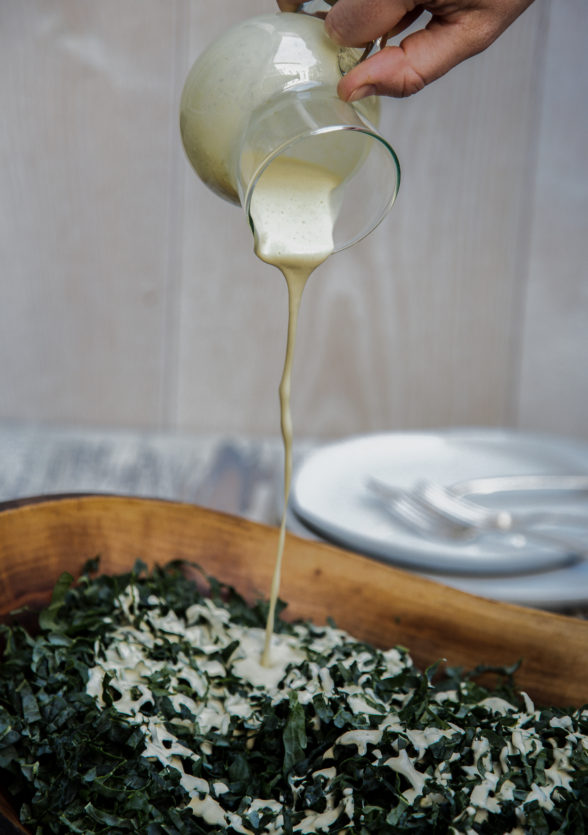 After the dressing is massaged into the kale (or drizzled on top of any sturdy lettuce), I add croutons and serve the Parmesan on the side.  That's my way of being flexible so everyone can enjoy the salad.  My son loves grilled chicken with Caesar salad, and again, that can be served on the side.  My husband will eat this with chickpeas or white beans for some added protein.  I love kale salads because they last for several days dressed in the fridge.  I also like traveling with kale salads because they hold up so well with dressing, which is one of those tricky things that you can't bring too much of on an airplane (no more than 3.4 ounces.)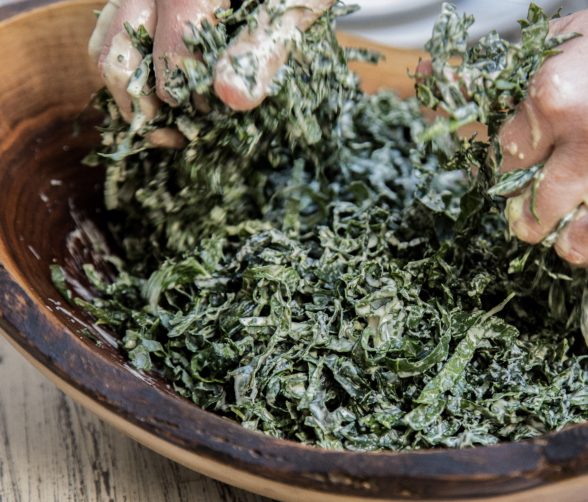 I taught this recipe in my classes last fall and everyone flipped for it.  It's super easy and that is the name of the game lately.  You can easily make this into a entree salad with a piece of grilled salmon and some roasted sweet potatoes or grilled shrimp and grilled zucchini.  Another fun idea is to sub out the croutons and use crunchy chickpeas instead for a more nutritious condiment.  This is one of those evergreen recipes that I make all year and I think you will, too!
If you make this or any of my recipes, I'd love to see them! Please tag me @pamelasalzman #pamelasalzman.

Vegetarian Kale Caesar Salad Recipe
Ingredients
2 cups torn country-style bread, ½ inch pieces are a good size (or buy croutons)
Olive oil as needed (about 1 Tablespoon should do it)
Dressing:
6 Tablespoon Vegenaise (I like soy-free) or good quality mayonnaise
2 Tablespoons water
1 ½ Tablespoons fresh lemon juice
2 garlic cloves, minced
½ teaspoon Dijon mustard
1 teaspoon vegan Worcestershire
1 Tablespoon capers
3 Tablespoons unrefined, cold-pressed olive oil
1 pound Tuscan kale, stems removed, leaves cut into chiffonade (very thin)—you should have about 12 cups of cut kale
4 ounces Parmigiano-Reggiano, shaved or grated
Instructions
Preheat an oven to 350 degrees. Line a baking sheet with parchment paper.
Arrange bread on the prepared baking sheet and toss with olive oil. Bake until the croutons are golden brown, about 20 minutes.
Meanwhile, in a blender, blend together all the dressing ingredients until creamy. Put the kale in a large bowl and massage the dressing into the kale leaves to tenderize them.
Top with the croutons and garnish with cheese.