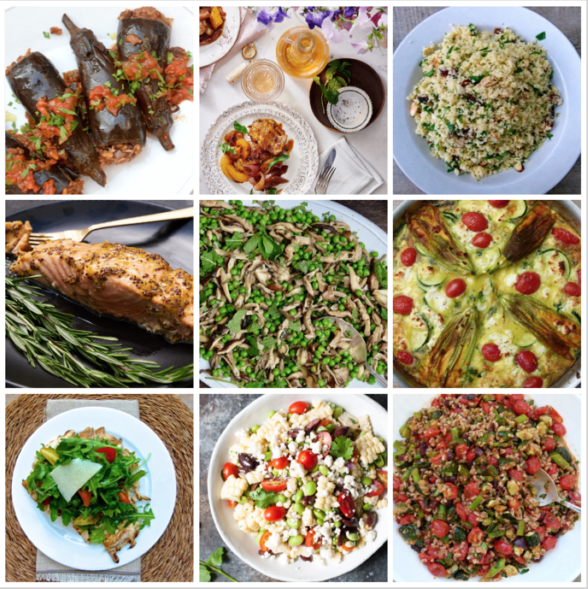 When you live in a beach town, and they close the beach for the holiday weekend, it's a bit of a bummer.  Sigh.  We received a last-minute invite to stay with some friends in the desert this weekend, and although it is 104 degrees, it's nice to have a change of air after being in the same surroundings for the past 100+ days!  I brought American Dirt with me, which I am sure most of you have read.  But I am always far behind when it comes to fiction.  I am going to unplug for the rest of the weekend and I hope you can do the same!  Here's your dinner planner for the week:
Meatless Monday: Lentil and rice stuffed eggplant, green salad (click here for my favorite everyday salad dressings)
Tuesday: Spicy peach skillet chicken p. 218 from Quicker than Quick, couscous with dried apricots and herbs (I will omit the fruit since I will serving this with peaches),
Wednesday: Grilled cedar plank salmon, steamed rice, grilled asparagus
Thursday: Pea and Mushroom Sauté with Mint, Summer garden frittata
Friday: Grilled chicken paillard with arugula and lemon vinaigrette, solterito 
Saturday brunch: Italian White Bean and Tuna Salad with Capers from Kitchen Matters (this recipe is one of the only ones without a photo, but trust me – AMAZING.
Sunday: Farro with roasted vegetables and roasted tomato dressing, basic protein
Here's what you can do ahead if you need to:
Sunday:
Make salad dressing
Wash greens
Wipe mushrooms clean with damp paper towel
Saturday:
Cook farro
My new cookbook, Quicker Than Quick, is here!  I have LOVED seeing all your creations of my recipes on Instagram. If you make any of my recipes, please tag me @pamelasalzman #pamelasalzman so I can check them out!  If you have 1 minute, would you mind leaving a review on amazon?  I would be so grateful, thank you!
Click here to learn more about my online cooking classes! Through the end of quarantine, choose any cooking class in the library for $10 with the code SINGLE10 and a subscription for future classes for $17  (normally $27/mo.) with the code CLASSES17.
Take a peek at my first cookbook "Kitchen Matters"!