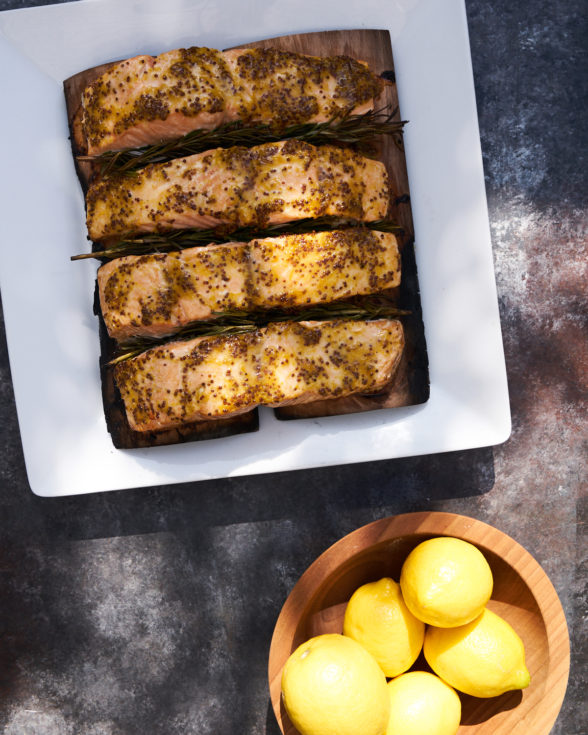 You know when a recipe comes into your life and then it all of a sudden becomes your favorite?  You start making it once a week for dinner and then it becomes your go-to when you have friends over?  It's easy and dependable and everyone flips for it.  That's the perfect recipe.  This cedar plank salmon with lemon-maple-mustard glaze is that.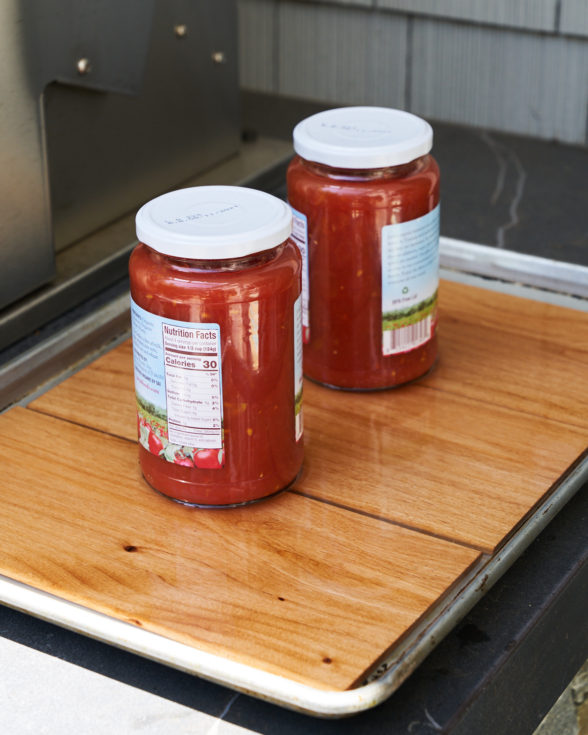 Funny, I taught a cedar plank grilled salmon recipe in 2009 and I never posted it.  All of a sudden I am obsessed with cooking on them again. I love the subtle smokiness the wood imparts on the fish (you can cook other things on the planks as well.) It's easy clean-up and makes for an impressive dish to serve.  You can buy cedar planks at the grocery store or a cooking store like Sur La Table.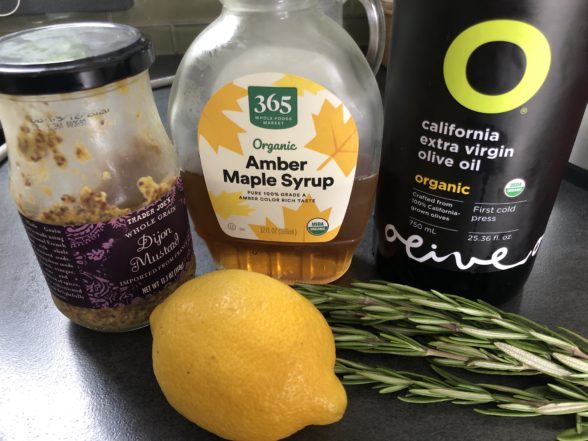 I made up this sauce one day and instantly knew it was going to be a winner.  Coarse mustard, lemon zest and maple syrup are all major flavor bombs and can handle the assertive flavor of wild salmon.  This glaze is at once zippy, sweet, tangy and savory.  I'm sure you could even coat big chunks of salmon in this sauce and roast the pieces on a wire rack set over a baking sheet or in an air fryer, if you're into those.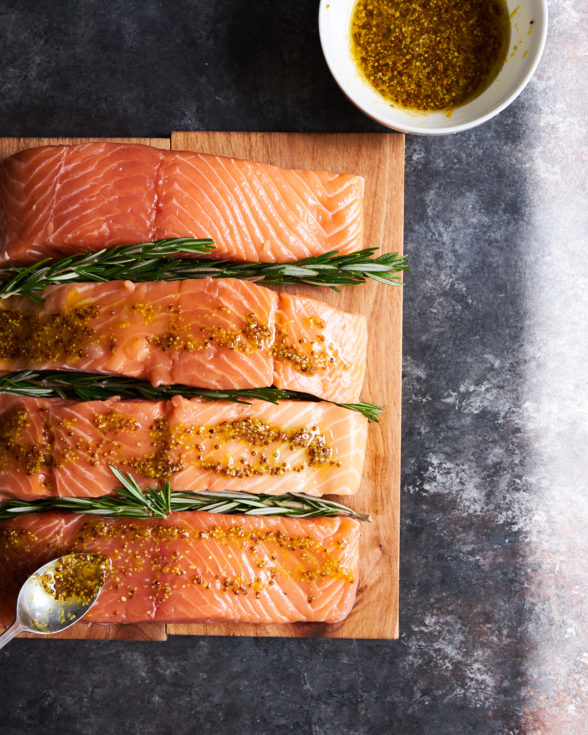 I used a wild king salmon here which has the richest texture and mildest salmon flavor.  It's the variety I recommend if you think you don't like wild salmon, and find the flavor too strong.  It's also the most forgiving to cook since it is harder to dry out than sockeye, for example.  If you can get your hands on Copper River Salmon, definitely go for it despite the price.  It will be the tastiest, richest salmon you'll ever eat.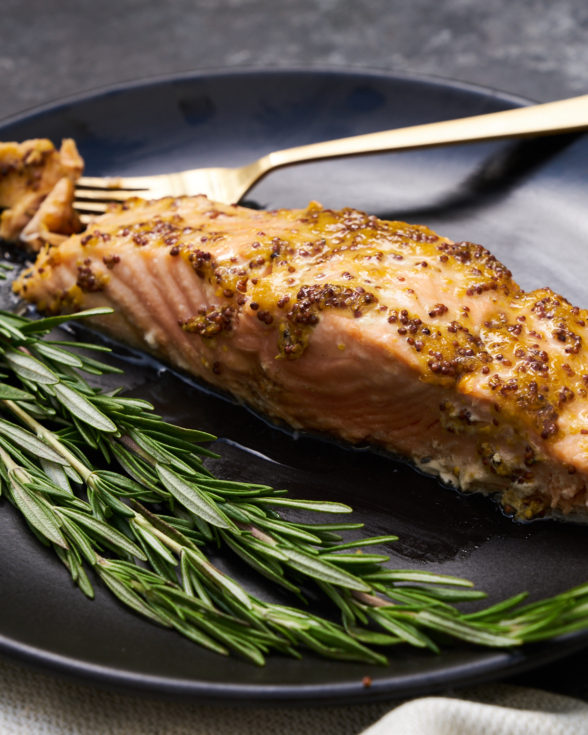 I specifically wanted to post this before July 4th in case you need a new something-something that would be a guaranteed winner.  I would serve this with grilled vegetables or a grilled vegetable salad, anything with corn like this charred corn salad, or my new farro chopped salad;  of course a beautiful Caprese salad or Fattoush salad would always be welcome.  So many possibilities.  I just would pair it with anything very sweet and/or lemony so that you have some balance.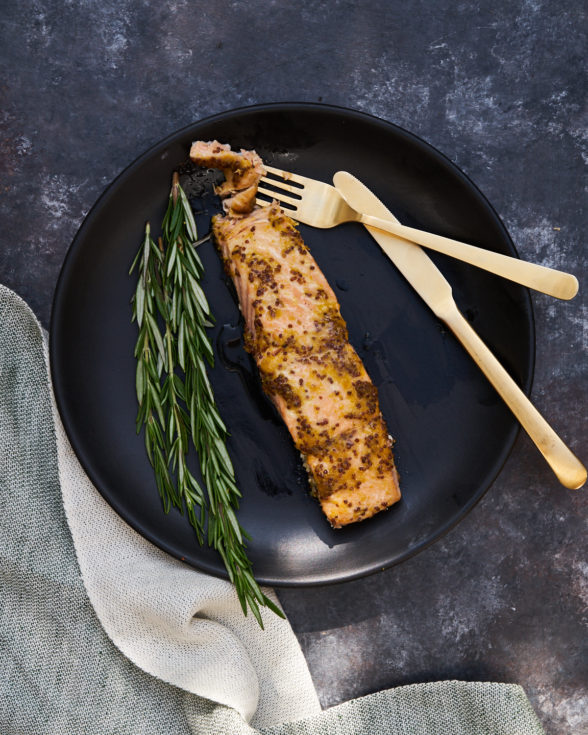 I hope you have a safe and relaxing holiday weekend!  If you make any of my recipes, you would make my day if you tag me so that I can see your creations!  @pamelasalzman #pamelasalzman
You can shop the tools I used for this recipe by clicking on the images below:

Grilled Cedar Plank Salmon With Lemon-Mustard Dressing
Ingredients
1 untreated cedar plank, soaked in water at least 1 hour, up to overnight
1 Tablespoon coarse mustard (this is not the same as creamy Dijon mustard)
1 Tablespoon unrefined, cold-pressed extra-virgin olive oil
1½ teaspoons pure maple syrup
1 Tablespoon lemon zest
Sea salt and freshly ground black pepper
A few sprigs of fresh rosemary
1 side of wild salmon, skin on, approximately 24 ounces or cut into individual portions
Instructions
Preheat the grill over high heat for 10 minutes. Lower to medium-high. Remove the cedar plank from the water and pat dry.
In a small bow, whisk mustard, olive oil, maple syrup and zest until well combined.
Line the plank with fresh rosemary sprigs and place salmon over rosemary sprigs skin side down or tuck rosemary sprigs in between each piece of salmon. Season salmon with sea salt and pepper to taste (I take a big pinch of salt and season.) Spread mustard dressing evenly over salmon.
Place plank with salmon on grill and close lid. The temperature should be about 400 degrees F. If the temperature is too high, the planks will burn before the fish is ready. Grill for approximately 12 minutes or just until slightly rare in the center. Salmon will continue to cook while it sits. Time will vary according to thickness of salmon.
Transfer fish from plank and onto a platter. Cover and allow to rest for 5-10 minutes. Discard planks. If plank is reusable, remove from grill and submerge in cold water or place somewhere fireproof.
Notes
You don't have to cook this on cedar planks. You can brush a preheated grill with oil and grill salmon directly on the grill, skin-side down. You can also roast it in a 400 degree oven for 10 minutes per inch of thickness.