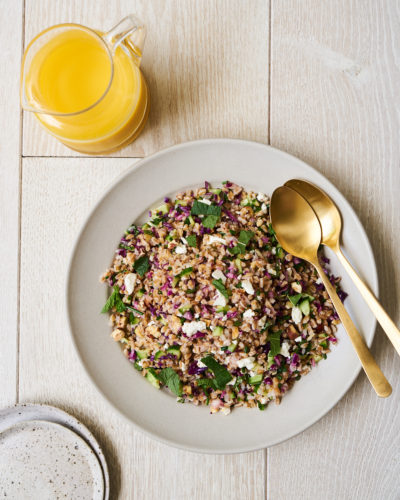 This post is sponsored by the Florida Department of Citrus. All opinions are my own.
When the school year ends, my brain shifts from making breakfast-lunch-dinner mode to wanting to have my friends over for dinner all the time!  I stop thinking about sheet pan dinners and batch cooking minestrone soup and instead obsess over combinations for grilled pizza and hoard stone fruit for crisps and galettes.
I have actually had a few friends over in the last few weeks, two people at a time, and it was so nice.  Even better, the weather is warming up so we'll be able to sit outside to enjoy mimosas with Florida Orange Juice without freezing our unmanicured toes.  This summer will mean lighter food, staying hydrated, and getting back to a pre-quarantine, healthy style of eating.  My friends tend to share my style of eating, which is fresh and vibrant, but flavorful and satisfying!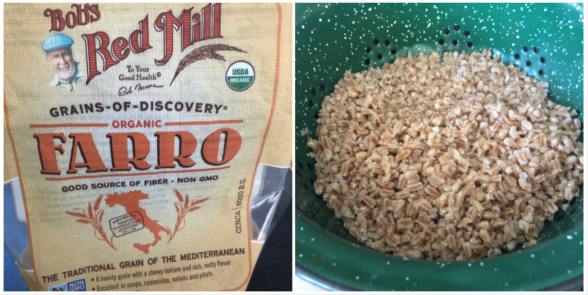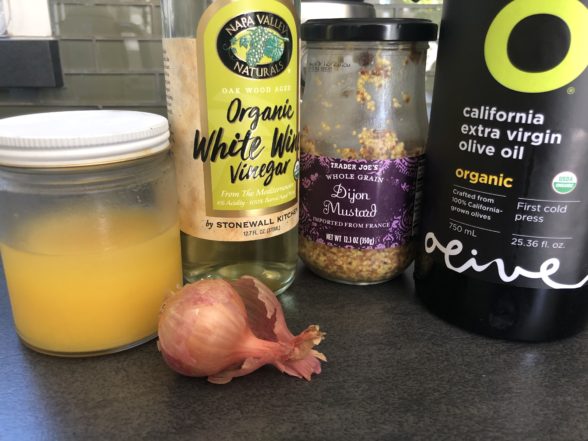 This Farro Chopped Salad with Orange Juice Vinaigrette recipe was going to be saved for a summer cooking class, but it's too good not to share ASAP.  I've already made it a few times in the last couple weeks and it hits all the marks for me!  It is crunchy, juicy, fresh and tangy and infinitely adaptable.  Plus, it can be made ahead which is #1 priority for entertaining at home.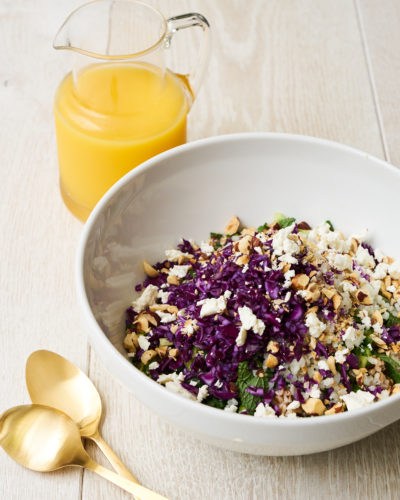 Like I always say, once you have a great dressing, you can take it and run with it and this dressing is everything!  I love using Florida Orange Juice in my salad dressings to add natural sweetness without contributing table sugar or anything with high fructose corn syrup), and also to add a little tang.  I don't know about you, but I am really ready to cut back on concentrated sweeteners and get back to my pre-quarantine ways (or should I say weight ;).  100% orange juice also packs in some vitamin C, potassium, and folate with that natural sweetness.  I know you will love this dressing, so after you try it once, the next time, double it and freeze some for another time.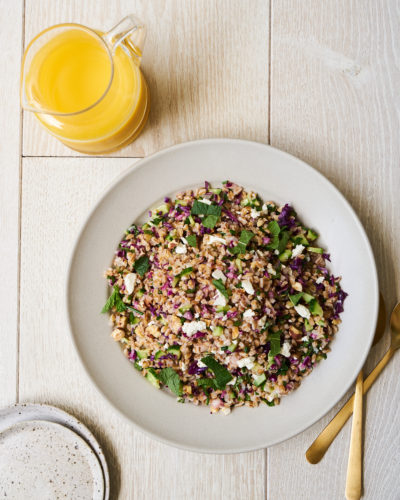 I paired cooked farro with some riced vegetables for the ultimate easy chopped salad.  Red cabbage and defrosted frozen riced cauliflower plus diced cucumber were what I had on hand one day, so that's what I used.  But riced carrot, radish or sugar snap peas would work equally well.  Ricing vegetables is as easy as pulsing pieces in a food processor until it resembles rice.  What I love about tiny pieces of crunchy veggies is that you get a little of everything in one bite. I can already see this salad will be easy to eat at the beach in a cup or jar with a spoon. Plus, the citrus notes from the Florida Orange Juice are perfect for summer!
Farro Chopped Salad with Orange Juice Vinaigrette
Ingredients
1 cup uncooked farro (or sub rice for a gluten-free option; cook according to package directions)
Pinch of kosher salt
2 cups riced* vegetables (I like cauliflower and red cabbage.)
1 cups diced (like the size of a pea) cucumber (leave peel on for thin-skinned varieties)
¼ fresh chives, finely chopped (mint would be nice, too)
⅓ cup finely chopped hazelnuts or walnuts (toasted and salted sunflower seeds are a good nut-free option)
Other delicious additions are: cubed avocado, crumbled feta (can be vegan) or blue cheese, microgreens, cooked beets (I have added all of these things in this salad with success, but not all at the same time.)
Orange Juice Vinaigrette:
¼ cup 100% orange juice
1 Tablespoon white wine or champagne vinegar
1 small shallot, finely diced
2 teaspoons coarse grain mustard
¾ teaspoon sea salt
freshly ground black pepper to taste
2 Tablespoons unrefined, cold-pressed extra-virgin olive oil
Instructions
Boil the farro and a pinch of salt in plenty of water. Cook until al dente, about 20-25 minutes. Drain into a colander and rinse under cold water until cool. Drain very well and transfer to a serving bowl.
Prepare the vinaigrette: in a jar with a screw-top lid, combine the 100% orange juice, vinegar, shallot, mustard, salt, pepper, and oil. Shake until emulsified (well combined.)
Add the riced vegetables, cucumber, chives, and nuts (if using) to the serving bowl. Add the vinaigrette and toss to combine well.
After the salad is tossed, top with avocado and/or cheese. Serve at room temp or chill and serve cold. The salad holds up well after a couple days in the refrigerator, but the farro will turn purple from the red cabbage.
*To rice vegetables, place 2-inch pieces in a food processor fitted with the metal S blade and pulse until the pieces resemble rice. You can use already riced cauliflower, either fresh or frozen. If using fresh, place in the colander and drain the cooked farro on top to give it a quick blanch. If using frozen, defrost and add to the salad.
Notes
You can use rice in place of the farro. Or if you are grain-free, swap all riced vegetables for the farro. 1 cup farro will yield about 2½ cups.