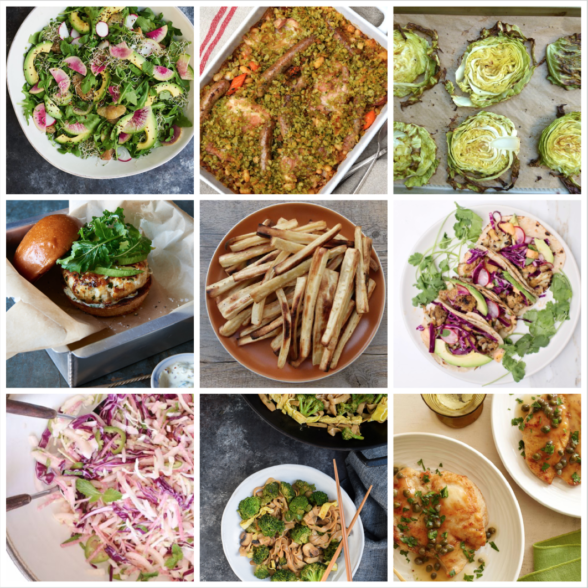 Happy New Year, friends!  It feels good to be able to say goodbye to the most challenging and historic year in my lifetime.  If 2020 did nothing else, I think it forced many of us to look inward and question so much about our lives, work, relationships, priorities, and more.  In 2021, may we honor our authentic selves, show more compassion, be more open to giving and receiving love, and be committed to prioritizing our health in all forms with whatever resources we have.  May this year shower you with the blessings you deserve.
If you are feeling like your diet needs a reset and you've wondered about a plant based diet, please check out my most popular 4-week course of last year!  My Plant Based Bootcamp starts this coming week and is a 4-week crash course where I teach you everything you need to know about nutrients, how not to gain weight, protein sources, how to cook the most versatile plant-based recipes, and more more more.  It was my most well-received course and I would love for you to join us!  I'm giving you $100 off with the code PB100 .  Are you in???   Here's your dinner planner for the week:
Meatless Monday: Winter salad with grapefruit, crispy quinoa and jalapeño-mint vinaigrette + white beans for extra protein
Tuesday: Weeknight cassoulet, roasted cabbage
Wednesday: Wild halibut burgers (p. 195) from KM, parsnip fries, green salad with everyday salad dressing #1
Thursday: Chipotle cauliflower tacos (My husband likes these with some sautéed chickpeas mixed with the cauliflower) with jicama slaw or pineapple slaw from KM
Friday: Shirataki noodle stir fry – try this recipe. You can treat them like pasta and add whatever you want.
Saturday brunch: "When In Doubt, Saute It Out!"  This is my mantra.  Empty the crisper drawer and chop everything up or pulse it in the food processor.  Saute garlic and a pinch of crushed red pepper, first add in raw veg (saute until tender), then frozen veg (saute until tender), then leftovers (saute until warmed through.)  Add spices like curry or turmeric or Italian seasoning and salt and pepper to taste.  What else do you have that would taste good here?  Nuts or seeds?  Avocado or a cooked egg?  Canned tuna or salmon?  Leftover tahini sauce?  Hot sauce?  It will be delicious.
Sunday: Chicken Piccata from Food Network, served with polenta and sautéed spinach.
Here's what you can do ahead if it helps you:
Sunday:
Wash greens
Make crispy quinoa
Make salad dressings
Cook white beans
Make breadcrumb topping for cassoulet
Tuesday:
Assemble halibut burgers
Wednesday:
Cut cauliflower into florets
My new cookbook, Quicker Than Quick, is here!  I have LOVED seeing all your creations of my recipes on Instagram. If you make any of my recipes, please tag me @pamelasalzman #pamelasalzman so I can check them out!  If you have 1 minute, would you mind leaving a review on amazon?  I would be so grateful, thank you!
Take a peek at my first cookbook "Kitchen Matters"!