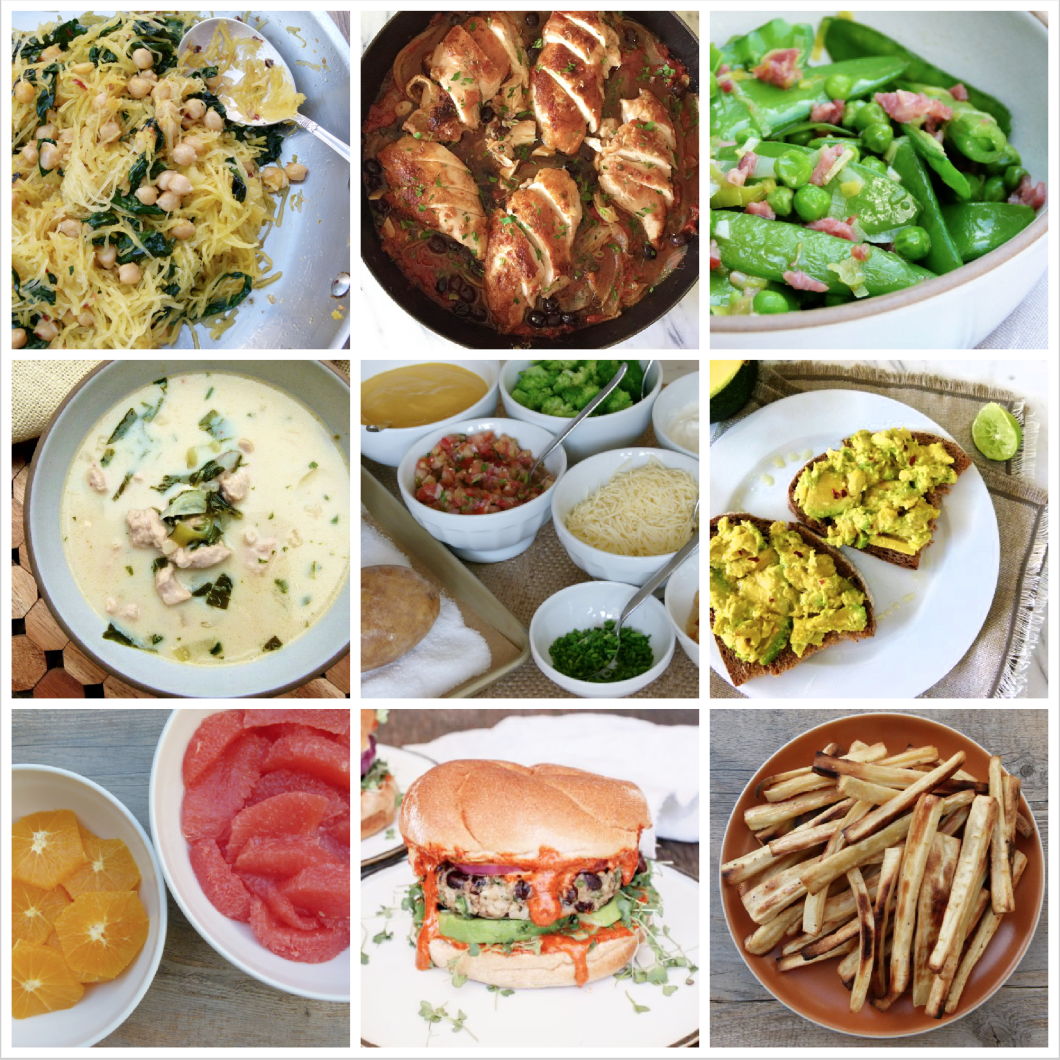 I'm repeating my two most popular bootcamps next week! If you haven't taken these yet, you don't want to miss out. These 4-weeks are a total game-changer! I'm offering two class times for each course to choose from. Plus, all class sessions are saved and sent to all members to view again if you can't join live. Join me Tuesdays for Plant Based 1.0 and use coupon code PB100 to save $100 off!
Join me Thursdays for Meal Planning | Meal Prep | Batch Cooking and save $100 off with coupon code MEAL100.
Also, I am not teaching in person for the forseeable future. 🙁 BUT, my online cooking classes are the next best thing and they are GREAT! You will learn so much. The recipes are brand new each month and stay exclusive to the class for at least one year before I post them anywhere else. Click here to learn more! Here's your dinner planner for the week:
Meatless Monday: Spaghetti squash with kale and chickpeas, sautéed mushrooms
Tuesday: Braised chicken with tomatoes, olives and capers (video here), polenta or pasta, sautéed garlic broccoli
Wednesday: Three pea saute with or without turkey bacon. You don't have to use three types of peas – use all frozen peas if you want. Plus wild salmon roasted on a sheet pan with carrots. Start the carrots first at 400 degrees and try to guess about 10 minutes before they're done. Then add the salmon, brushed with olive oil and sprinkled with salt and pepper.
Thursday: Thai Coconut Chicken Soup (you can use seafood instead of chicken, just cook for less time)
Friday: Baked potato bar. I like to put out things like the vegan "cheese" sauce from vegan mac and cheese, just cook it a couple minutes after bending, steamed broccoli, sautéed onions, and salsa. The goal is a little protein and lots of non-starchy veg!
Saturday brunch: avocado toast served with sliced oranges
Sunday: Black bean burgers with smoky red pepper sauce, baked parsnip "fries"
Here's what you can do ahead if it helps you:
Sunday:
Roast spaghetti squash
Wipe mushrooms clean
Wash and strip kale
Wednesday:
Make stock
Thursday:
Make vegan cheese sauce
Saturday:
Cook black beans if making from scratch
Make smoky red pepper sauce
I have LOVED seeing all your creations of my recipes on Instagram. If you make any of my recipes, please tag me @pamelasalzman #pamelasalzman so I can check them out!
My cookbook, Quicker Than Quick, is discounted for the first time on Amazon! If you have 1 minute, would you mind leaving a review on amazon? I would be so grateful, thank you!
Take a peek at my first cookbook "Kitchen Matters"!