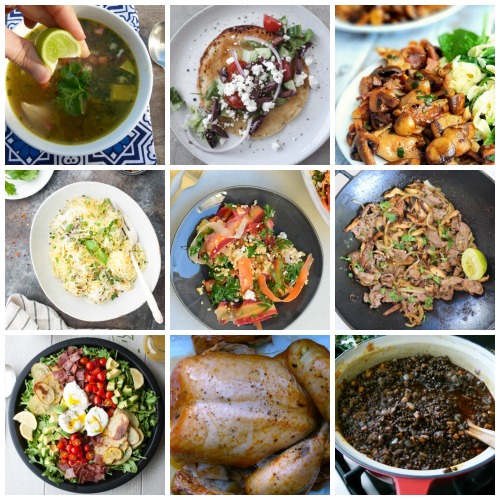 Happy Weekend!  I have just started working on booking locations and dates for my book tour.  What I'd really, really love most of all is to meet you!  Please let me know where you are and I'll see if I can stop in your town.  Email me if you'd like to invite me to speak at your school or community center.  If you think you can get a large enough group, I can probably make the trip and arrange a local bookseller to come join me!  pamelasalzman@gmail.com
In the meantime, Happy Super Bowl!
Here's your dinner planner for the week:
Meatless Monday: Buddha bowls with Moroccan Spiced Squash (p. 141)  from my book served with sautéed kale, quinoa, toasted slivered almonds and lemon. You can drizzle tahini dressing on top, use this method. Here are some ideas if you have Super Bowl leftovers! I enjoy making  Chicken and Avocado Soup with them. Another suggestion is using leftover crudités in a salad, stir-fry or a soup, leftover salsa can be used in slow cooker chicken tacos, any leftover cooked/uncooked veggies in a frittata, method here, or quesadilla, method here.  Little tortilla chips are delicious sauteed with eggs and pico de gallo.  Chili can be served over baked potatoes or roasted sweet potatoes. Lastly, leftover corn tortillas are perfect in this easy tortilla soup.
Tuesday: Chickpea Socca with Mediterranean Salad .  You can also skip the feta if you want and drizzle tzatziki on top, method here.
Wednesday: Weeknight Chicken Saltimbocca, served with roasted spaghetti squash or pasta
Thursday: Rainbow Carrot Salad with Millet, Feta, and Lemon Yogurt Dressing served along side your favorite protein if you're wanting a heartier meal.
Friday: stir-fried ginger beef with shiitake mushrooms served with black rice or cauliflower rice
Saturday brunch: Breakfast salad with potatoes, bacon and eggs (feel free to skip the turkey bacon)
Sunday: slow cooker whole chicken, smoky braised lentils (without turkey sausage), sautéed spinach
Here's what you can do ahead if you need to:
Sunday:
Wash all vegetables and herbs
Make socca mixture
Roast spaghetti squash
Make dressings
Wednesday:
Shave carrots
Make millet
I have LOVED seeing all your creations of my recipes on Instagram. If you make any of my recipes, please tag me @pamelasalzman #pamelasalzman so I can check them out!
Click here to learn more about my online cooking classes! If you like my recipes, you'll LOVE my cookbook!  If you have 1 minute, would you mind leaving a review on amazon?  I would be so grateful, thank you!