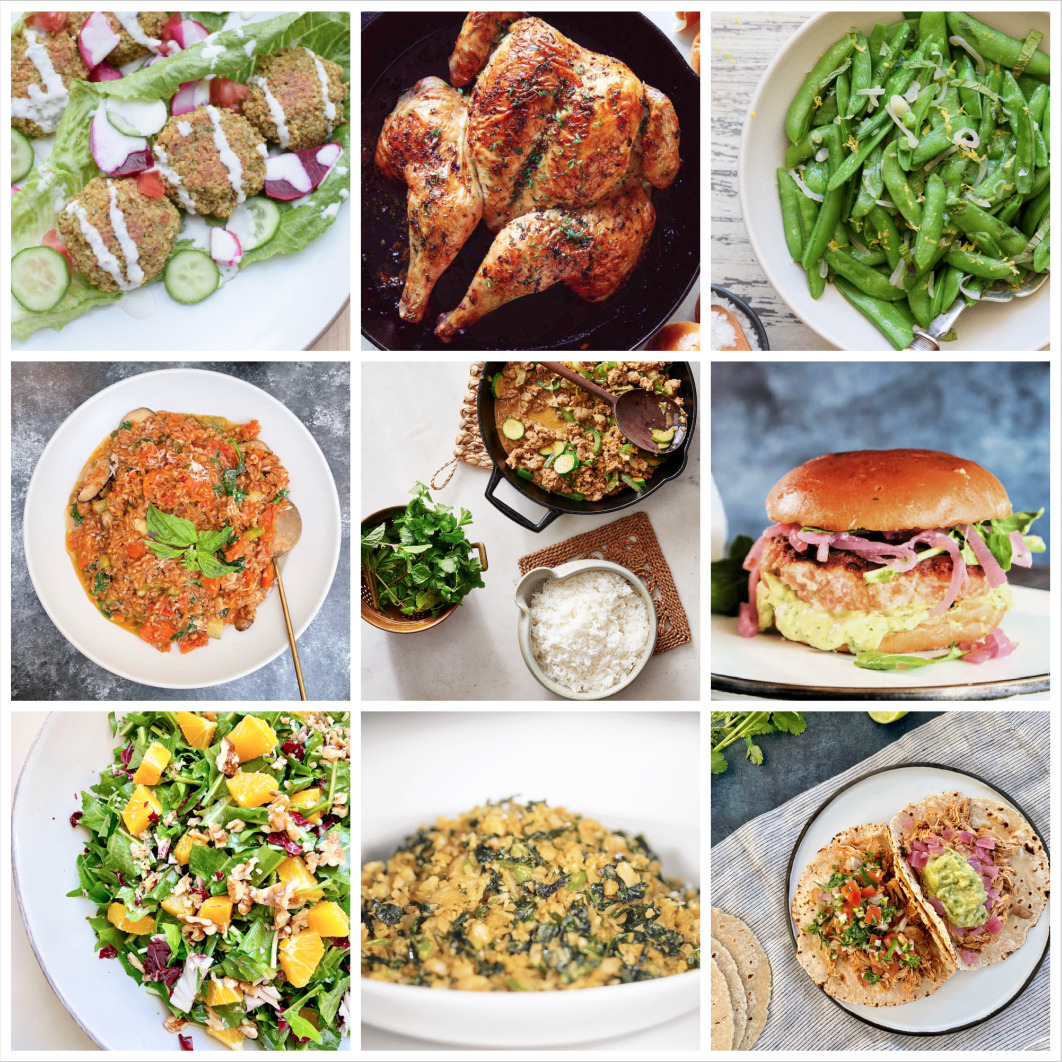 If this is a long holiday weekend for you, I hope you are enjoying it so far! I wanted to give you a heads-up to save the date in your calendar – if you take my online monthly cooking class, my live office hours will be this Wednesday at 12:00 pm PT/3:00 pm ET. Even if you haven't viewed the February class, you are welcome to join the zoom and ask me anything or just hear what other students want to talk about.
ALSO, if you live locally, I am hosting a discussion with best-selling author Rebecca Serle at Pages Bookstore in Manhattan Beach on Tuesday, March 7th at 6:30 pm. Her book One Italian Summer will be released in paperback so come join us for prosecco and a lively chat! Here's your dinner planner for the week:
Meatless Monday: Baked falafel with your favorite accompaniments like pickled onions, tahini sauce, lettuce wraps or pita. You can also saute the falafel if you want to cook them faster. It might sound odd, but creamy cabbage and avocado slaw goes great with falafel!
Tuesday: South American Roast Chicken with Green Sauce from Kitchen Matters, (my favorite chicken recipe ever and the best sauce ever), sautéed sugar snap peas with mint (olive oil, garlic salt and pepper + mint at the end)
Wednesday: One pot farro primavera, add a salad if you need more
Thursday: Curried Turkey and Vegetable Stir Fry from Quicker than Quick served with steamed rice
Friday: Wild Salmon Burgers, Mediterranean quinoa salad or dandelion and radicchio salad
Saturday Brunch: Cauliflower and kimchi "fried rice" from Gwyneth Paltrow's book "It's All Easy", topped with a poached or fried egg
Sunday: Slow cooker chicken tacos, tortillas, cilantro-lime slaw, cooked rice, salsa, guacamole
Here's what you can do in advance if it helps you:
Saturday:
Soak chickpeas
Sunday:
Make falafel mixture
Make tahini sauce
Wash greens
Make dressings
Monday:
Marinate chicken
Wednesday:
Cook quinoa if serving quinoa salad
Thursday:
Form salmon burgers
I have LOVED seeing all your creations of my recipes on Instagram. If you make any of my recipes, please tag me @pamelasalzman #pamelasalzman so I can check them out! I have a free Monday newsletter with my thoughts, new recipes, and things I'm loving lately. Subscribe here!
Order my cookbook, Quicker Than Quick! If you have 1 minute, would you mind leaving a review on amazon? I would be so grateful, thank you! Take a peek at my first cookbook "Kitchen Matters"!