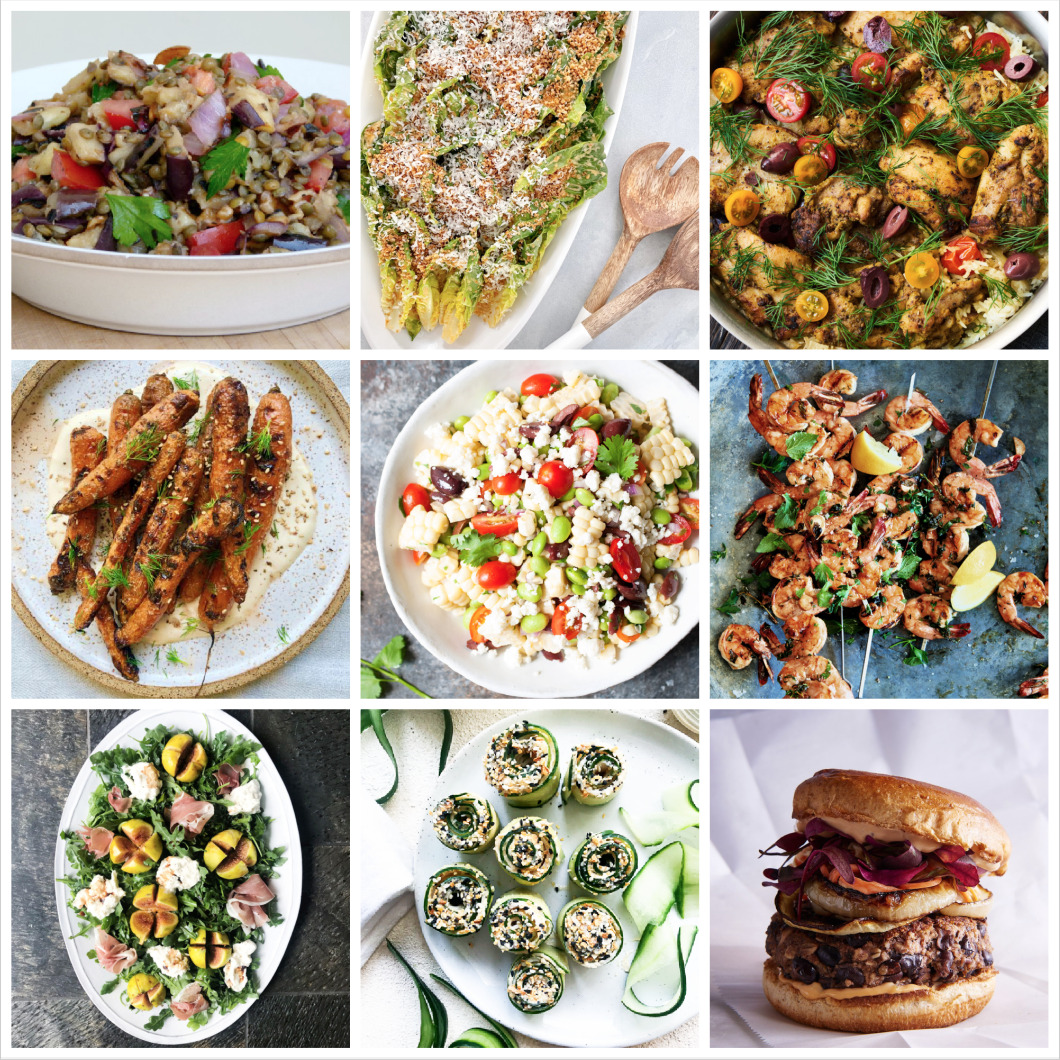 We had the most lovely visit with my sister's family and I am sad to see them go back to Long Island. I am now in Get-Mr. Picky-Ready-for-College mode! Eeek! Hubs and I are almost empty-nesters, so if you have suggestions for how to make this transition, please share. Also, I have started a newsletter for website subscribers only. The second newsletter comes out on Monday. It's a free subscription and I won't sell your info to anyone. I am sharing favorite finds, new, unpublished recipes, little things that I am loving lately. I am also going to organize an IN-PERSON Pamela Potluck in a month or so for anyone who is in town that wants to say hi in real life. BUT, you have to be an email subscriber!! Click here to sign up. Here's your dinner planner for the week:
Meatless Monday: lentil and grilled eggplant salad, over arugula with or without shaved parmesan or feta
Tuesday: Spicy caesar salad with toasted breadcrumbs, tuna patties
Wednesday: Mediterranean skillet chicken and rice, grilled carrots with or without tahini sauce
Thursday: Solterito (Peruvian chopped salad), Grilled Shrimp from KM
Friday: Salad with burrata, fig, and prosciutto You can omit the prosciutto altogether if you don't eat pork or meat. Swap in a toasted, salted nut like pistachios or pine nuts if you need another component or even avocado slices. I like serving this with grilled bread. If you don't eat bread, add grain-free crackers or a tomato and basil salad with olive oil and salt – always a go-to summer add-on when I need a little something extra!
Saturday brunch: Cucumber hummus turkey roll ups
Sunday: Black bean mushroom burgers from Quicker than Quick, zucchini fries
Here's what you can do in advance if it helps you:
Sunday:
Cook lentils or use precooked
Make spicy caesar dressing and tahini sauce
Wash greens
Make toasted breadcrumbs
Tuesday:
Measure spice mix for chicken and season chicken
Friday:
Cook beans if making from scratch
Make burger sauce
I have LOVED seeing all your creations of my recipes on Instagram. If you make any of my recipes, please tag me @pamelasalzman #pamelasalzman so I can check them out!
My cookbook, Quicker Than Quick, is on sale for $14.99 on Amazon! If you have 1 minute, would you mind leaving a review on amazon? I would be so grateful, thank you! Take a peek at my first cookbook "Kitchen Matters"!