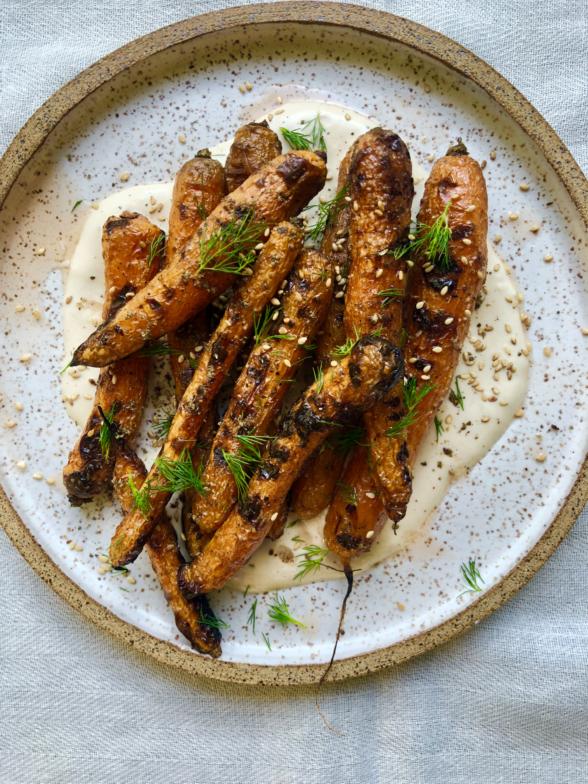 I had written an Instagram post about how I love grilling vegetables of all kinds.  I love a simple grilled veggie platter with or without a sauce or dressing on the side.  I especially love chopped grilled vegetables in a salad like this one.  If grilling is an easy way for you to cook, then by all means, throw some vegetables on there.  We need to eat as many vegetables as we can!  The basic prep is to lightly coat the vegetables with olive oil or avocado oil, sprinkle them with salt and pepper and grill them over medium or medium-high heat until tender.  The problem is that vegetables take different amounts of time to grill and some, such as artichokes or potatoes, need a steaming or blanching first.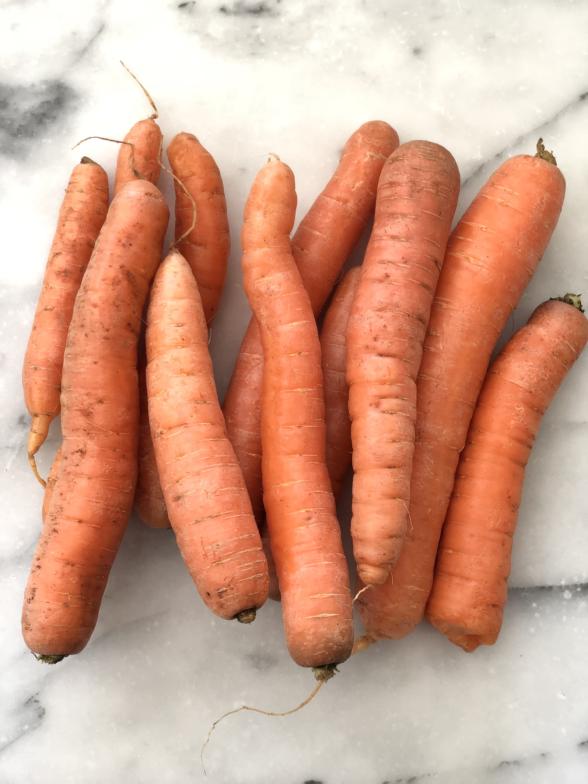 It's a pretty quick process, no matter what vegetable you grill. That's the reason I never leave vegetables alone on the grill.  I don't go inside to check my email or set the table.  I just hang out and pay attention!  One vegetable I never grilled until this week is carrots.  I don't know why because I adore roasted carrots.  But I saw a recipe in the food section of the LA Times the other day for grilled carrots with fresh za'atar and tahini labneh.  Ok, let's do some translating:
Za'atar is a middle eastern blend of dried herbs (like thyme, hyssop and/or sumac) and sesame seeds, kind of like Herbs de Provence for Middle Eastern food. There are different blends in different regions.  The one pictured above I found on amazon.  "Fresh Za'atar" in this article is made from fresh carrot tops, sumac, sesame seeds and salt.
Tahini is a sesame paste.  It's like a super creamy nut butter but made from only sesame seeds.
Labneh is a strained yogurt with the consistency of a soft, creamy cheese.  You can strain Greek yogurt in a thin, clean towel for 4 hours and have something labneh-like.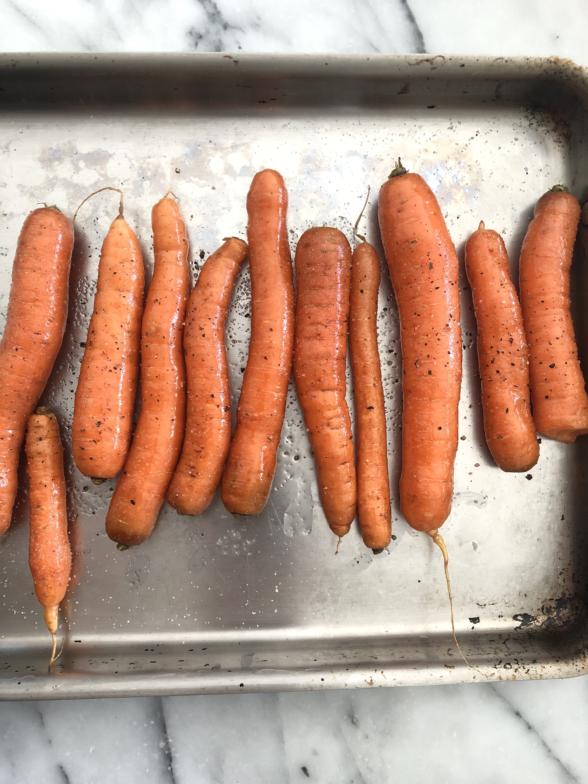 My carrots had no tops, even though I bought them from the farmers market.  BTW, farmers market carrots are SO much better than supermarket carrots.  Much sweeter and grassier.  I also had no labneh.  But we know that recipes are only roadmaps, right?  I actually have a recipe on my site for Roasted Carrots with Garlic Yogurt which is one of my favorite roasted veg recipes ever.  You could swap grilled carrots for that recipe.  I digress.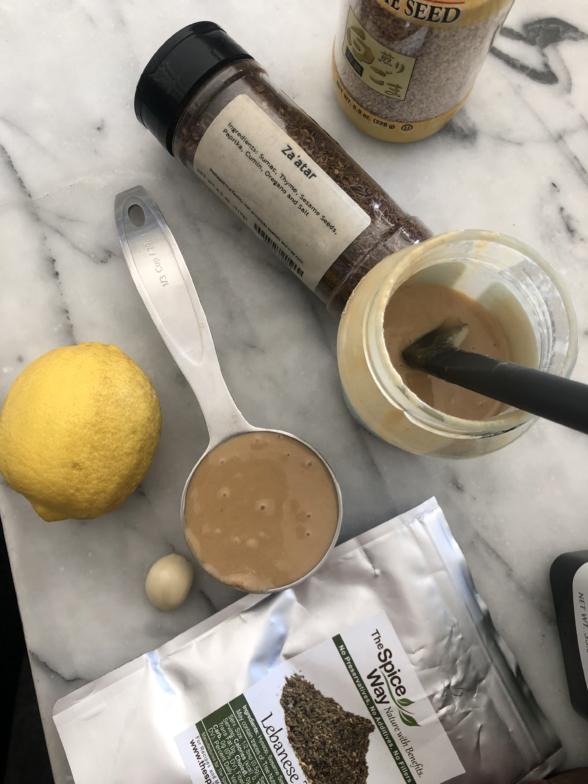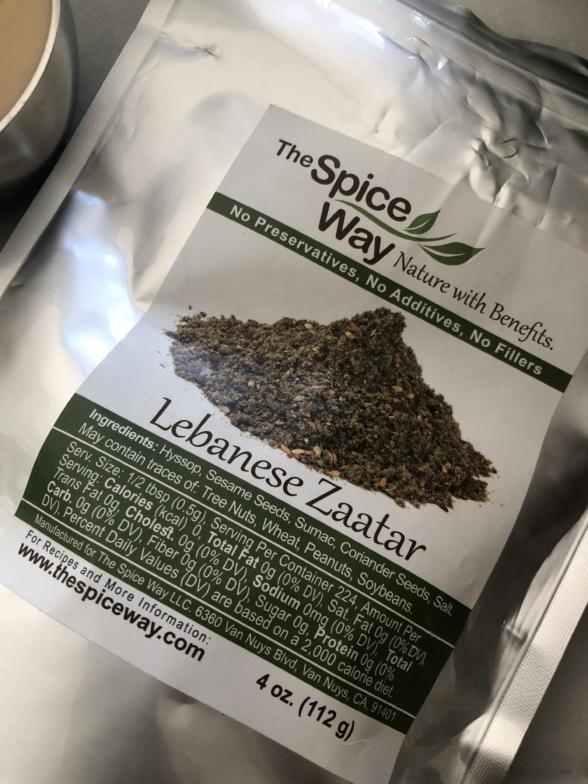 So I grilled the carrots and made my lemon-tahini sauce which I smeared on the plate. I piled the carrots on top and sprinkled them with fresh dill, sesame seeds and the za'atar you see above which I am using in this month's classes. Then I drizzled the outside of the plate with a little red wine vinegar. I passed the extra tahini sauce on the side. DEE-lish!  Everyone loved it.
I think Middle Eastern and Mediterranean flavors go with everything.  You could easily serve this dish with any grilled meat, poached salmon or the amazing lentil and grilled eggplant salad on my site.  Have you tried grilling carrots?  Have you had a grilled vegetable that you thought was unusual?  I'd love to hear!  Also, if you make any of my recipes, I would so love to see!  Tag me @pamelasalzman #pamelasalzman  🙂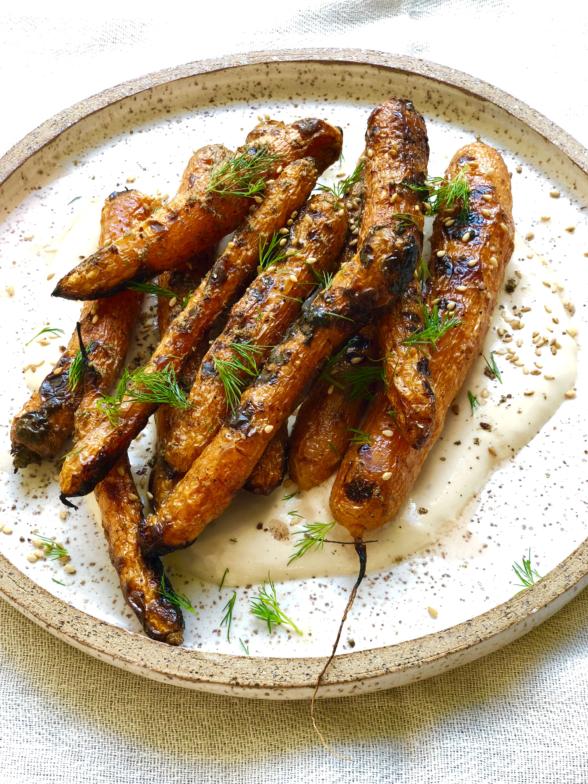 Would you like to take cooking classes with me but don't live in LA?  No problem!  I tape my classes and upload them onto my online class platform.  I'd love for you to be a part of my cooking class community!  Click here for more information.

Grilled Carrots with Tahini Sauce
Author:
Pamela, inspired by the LA Times Food
Ingredients
Tahini sauce
⅓ cup tahini sauce
water
1 garlic clove, minced or grated
2 Tablespoons fresh lemon juice
salt to taste
2 pounds loose whole carrots (about 3 bunches) - smaller ones cook more quickly
Unrefined olive oil or avocado oil for lightly coating the carrots
Sea salt and freshly ground black pepper to taste
Red wine vinegar
Optional: Toasted sesame seeds, sumac, za'atar, fresh dill or parsley, minced
Instructions
Make the tahini sauce: whisk all sauce ingredients in a medium bowl, adding enough water to achieve the desired consistency. This will depend on the consistency of the tahini. Figure about ⅓ cup of water, more or less.
Prepare a charcoal grill for direct, high heat grilling or heat a gas grill to high. (Alternatively, heat a cast-iron grill pan over high heat.) Scrub the carrots clean and dry thoroughly, then place in a bowl or on a baking sheet. Toss to coat the carrots with the oil and season them with salt and pepper.
Place the carrots on the grill and cook, turning as they char lightly, until soft and blackened nicely in spots, about 20 minutes for large carrots or 10 minutes for small, thin carrots.
While the carrots cook, spread some tahini sauce over the bottom of a large serving platter. Transfer the cooked carrots directly from the grill to the platter, piling them up in the center. Sprinkle a little vinegar on and around the carrots. Garnish the carrots with any of the optional finishing ingredients, if desired. Just wing it with amounts. Serve the extra tahini sauce on the side.