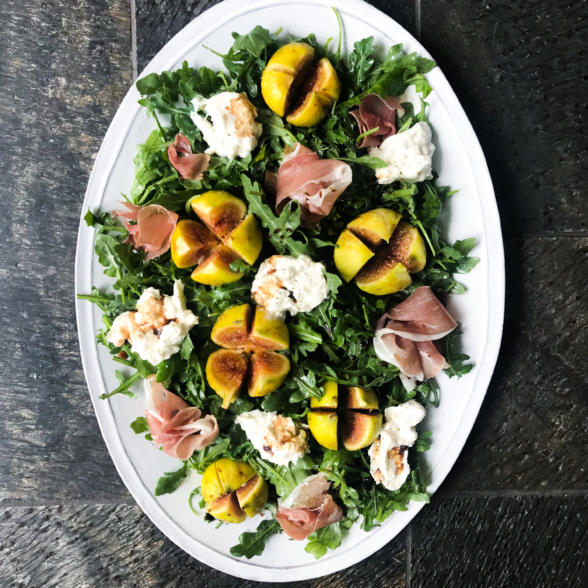 I actually don't spend as much time cooking for my family as you might think.  I have a full-time teaching schedule and I have to work hard at keeping up with my social media channels and my blog.  I obviously love cooking, but I pretty much cook all day. So when it comes time to make something for dinner for my family or on the weekends for friends, I go simple.  But the Italian in me knows that the simpler the recipe, the better the ingredients have to be.
That's where seasonality comes into play. There are many reasons for cooking with ingredients when they are in season (e.g. better for the environment, higher nutrient content, better for keeping our bodies in balance), but just as important is the taste factor.  Fruit and vegetables in season just taste a million times better.  One of my go-to salads is something my mother taught me – pair a seasonal fruit (figs in the summer are DIVINE) with peppery greens (like arugula) and a creamy cheese like fresh mozzarella or burrata.  Drizzle with your best olive oil, aged balsamic if you have it, and a sprinkle of salt and freshly ground black pepper.  No need to measure anything, but use less than you think you need.  Taste it and adjust accordingly.  And if you have homegrown tomatoes, add a few of those, chopped.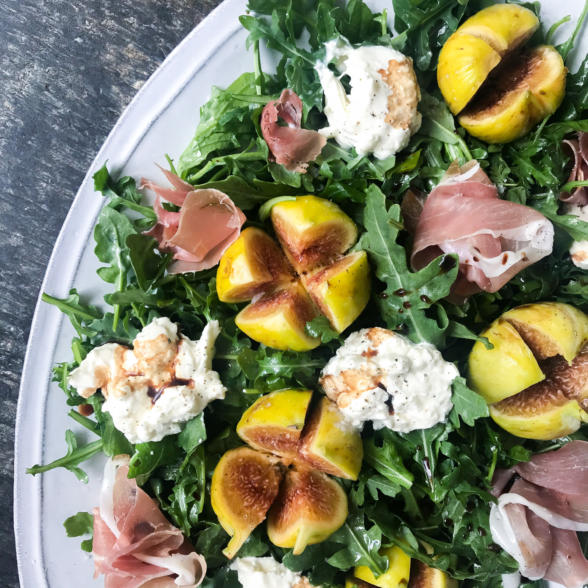 My mom was the one who also introduced me to Belgioioso (pronounced bel-joy-OH-so) cheese.  My parents tend to favor Italian products made by actual Italians LOL.  She always has several of their cheeses in the fridge and Belgioioso was the first burrata I ever tasted.  Even though I thought I could never love any cheese more than fresh mozzarella, burrata immediately stole my heart.  It's actually a sack made out of mozzarella and filled with cream and strands of mozzarella.  It is pure heaven.  It's not a stretchy, melty cheese like mozzarella, but creamy and delicate with a light, fresh flavor.  It is perfection in a salad like this, or on toast or on top of a pizza after it is finished cooking in the oven, or on top of pasta, or just mounded on a platter surrounded by tomatoes and basil and olive oil.  It's such a treat.
You can read more about Belgioioso, their history and their products on their website.  But what is important to me is that they use the traditional method of making cheeses and seek out milk from local cows that have been mostly grass-fed.  No preservatives, fillers, hormones or any other junk has been added to their cheeses.
This is a salad that anyone can make in minutes.  When figs are out of season, use roasted pears or persimmons.  If you don't like the contrast of arugula with fruit, use butter lettuce.  Want something a little firmer, try fresh mozzarella or fontina.  Just remember to keep it simple and make it with the best ingredients you can find and this salad will be a winner every single time.
ALSO, I have a fabulous GIVEAWAY happening on my instagram Saturday – Monday.  I am giving away Belgioioso coupons as well as pieces from Le Creuset including a few platters, tapas dishes and a water pitcher.  You must be 18 years old to enter and a US resident.  You must follow me @pamelasalzman @belgioiosocheese and @thefeedfeed and tag someone in the comments.  Super easy!
Buon appetito!
I'd love to see your creations!  Please tag me @pamelasalzman #pamelasalzman so I can check them out!
You can shop the tools I used for this recipe by clicking on the images below!

Salad with Burrata, Figs, and Prosciutto
Ingredients
5 ounces of arugula (I prefer the baby leaves which don't need to be chopped)
2 Tablespoons aged balsamic vinegar (thick and syrupy kind) + more for finishing
2 Tablespoons unrefined, cold-pressed extra-virgin olive oil + more for finishing
Maldon sea salt (flaky) or regular sea salt
Freshly ground black pepper to taste
6 large fresh ripe figs, quartered through the stem end but not all the way through
3 ounces of thinly sliced prosciutto, preferably pasture-raised
8 ounces Belgioioso burrata, preferably at room temperature or Belgioioso fresh mozzarella
Instructions
Place the arugula in a large bowl and drizzle with 2 Tablespoons balsamic vinegar and 2 Tablespoons olive oil. Toss to coat. Arrange the arugula on a platter.
Take the figs and tuck them into the arugula, evenly spacing them throughout the platter. Do the same thing with the prosciutto.
Pull apart the burrata into approximately ¼ cup pieces or as desired, and nestle the cheese around the figs and prosciutto.
Drizzle the whole platter with a little more oil and vinegar and sprinkle with flaky salt and freshly ground black pepper to taste.
Notes
Another way to make this salad is to roast the figs until they are warm and softened.