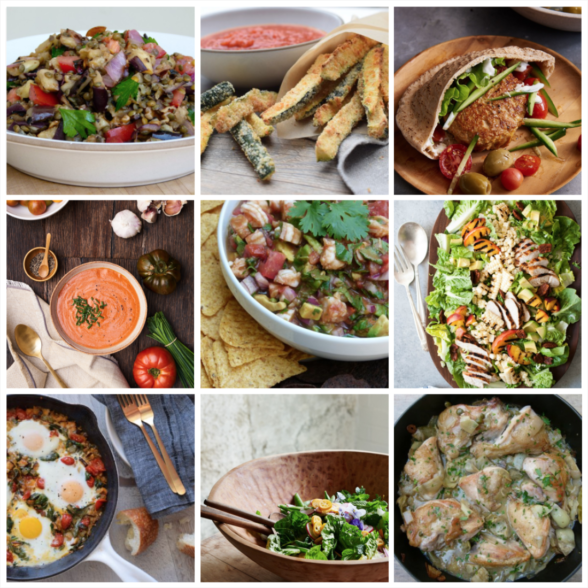 I know many of you on the East coast are still without power after Hurricane Isaias blew through.  I hope all will be back to normal soon.  I know times are tough right now, but this situation is temporary.  Things that I have been doing to keep my mood up are eating well (good food can boost your mood and toxic food can worsen your mood), getting sunlight every day, getting adequate sleep, having a gratitude practice daily (we do have much to be grateful for despite everything), not starting my day or ending my day watching the news, and staying connected with friends (even if it's a phone call or via zoom.). I try to do some meditation as well when I remember.  😉
Here's your dinner planner for the week:
Meatless Monday: lentil and grilled eggplant salad , simple arugula salad with or without shaved parmesan
Tuesday: baked zucchini fries, chicken shawarma burgers from QTQ
Wednesday: salmorejo served with open face sandwiches with hummus or white bean dip and microgreens; the soup is great with chopped hard boiled egg on top or crab.
Thursday: Shrimp salsa served over rice, with a side of your favorite seasonal grilled or roasted veggies
Friday:  Grilled summer salad with chicken and spicy cashew dressing (there's two other chicken recipes this week so I'm going to swap wild salmon for the chicken here.)
Saturday brunch: Green shakshuka with fresh bread, fresh fruit
Sunday: baked chicken with artichokes and capers, market salad with creamy lemon dressing p. 74 from Quicker than Quick
Here's what you can do ahead if it helps you:
Sunday:
Wash lettuce
Make salad dressings
Cook lentils
Monday:
Make chicken shawarma mixture
Tuesday:
Make salmorejo soup
My new cookbook, Quicker Than Quick, is here!  I have LOVED seeing all your creations of my recipes on Instagram. If you make any of my recipes, please tag me @pamelasalzman #pamelasalzman so I can check them out!  If you have 1 minute, would you mind leaving a review on amazon?  I would be so grateful, thank you!
Click here to learn more about my online cooking classes! Through the end of August, choose any cooking class in the library for $20 with the code SINGLE20 and a subscription for future classes for $17  (normally $27/mo.) with the code CLASSES17.
Take a peek at my first cookbook "Kitchen Matters"!