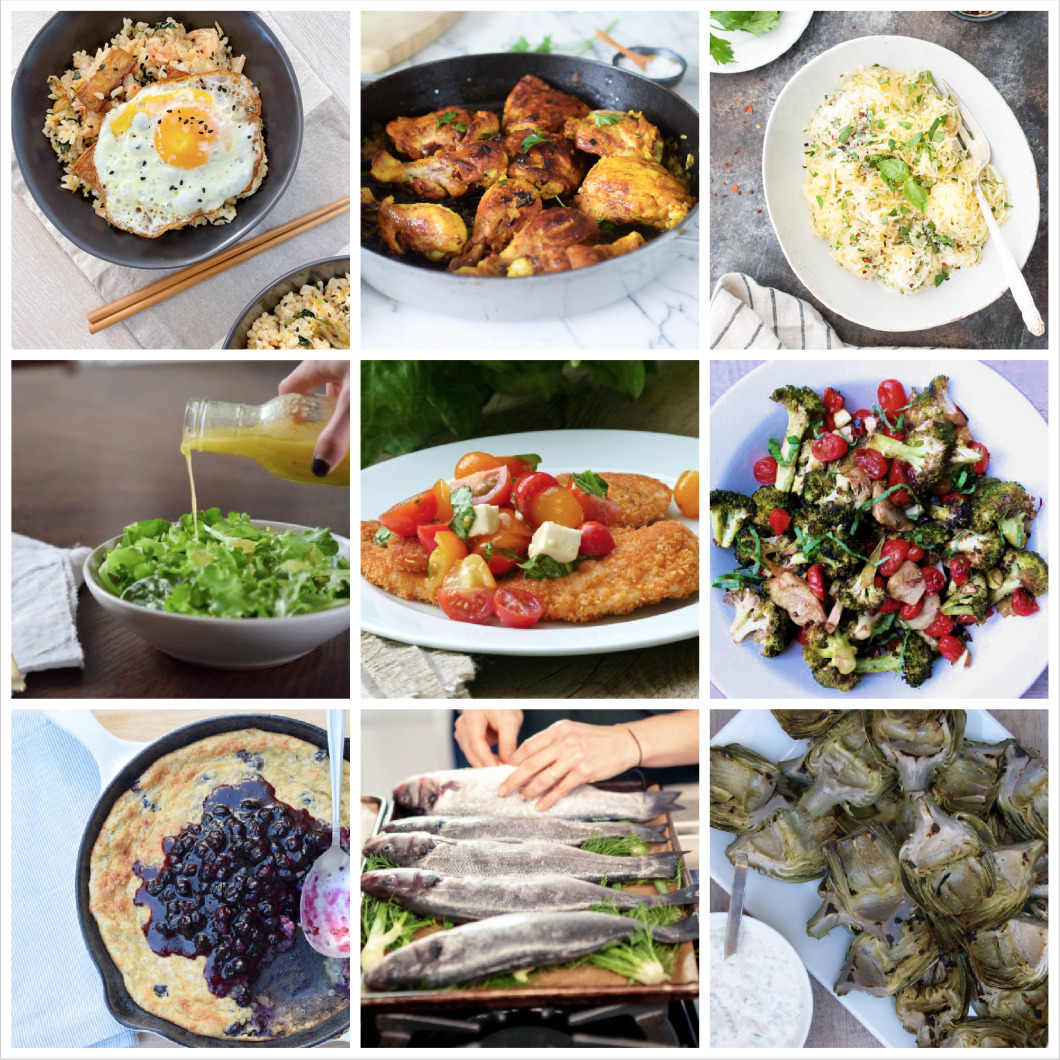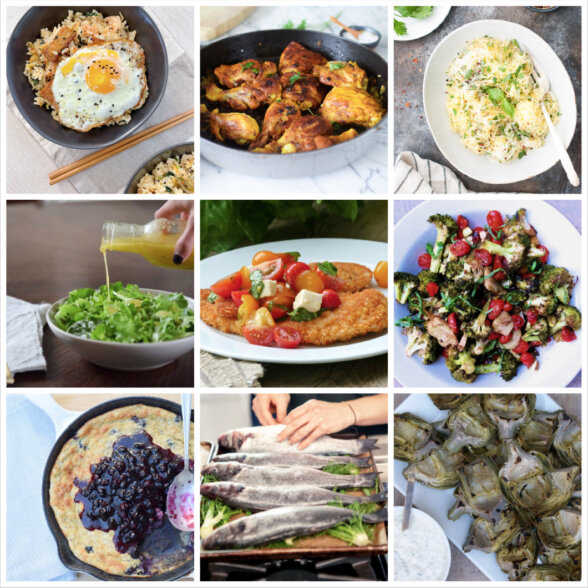 Big news! I am bringing back two of my best bootcamps beginning the first week in May – Entertaining with Ease and Raising Healthy Eaters!! I am probably not going to be offering bootcamps live again for the foreseeable future, so if you enjoy the one-on-one attention from taking the bootcamps with me and the support from the group, do not hesitate to take either or both of these! Both of these bootcamps will take the ANXIETY out of both entertaining at home and feeding your kids. I promise, you will feel lighter, less stressed, and you will actually have a total attitude shift after these bootcamps. I'm offering $100 off with coupon code EWE100 for Entertaining with Ease and code KIDS100 for Raising Healthy Eaters. Can't wait to see you in class! Here's your dinner planner for the week:
Meatless Monday: Kimchi fried rice with crispy tofu or a fried egg
Tuesday: Everyday turmeric chicken, cooked rice, cauliflower rice or mejadra rice with lentils, favorite roasted vegetable
Wednesday: Roasted spaghetti squash with pesto and shrimp, arugula salad with everyday salad dressing #1. I'll saute the shrimp in a skillet with olive oil, garlic and crushed red pepper, which takes a few minutes on each side.
Thursday: baked parmesan chicken caprese, balsamic roasted broccoli and cherry tomatoes (but skip the cherry tomatoes since there are tomatoes on the chicken and use thinly sliced red onions), toss with warm lentils or white beans if you need more or serve grilled garlic bread on the side.
Friday: pasta with vegan eggplant bolognese p. 181 from QTQ
Saturday brunch: blueberry oatmeal soufflé
Sunday: Zesty lemon quinoa, whole roasted branzino (so easy, try it!), grilled or steamed whole artichokes (using the dipping sauce in the recipe or just make a balsamic vinaigrette
Here's what you can do ahead of time if it helps you:
Sunday:
Cook rice
Roast spaghetti squash
Make pesto
Make salad dressing
Wednesday:
Cut broccoli into florets
Friday:
Cook quinoa
Make dipping sauce for artichokes
I have LOVED seeing all your creations of my recipes on Instagram. If you make any of my recipes, please tag me @pamelasalzman #pamelasalzman so I can check them out!
My cookbook, Quicker Than Quick, is on sale for $14.99 on Amazon! If you have 1 minute, would you mind leaving a review on amazon? I would be so grateful, thank you! Take a peek at my first cookbook "Kitchen Matters"!