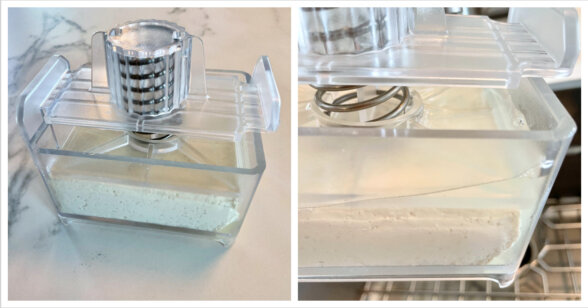 I taught this basic oven-baked crispy tofu in a class a million years ago and refer to it all the time. I also put a chipotle version of it in my cookbook, Quicker Than Quick. Then I posted a reel on Instagram, but not everyone is on Instagram so I need a permanent home for this recipe where everyone can find it.  And here we are!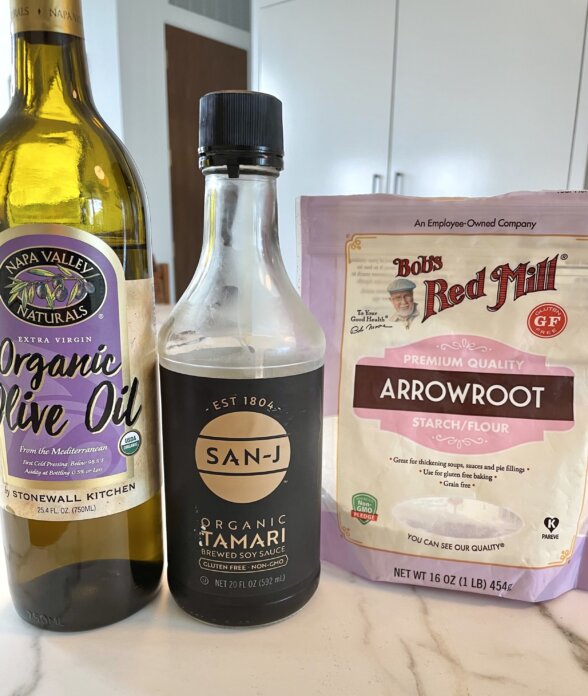 We are a mostly plant-based family and we enjoy tofu very much in bowls, tacos, enchiladas, stir-fries, and even salads. The question I often receive regarding soy is how much of it do I eat per week. First of all, soy is not just tofu, but tempeh, soy milk and condiments like miso, tamari and shoyu.  And then there's all the ultra-processed soy like soy hot dogs and bacon, Tofutti cream cheese and ice cream, soy protein isolates in protein powders and bars, etc. Furthermore, soy is very often genetically modified.  The point is that not all soy is created equally.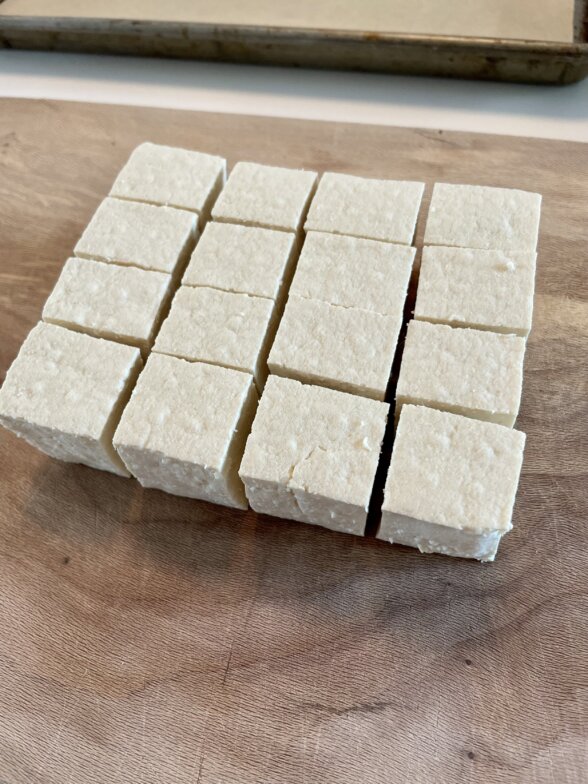 I choose organic soy whenever possible or non-GMO if organic is not available. And I rarely buy ultra-processed soy products.  Therefore I am comfortable serving high quality soy like tofu once or twice a week.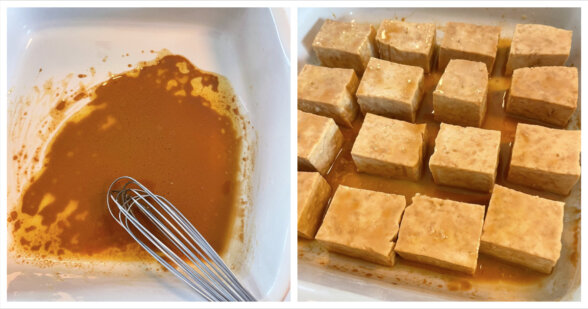 Most Important Tips for Success:
Press the moisture out of the tofu first.  I do this with a tofu press, but wrapping the block in a few layers of paper towels and weighing it down with a cast iron skillet or something heavy works great. Removing the water from the tofu helps with crispiness and flavor absorption.  Tofu kind of tastes like nothing.
Cook on parchment paper, not foil and not directly on the sheet pan to prevent sticking. Tofu can stick to several materials and I have only had success cooking it directly on parchment.
Baking allows all the sides to get that cooked exterior, whereas frying in a skillet takes a lot of babysitting to get multiple sides crisp. If you do want to pan-fry, just sprinkle the cubes with salt and toss them in rice flour, arrowroot or cornstarch.  Use a nonstick pan or a well-seasoned cast iron pan and some oil.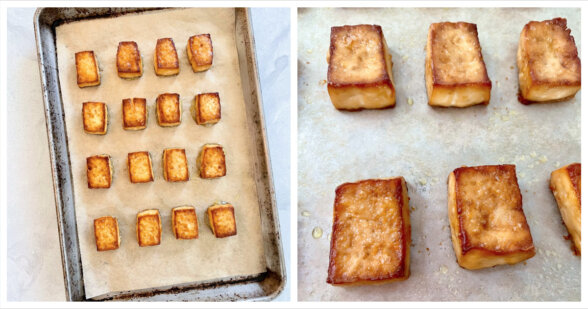 Here are the simple marinade ingredients which you can memorize since it's 1 Tablespoon of each:
Arrowroot or Cornstarch: gives a light, crispy coating. Arrowroot is less processed than cornstarch and is grain-free. I measure the arrowroot first, so I can use the same measuring spoon for the liquids.
Oil: Use olive oil or avocado oil or 1 teaspoon toasted sesame oil + 2 teaspoons olive oil
Tamari or Shoyu: this is for seasoning, so no salt needed.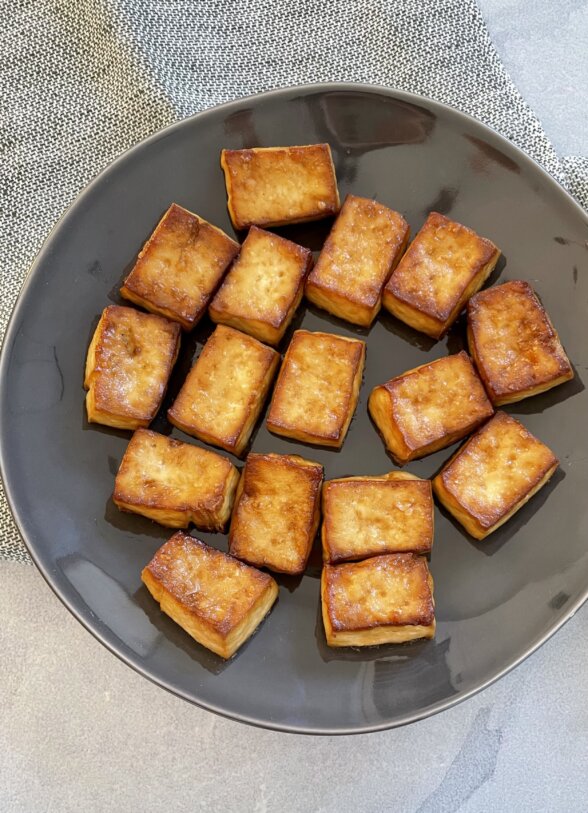 Once the tofu is done to your liking, enjoy immediately. It won't be as crispy the next day, but it's still delicious! You can also cut the tofu into planks instead of cubes.  Check them in the oven a few minutes earlier. I like Wildwood Organics sprouted tofu or Trader Joe's organic sprouted tofu.  Once you get the hang of this recipe, you start adding other flavors, like different spice blends.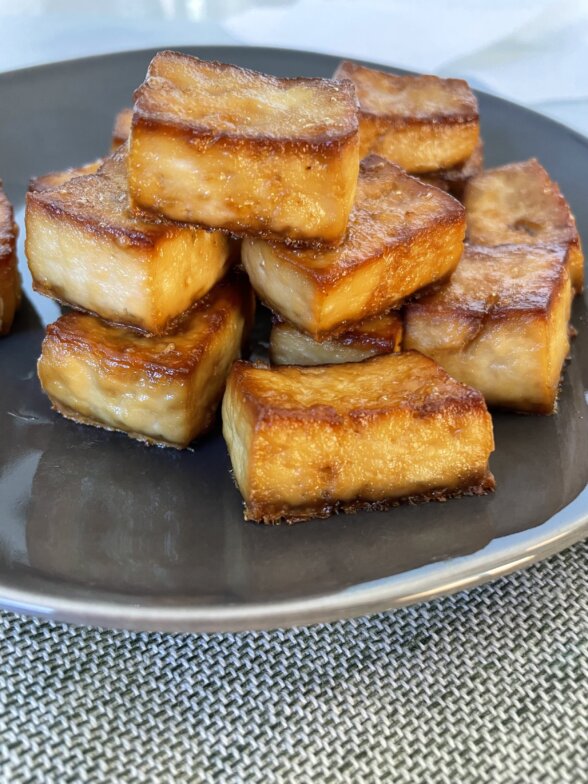 As always, if you make any of my recipes, please tag me @pamelasalzman #pamelasalzman so I can see them.  It makes my day to see your beautiful creations!
You can shop the tofu press I used for this recipe by clicking on the image below: 

Crispy Baked Tofu
Ingredients
1 block of extra-firm tofu (12-15oz), preferably organic/non-gmo and sprouted
1 Tablespoon arrowroot (cornstarch can be used too)
1 Tablespoon unrefined avocado oil or olive oil
1 Tablespoon shoyu, tamari, or coconut aminos
Instructions
Squeeze the moisture out of the tofu: Slice in half lengthwise and wrap the blocks with paper towels and place on a cutting board. Place something heavy, like a skillet filled with cans, on top and allow it to sit for 15 minutes or longer, if possible. Or use a tofu press. Cut into 1-inch cubes.
Preheat the oven to 400 degrees and line a rimmed baking sheet with unbleached parchment paper.
In a medium bowl or a container that can hold the tofu in one layer, mix together the arrowroot, oil, and shoyu. Add the tofu and gently coat each piece, trying not to break the cubes. If you have time, allow to marinate for 30 minutes to 4 hours. But even marinating while the oven preheats is fine.
Arrange the tofu in one layer on the prepared baking sheet and bake for 20-25 minutes, tossing the tofu halfway if you want, until the tofu is golden on the edges. You can go even longer if you want it even crispier.