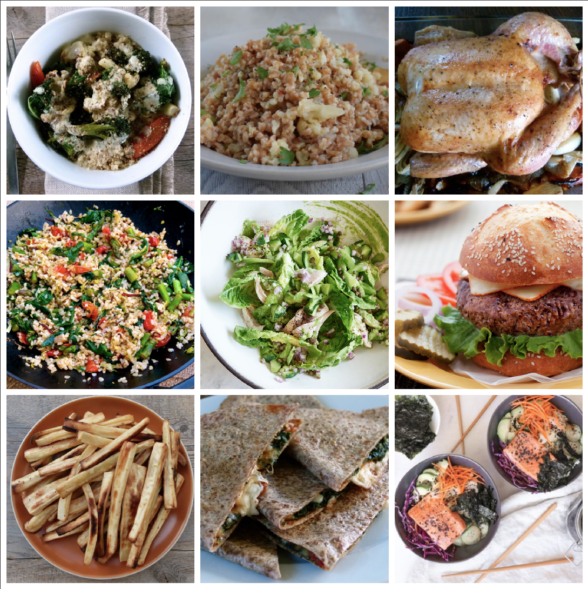 I've been a little overwhelmed and understaffed at Pamela Salzman Headquarters this week, so I apologize for the lack of new blogposts.  I had a great time in Dallas seeing my daughters, teaching a class, at a book signing and at the FOX station for a cooking segment.  In between my trip and some classes in LA, I had a fabulous time at Room at the Beach in Malibu cooking and signing books.
I have also been doing some last minute editing on a new round of videos for Instagram, which I think you will love!
Here's your dinner planner for the week:
Meatless Monday: Roasted vegetable Buddha bowl with quinoa.  The vegetables in the recipe are suggestions, so feel free to use what you have in the fridge or freezer.
Tuesday: One pot barley and cauliflower with Parmesan, no-fail roast chicken or oven roasted eggplant slices drizzled with pomegranate molasses or aged balsamic.
Wednesday: Italian fried rice, add Italian turkey sausage if you want
Thursday: Green goddess chicken salad from my cookbook
Friday: Juicy steakhouse burgers from Once Upon a Chef, parsnip fries, green salad
Saturday Lunch: Pizza quesadillas (sub Kite Hill almond milk ricotta for the mozzarella if dairy free)
Sunday: Deconstructed salmon sushi bowl
Here's what you can do ahead if you need:
Sunday
Make quinoa for Buddha bowl and brown rice (or whatever grain you want to use for Italian Fried Rice)
Make lemon-tahini dressing for buddha bowl
Make salad dressing for the week (I like to do this every Sunday for lunches throughout the week, but will also use for the Green Salad I am making on Friday)
Wash lettuce greens and herbs
Poach chicken for green goddess salad
Salt your chicken for roasting on Tuesday
Thursday
If you need to make sautéed spinach for the quesadillas, put some frozen spinach in the refrigerator to defrost
Here's a link to my previous dinner planners.
If you like my recipes, you'll LOVE my new cookbook!