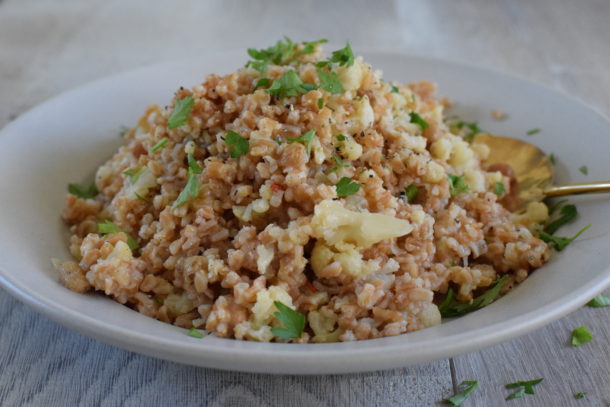 There was a recipe that went viral on Pinterest a few years back which involved putting dry pasta and a few ingredients like onions, garlic and tomatoes, in a pot and cooking everything together without draining, sautéing, etc.  I thought it was going to be life-changing, but instead this "one pot pasta" dish turned out to be a huge disappointment.  The sauce was thick and starchy and the whole dish was an overall mess.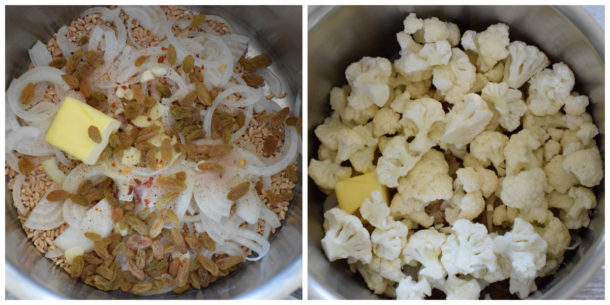 Then Smitten Kitchen applied the same technique and ingredients to farro and it was a delicious, easy, one-pot meal.  I decided to adapt that recipe to fall/winter ingredients and a voila!  It turned out to be the best farro dish I have ever made.  Flavorful, nutty, hearty and super simple.  Plus my whole family went crazy for it.  Farro is a delicious, chewy grain which I often add to soups or turn into a salad.  But instead this side dish can be a meal unto itself or a great accompaniment to almost anything.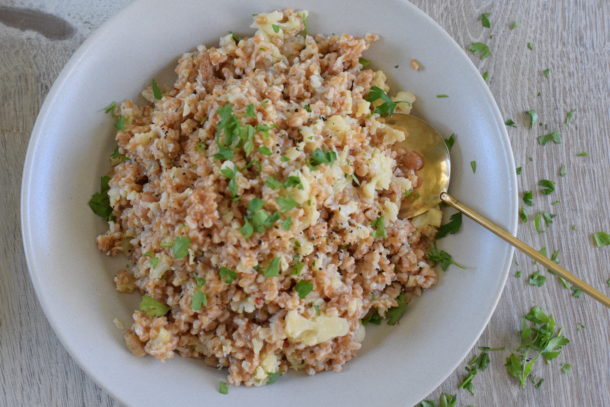 Cauliflower is one of the few vegetables that can be overcooked and still taste and look good.  In fact, cauliflower just gets milder and sweeter the longer it is cooked.  I love pairing cauliflower with golden raisins, garlic and crushed red pepper for a contrast in flavors. I think you could also sub a lot of riced cauliflower for some of the farro for an even lighter dish.  The end result is a total winner, although not as dramatic and pin-worthy as the original pasta recipe.  But as I always tell my teenage daughters, what is put forth on social media is sometimes too good to be true.  I'm usually not referring to pasta of course, but the lesson is a good one!
I didn't originally intend to post this as a possible Thanksgiving recipe, but I think it could be a good alternative to stuffing.  Thanksgiving recipes are coming starting Tuesday.  Get ready!

One-Pot Farro with Cauliflower and Golden Raisins Recipe
Serves:
6 as a side dish or 4 as a main
Ingredients
1 cup farro
½ large onion, cut in half again and thinly sliced
2 garlic cloves, thinly sliced
pinch of red pepper flakes
2 teaspoons sea salt
freshly ground black pepper to taste
2 Tablespoons unrefined, cold pressed, extra virgin olive oil
¼ cup unsulphured golden raisins, or chopped dried apricots
1 small head of cauliflower, cut into bite-size florets, about 4 cups
2 cups water or chicken stock, or a combination
accompaniments, if desired: grated parmesan or pecorino cheese (recommended), toasted pine nuts or sliced almonds
Instructions
Place all ingredients into a medium saucepan or stockpot in the order listed, with farro first, then onion, etc. Bring uncovered pan to a boil over high heat, lower heat to a simmer and stir occasionally. After 30 minutes, farro should be tender. If it's not, cover and continue to simmer a few more minutes. There should be a little liquid at the bottom of the pot, but it should not look like soup. Turn off the heat and cover until ready to serve. The longer it sits, the more liquid will be absorbed.
Serve warm with parmesan or pecorino cheese and sprinkled with toasted pine nuts or sliced almonds, if desired.
Notes
If you stir the farro more often, it becomes like a risotto.
You can stir the cheese into the farro before serving or grate it on top of each person's portion. Sometimes I like to add capers with the rest of the ingredients and you can finish it all off with some fresh, chopped parsley.
Semi-pearled barley can be substituted for the barley.