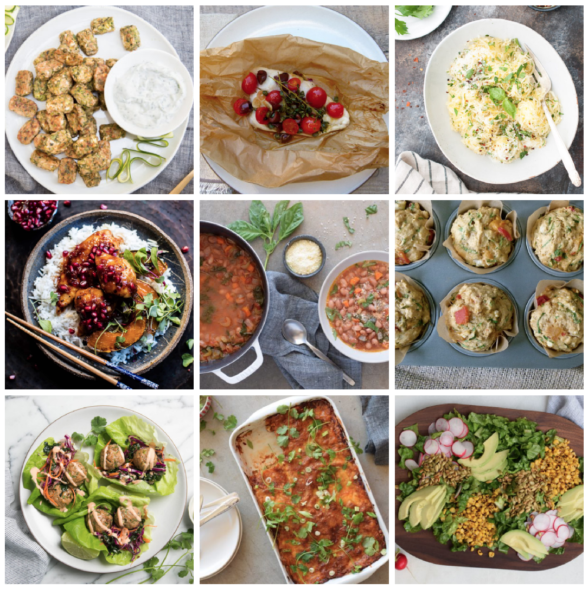 Happy Weekend!  Things have been busy around here.  I just started a new cooking class menu this week and it has gotten me into the Thanksgiving spirit!  I am officially excited for the holiday.  One thing I have been suggesting to my students is to try out new recipes this week before Thanksgiving.  That way you feel confident and you can make changes if necessary.
In other news, I was in New York last week to tape a segment on The Rachael Ray Show (OMG!!) and the show will air on Monday, November 6th. Woo-hoo!  Here's your dinner planner for the week:
Meatless Monday: Sweet potato and qunioa veggie burgers from my cookbook, zucchini tots
Tuesday: Mediterranean fish in parchment and spaghetti squash with herbs and pecorino
Wednesday: Sticky sheet pan pomegranate chicken and honey roasted squash from Half Baked Harvest
Thursday: Cranberry bean soup, savory muffins with spinach, roasted red peppers and feta
Friday: Asian turkey meatballs, vegetable fried rice
Saturday lunch: Swiss chard frittata, green salad
Sunday: Mexican lasagne, fiesta salad with salsa vinaigrette
Here's what you can do ahead if you need:
Sunday
Cook quinoa and sweet potato OR make sweet potato and quinoa burgers up to the point of refrigeration, cover and store in fridge overnight
Make chicken or vegetable stock, if using
Wash all your greens and herbs
Make salad dressings
Cook spaghetti squash and store in fridge (by the way, I just discovered that cooked spaghetti squash freezes perfectly!)
Cook rice for fried rice and store in fridge
Roast red peppers (or just buy them roasted)
Tuesday
Make the sticky glaze and prep the squash the for chicken
Wednesday
Soak the beans for soup
Thursday
Defrost peas for fried rice
Make red sauce for lasagne
Here's alink to my previous dinner planners.
If you like my recipes, you'll LOVE my new cookbook!  If you have cooked from my book and you are enjoying it, it would mean so much to me if you would write a review on amazon.  🙂  Thank you!