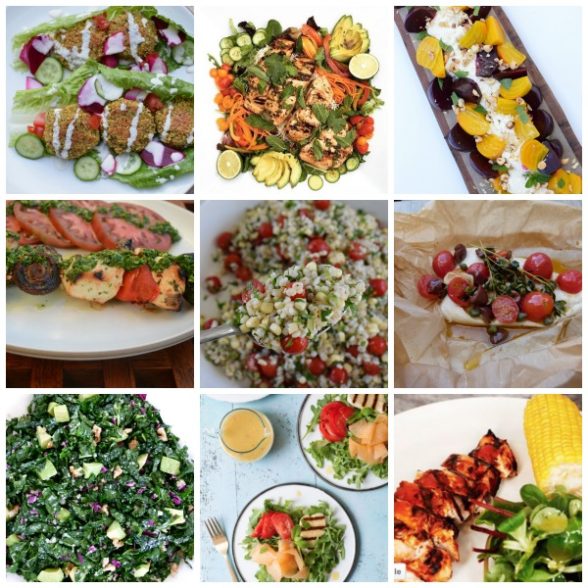 Truth be told, I haven't finished my actual dinner planner for this week because my sisters and I are going to have a pow-wow tonight to plan this week's meals together.  I returned to my parents' house today after a lot of running around New York City, Westchester, and Connecticut for the last week.  My vacation (other than a few blog posts this week) starts now, but I am culinary director of the house this week because someone has to be!  Follow along on Instagram, Facebook and/or Twitter to see what we're up to.  Here's your dinner planner for the week:
Monday: Baked falafel, tomato and cucumber salad, tahini sauce, lettuce wraps (pita for the kids)
Tuesday: Thai steak salad (can sub chicken or salmon instead)
Wednesday: Roasted beet and burrata salad, chicken with chimichurri
Thursday: Barley and corn tabbouleh, fish in parchment
Friday: Sweet potato and quinoa veggie burgers from my cookbook, raw kale salad
Saturday: Arugula and cantaloupe salad with grilled halloumi 
Sunday: Gwyneth Paltrow's grilled chicken with peach bbq sauce, corn on the cob, oven fries
Here's what you can do ahead if you need to:
Sunday
Make falafel and refrigerate until ready to bake
Make tahini sauce
Wash lettuce for lettuce wraps
Make steak marinade and marinate the night before you are going to make the salad
Prep veggies for Thai salad
Roast beets for salad
Wash mint for salad
Toast hazelnuts for salad
Tuesday
Make chimichurri sauce
Marinate chicken in chimichurri the night before you are going to make it
Make barley and refrigerate
Cut kernels off of the cob
Juice lemons for tabbouleh
Prep kale for salad (wash, dry, de-stem, and chop)
Make citrus dressing
Make salad dressing for cantaloupe salad
Friday
Prep cantaloupe for salad
Make peach BBQ sauce
Marinate chicken in BBQ sauce the morning you plan to make
Here's a link to all my previous dinner planners.