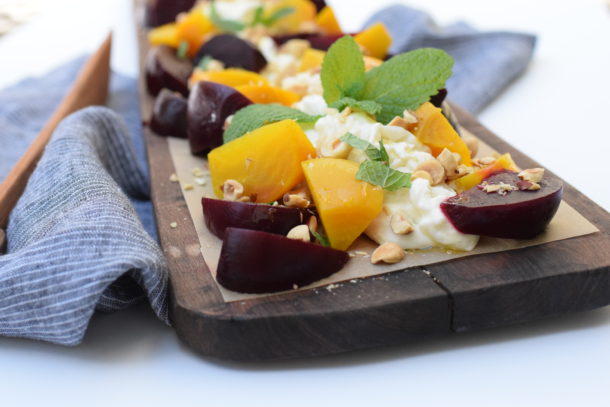 My vacation is coming to an end today, like all good things do. But there's always next time. We were incredibly lucky with the weather this week.  It never rained and the humidity was almost nonexistent.  This is important because there were lots of children present and we wanted them all outside and not on their devices.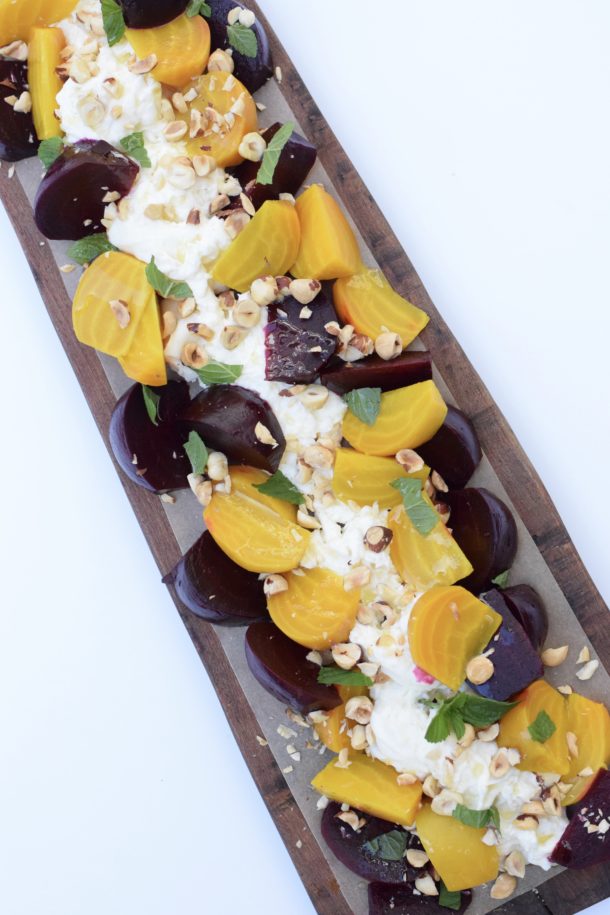 I've been a tad lazy this week about posting on social media and the blog.  As you know, I do it all myself (no "team" back at Pamela Salzman headquarters LOL) and sometimes it's important to take a little breather and enjoy life a bit.  By enjoy, I also mean be present with my family and not so focused on whether dinner will be worthy of Instagram.  So I may have skipped a few posts and lingered a little too long obsessing over the Olympics.  Every half hour, my son and I would say, "Ok, 30 more minutes and then we'll go to bed!"  I mean are you glued to the tv or is it just me??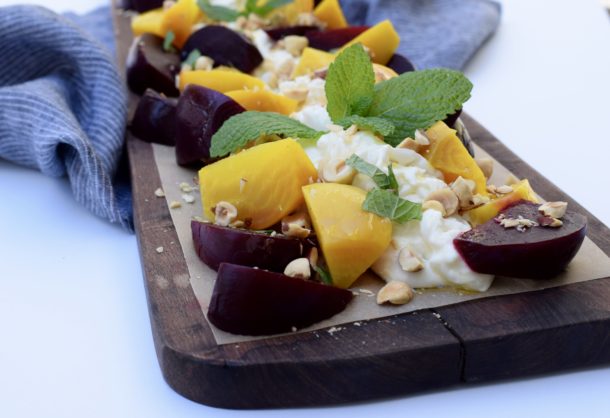 Here's a perfect summer salad for you to make this weekend.  It's easy to prepare, adaptable to different diets, healthful, and can be prepped entirely in advance.  I serve this with other veggie salads or with a simple piece of fish.
I will always love the classic tomato, mozzarella and basil combination, but it's nice to mix things up a little.  Basically I have subbed beets for tomatoes, mint for basil and I added some crushed hazelnuts.  I serve this salad often for spring and summer dinner parties and it is always devoured.  My daughters absolutely love it, too.
I happen to love beets.  You can watch this video on how to cook them at home, but if you're in a pinch, many salad bars at supermarkets have them already cooked, as does Trader Joe's.  Beets can help strengthen the blood, support the body's detoxification process, lower blood pressure and provide many anti-inflammatory compounds and nutrients.  You can make them up to 3 days in advance and keep them in the fridge.
If you don't do dairy (I strongly limit dairy myself,) then avocado is a great sub for the burrata here.  You can also swap some of the beets for nectarines, peaches or plums.  And basil works instead of the mint.  Work with what you have, don't overthink this salad and save your energy for spending time with the ones you love.  Summer is fleeting, so live it up, friends!

Roasted Beet and Burrata Salad
Ingredients
2 bunches of red or golden beets or a combination
⅓ cup raw hazelnuts
2 8-ounce rounds of burrata (I like DiStefano) or use good fresh mozzarella if you can't find burrata
handful of mint leaves, thinly sliced (you can leave a few small ones whole for garnish)
unrefined, cold pressed extra virgin olive oil
good aged white balsamic vinegar (or regular/dark aged balsamic)
flaky sea salt such as Maldon
freshly ground black pepper
Instructions
Preheat the oven to 400 degrees. Cut the greens off the beets, leaving about ½ inch of the stems still attached. Save the greens for another time. Wash the beets well and place them in a roasting pan or pie plate with a thin layer of water on the bottom. Cover tightly with foil. Roast about 50 minutes (or longer for larger beets). When the beets are done, carefully remove the foil. Allow them to cool, and then peel them by slipping off the skins with your fingers. Cut them into ½-inch wedges. You can also slice some thinly into rounds and cut some into wedges.
Lower the oven to 350°. In a pie plate or baking sheet, toast the hazelnuts until the skins blister, about 15 minutes. Transfer the nuts to a clean kitchen towel and let cool, then rub to remove the skins. If you don't mind hazelnut skins, you don't need to remove them. Coarsely chop the nuts.
When ready to plate the salad, pull burrata apart with your hands and mound it down the middle of a platter.
Arrange the beets alongside the burrata, sprinkle with hazelnuts, sliced mint, salt and pepper, and drizzle with olive oil and balsamic.
Notes
Substitutions:
Half the beets can be swapped for nectarines, peaches and/or plums.
Omit the burrata for avocado if you are dairy-free.
Use basil instead of mint.
Swap walnuts or toasted sunflower seeds for the hazelnuts.