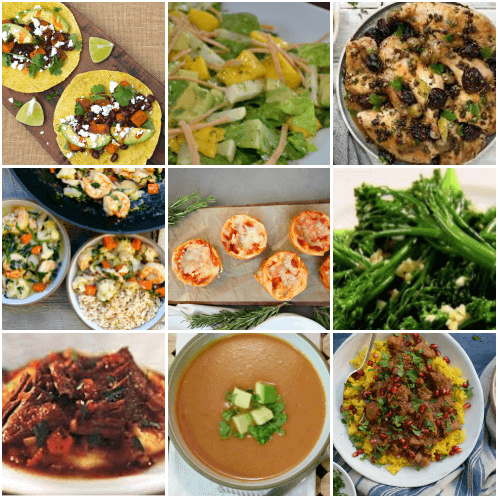 Who's stressed out that the Christmas holidays are practically here???  OMG, me!  I have done zip zero.  I haven't bought a single gift.  I am in trouble.  But if I plan my menu for the week, I will be more likely to get other stuff done, so here goes:
Meatless Monday: sweet potato and black bean tacos, mango/jicama/avocado salad but sub oranges for the mango
Tuesday: chicken Marbella (from The Silver Palate Cookbook – I cut the recipe in half and you can further cut the sugar in half as well as use maple sugar in place of brown sugar), simple cooked barley or cauliflower rice, roasted fenne
Wednesday: shrimp and mixed vegetables with coconut-basil sauce, brown rice or noodles
Thursday: lasagne cupcakes, steamed then sauteed broccolini with garlic
Friday: slow cooker Italian pot roast from my cookbook, polenta, sauteed spinach
Saturday lunch: tortilla soup (quickest soup ever!)
Sunday: Fesenjan, rice, green salad
Here's what you can do ahead of time if you need to:
Sunday
Cook black beans (unless you buy them canned)
Make salad dressings
Wash lettuce
Cut oranges
Prep fennel
Prep veggies for shrimp dish
Make marinara sauce (unless you buy jarred)
Monday
marinate chicken
Wednesday
Prep broccolini
Thursday
Prep vegetables for pot roast
Here is a link to all my previous dinner planners.
If you would  like a signed copy of my book, please contact Pages Bookstore in Manhattan Beach.  I will be signing books there through December 14th.  You can order as many books as you like and request a specific inscription and they will mail them to you or the desired recipient!