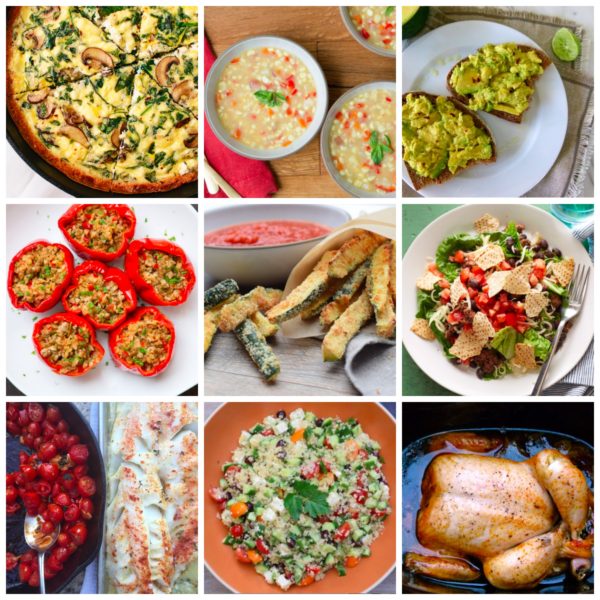 I've been through a range of cooking experiences over the past month, from teaching my daughter how to cook for herself to cooking for my family to cooking for 15-24 people every day while I am on Long Island.  Such different strategies, but it all still requires planning ahead.  In preparation for my trip back East, I took a few minutes on the plane to jot down a schedule of what to make for lunch and dinner.  This year I decided I wasn't waking up early to make everyone breakfast. 😉  It has helped tremendously and allowed me to relax much more.  Plus, anyone can look at the schedule and not have to ask, "what's for dinner???"
Here's a great week of summer dinners to help you get organized this week:
Meatless Monday: Arugula and cremini quiche with almond meal crust (I'm going to sub spinach)
Tuesday: Corn and vegetable chowder, avocado toast
Wednesday: Turkey and rice stuffed peppers, baked zucchini sticks
Thursday: Taco salad with grass-fed beef with homemade taco seasoning (there's an option for tempeh) with salsa vinaigrette
Friday: Baked wild cod with sautéed cherry tomatoes, arugula salad (check out my Friday post on Instagram for how to make the cod)
Saturday lunch: Mediterranean quinoa salad
Sunday: Slow cooker whole chicken, grilled eggplant and zucchini drizzled with aged balsamic
Here's what you can do ahead if you need to:
Sunday
Prebake the crust for the quiche (leave at room temp)
Saute the vegetables for the quiche and refrigerate
Make stock for the chowder
Make rice for the stuffed peppers
Make taco seasoning
Tuesday
Prep (wash, dry, cut) zucchini
Friday
Prep all components of quinoa salad (dressing, quinoa, cut vegetables, feta) and keep in separate containers
Here's where you can find all my previous dinner planners.