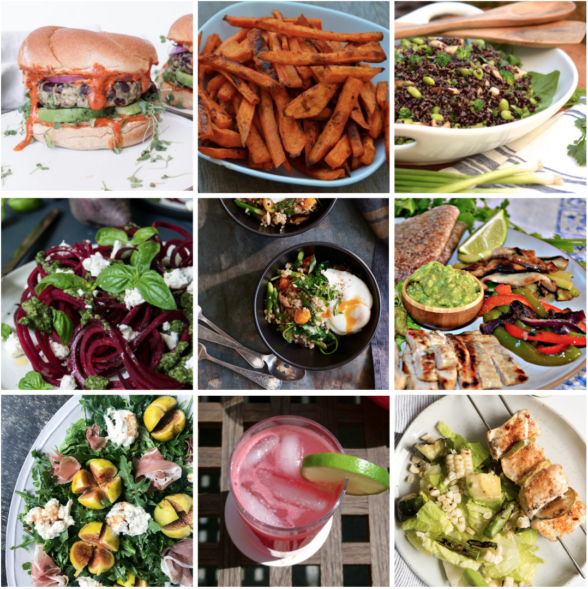 Last week of summer for me and I have jury duty!  What??  I got called in for Monday and although I know it's one's civic duty to participate in the judicial system, I wouldn't mind if I didn't get picked for a jury LOL.  It is what it is.  Lots of activity this week between everyone's outrage over the levels of glyphosate present in our food and the reactions to the inflammatory remark from the Harvard professor about coconut oil. Well, of course coconut oil is not a superfood or a health food.  No fat is.  BUT, I would disagree that it's "pure poison."  Instead of clogging this post with my opinion about coconut oil, Dr. Mark Hyman has written about it here and I agree with this statement. Educate yourselves, be your own nutritionists, and make the best decisions that you can.  Remember you have power in your pocketbook and also remember that nobody cares about you and your family as much as you do. The responsibility falls on us to make the best choices for our health.  Eat real food, minimally processed, mostly plants.  You know what to do.
Here's your dinner planner for the week:
Meatless Monday: Black bean burger with Smoky Red Pepper Sauce. If you're feeling extra hungry you can make tots, method here, or sweet potato fries, method here.
Tuesday: Cauli-rice salad mixed with your favorite greens (i.e. spinach, kale, arugula) and seasonal grilled veggies. Similar rice salad concept here. I suggest using the dressing from this recipe.
Wednesday: Beet Root Spaghetti with Brazil Nut Pesto with Goat Cheese from Hemsley and Hemsley
Thursday: Not-Fried Rice and Vegetables from my book.
Friday: Grilled Chicken and Veggie Fajitas , you can add beans if you need more
Saturday Brunch/Lunch: Salad with Burrata, Fig, and Prosciutto served with Watermelon Agua Fresca. 
Sunday: Spiced Halibut Lime Skewers served with a fresh side salad and some rice. The fig salad mentioned above would also go well here.
Here's what you can do ahead if you need to:
Sunday
Make all dressing, marinades, and sauces
Make the Black Bean Burger patties
Wash/prep vegetables
Make rice (really any cooked grain or lentils will work.)
Friday
Make Watermelon Agua Fresca
Here's a link to my previous dinner planners.
I have LOVED seeing all your creations of my recipes on Instagram.  If you make any of my recipes, please tag me @pamelasalzman #pamelasalzman so I can check them out!
Click here to learn more about my online cooking classes!
If you like my recipes, you'll LOVE my cookbook!