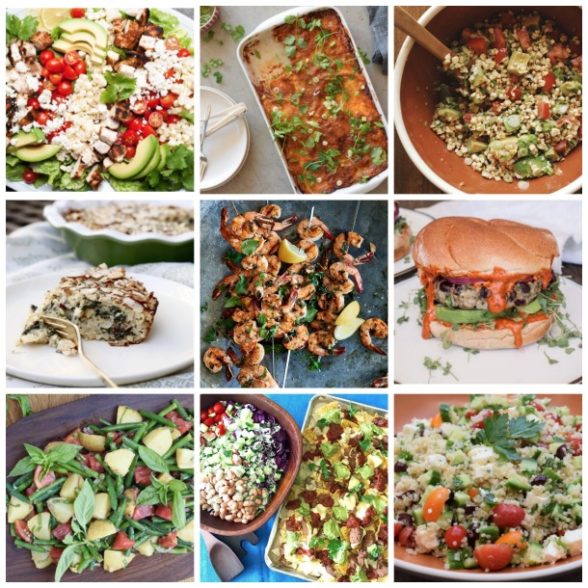 Happy Sunday!  I had a great, but quick trip to New York where I did a back-to-school segment on The Today Show. If you missed it, you can check it out here.  Now I'm in Dallas for the weekend to help my daughters get situated at college and I have a fun event happening at The Gem on Monday.  See my Events page for details!
For those of you asking about resuming cooking classes, I will be back in action in September!
Here's your dinner planner for this week:
Meatless Monday: Black bean burgers with smoky red pepper sauce and charred corn salad with tomatoes
Tuesday: Balsamic-Herb flank steak from my cookbook and Italian potato salad
Wednesday: Mexican Cobb Salad
Thursday: Brown rice bake with kale and mushrooms with green salad
Friday: Mediterranean quinoa salad and grilled lemon-herb shrimp from my cookbook
Saturday lunch: sheet pan nachos with vegan queso, refried beans (Amy's is a good brand if you don't want to make your own), salsa, guacamole or avocado (Layer tortilla chips on a sheet pan and drizzle vegan queso all over and dollop with refried beans.  Put another layer of chips on top and repeat with queso and refried beans.  Place in a 350 oven to warm through — about 10 minutes.  Top with salsa, guacamole or avocado and anything else you like!
Sunday: Mexican Lasagne
Here's what you can do ahead if you need:
Sunday
Cook the black beans unless you're buying canned for the burgers
Cook the brown rice for the burgers and the rice bake.
Wash the herbs for the week
Roast the red pepper for the sauce (or buy prepared roasted red peppers)
If you want to save yourself time, you can prep the burgers all the way to the point of cooking and place them in the fridge covered. You can also make the smoky red pepper sauce and refrigerate.
Shuck corn cobs
Make post marinade for the steak
Blanch green beans
Make Cobb salad vinaigrette
Wash and stem kale
Friday
Make red sauce for lasagne
Dice veggies for lasagne or even saute
Here's a link to my previous dinner planners.