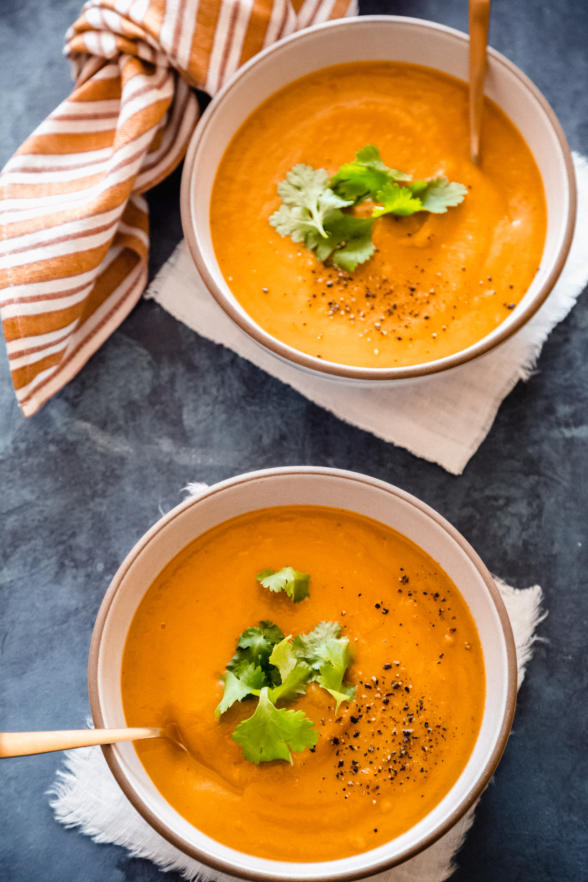 One of my goals in creating recipes to teach in my classes is to introduce my students to healthy, whole ingredients that they don't know what to do with.  I used to be really intimidated by many types of produce and whole grains until I just decided to buy them and play with them on my own.  It's a risk, of course, if you really have no idea what you're doing because the experiment could end up in the trash instead of served up for dinner and money would be wasted as well.  Both are a big bummer.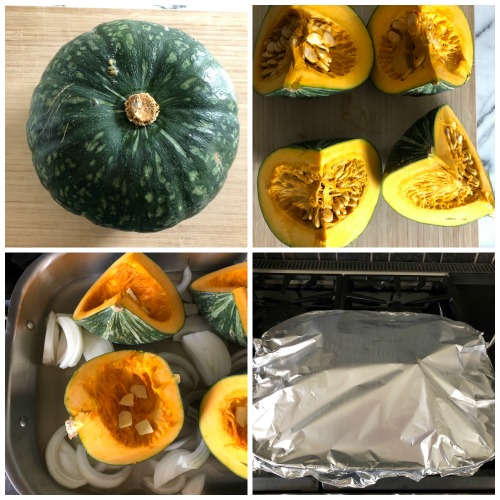 Kabocha squash is one of those ingredients that many of my students have seen at super markets and farmers markets in the fall and winter and they are both intrigued and unsure.  (The other challenge is remembering how to pronounce it and not get Ka-BOW-cha confused with kombucha, the fermented beverage.)  Kabocha squash is also known as Japanese pumpkin.  I first had it steamed as part of a simple macrobiotic meal. I liked how dense and kind of nutty the flesh was.  I remember being surprised that it was less sweet than I expected.  Some people liken the flavor to chestnuts.  I kind of think Kabocha as like a less watery, more intense pumpkin.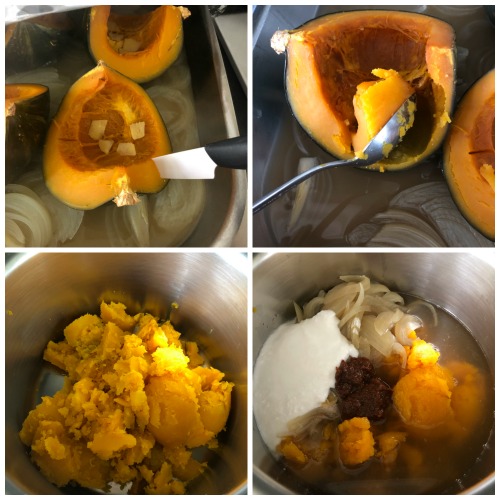 The second time I had it was in France when I taught a cooking retreat many years ago.  I cut it into wedges, removed the seeds, rubbed melted coconut oil on it and sprinkled the wedges with salt and pepper and roasted it.  Basic enough.  After tasting the simply roasted kabocha, I made a simple tahini sauce with a little hot sauce.  Even better.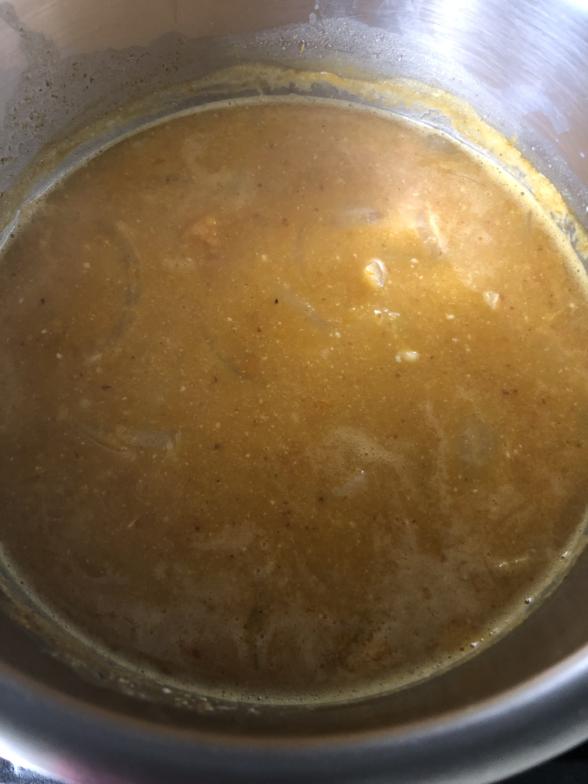 I have experimented with Kabocha squash more over the years and I find that people who dislike the sweetness of roasted carrots, butternut squash or acorn squash, prefer the depth and savoriness of Kabocha.  I decided to tweak my butternut squash soup recipe and use Kabocha plus give it some Thai flavors.  BTW, I always use prepared Thai curry paste, never homemade.  Thai curry paste is so easy to find clean and it usually has a dozen ingredients that are not normally in my fridge.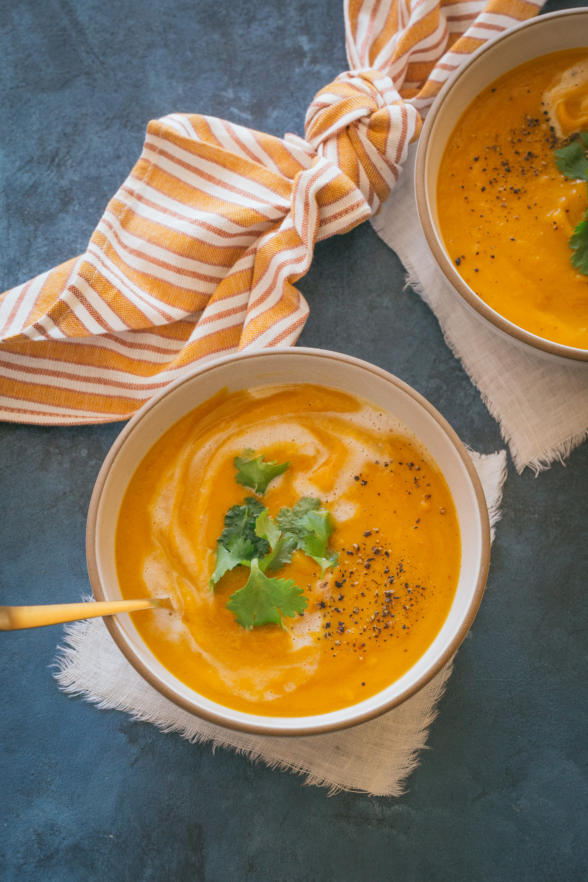 This turned out to be such an amazing soup.  It's rich, velvety, hearty and packed with flavor.  You could swap any Thai curry paste that you like or you can also make this without and add some maple syrup for a sweeter soup.  I love it with fresh cilantro or fresh mint or both!  Add toasted pumpkin seeds or sauteed crispy quinoa for crunch and you've got a whole meal.  This soup freezes really well, too.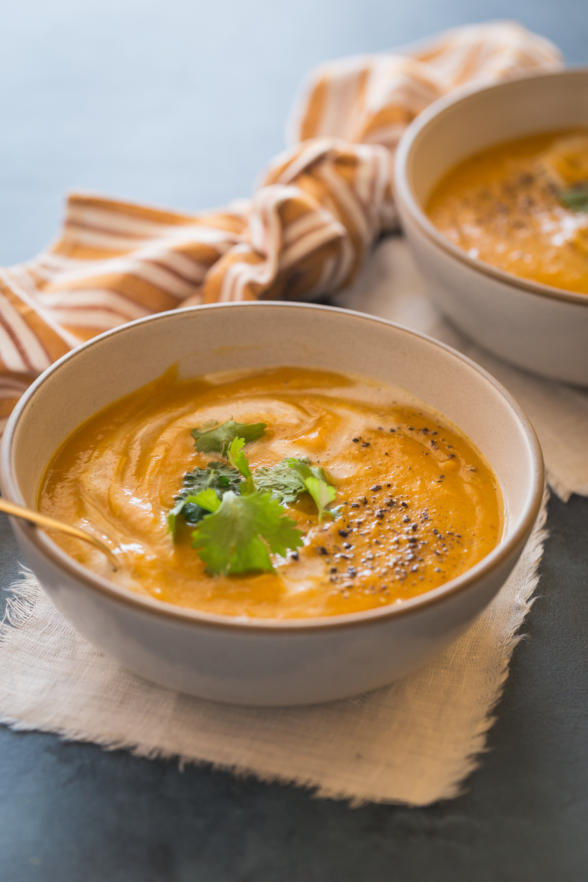 Roasting the squash for 90 minutes does seem annoying, but it deepens the flavor of the squash.  I have a feeling you could do this in the slow cooker for 5 or 6 hours on low or 4 hours on high, but I haven't done it so I can't guarantee the results.  I have mentioned recently that we are eating a lot of soup for dinner lately and my husband and I are really liking how we feel.  Soup is very digestible and very filling, so we tend to be satisfied with just a good size bowl of soup.  It is much better (for sleep, blood sugar stability, weight management and more) to eat less at dinner and more for breakfast and lunch.  If my son needs more food than a bowl of soup, he can make a slice of toast with avocado or smoked salmon and a piece of fruit after dinner.  What are your thoughts on just soup for dinner?  Is your family resistant?
I will repost your Instagram if you tag me @pamelasalzman #pamelasalzman!  It makes my day to see your creations and when you share your pictures, you promote wellness and healthy food to your friends and family. Thank you!!
Also, I haven't made a full-blown announcement yet, but my new book, Quicker Than Quick, is available for pre-order! My first public event will be on April 30th at Pages Bookstore in Manhattan Beach.  More to come!
You can shop the tools I used for this recipe by clicking on the images below:

Thai Kabocha Squash Soup
Serves:
6, Makes about 8 Cups of Soup
Ingredients
1 3-4 pound kabocha squash, washed, quartered and seeds removed
1 onion, peeled and thinly sliced
½ Tablespoon fresh, peeled ginger, thinly sliced
Optional: 2 Tablespoons pure maple syrup, plus more to taste if you want a bit of sweetness
4 cups chicken or vegetable stock, preferably homemade, divided
2 Tablespoons red curry paste
1 teaspoon sea salt (you will need to double this if your stock is unsalted)
¾ cup full-fat coconut milk, plus more for finishing
2 limes, cut into thirds
handful fresh cilantro or mint leaves, sliced
2 red chiles (either Thai or Fresno,) sliced
Instructions
Preheat oven to 350 degrees.
Place the squash pieces cut side up in a roasting pan. Divide the ginger slices and maple syrup evenly amongst the squash cavities. Arrange the onion slices around the squash. Pour 2 cups of stock in the pan and cover tightly with foil. Bake for 90 minutes until squash is very tender.
Remove the pan from the oven and allow the vegetables to cool slightly or enough that you can handle them. Scoop the squash pulp from the skins and transfer to a large soup pot. Discard skins. To the soup pot add the onions, ginger (if desired, but this will add strong ginger flavor to the soup) and cooking liquid from the pan.
Add the remaining 2 cups of stock, curry paste, sea salt and coconut milk to the soup pot. Stir well and bring to a boil. Lower heat and simmer, uncovered for 10 minutes.
Puree the soup until smooth in the pot with an immersion blender or in batches in a blender. Taste for seasoning and add additional salt and/or maple syrup as desired.
Ladle soup into bowls and drizzle each with a tablespoon of coconut milk, generous squeeze of lime, herbs and sliced red chiles.