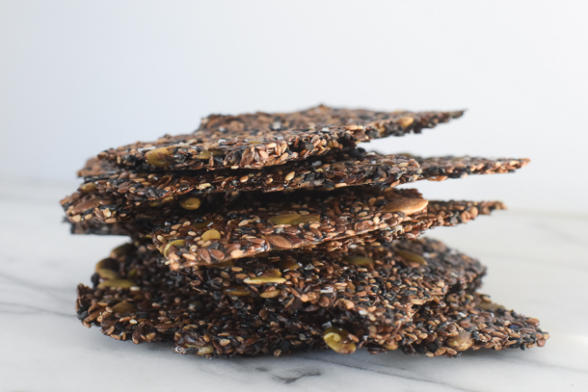 I'm conflicted writing about a recipe that comes from a book about detoxing and cleansing since I do neither.  But I do like Gwyneth Paltrow's taste in food and her style of cooking, so I knew I would find something delicious and healthy in her new book, The Clean Plate.  Just to be upfront, GOOP sent me her book as a gift, along with some amazing body oil.  Opinions are my own, but I always think you should read multiple reviews of books before committing.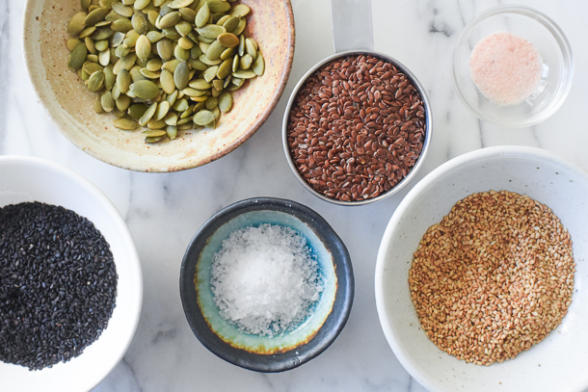 That said, I love crackers.  I love them for breakfast with avocado or on top of soup or to scoop up some creamy dip.  But crackers are usually not great for one's blood sugar since they are typically made with refined flour.  Plus it is so easy to overeat them.  These seed crackers are truly nutritious with multiple types of seeds, packing a high fiber, high protein punch with good fats to boot.  This is my trifecta for feeling satisfied and keeping blood sugar levels stable.  Blood sugar stability is the name of the game, people.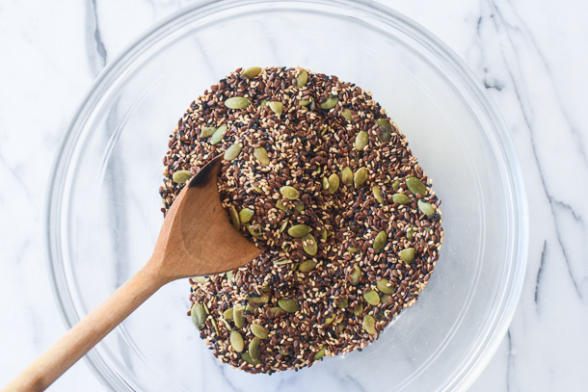 These were super easy to make and truly turned out just like the photo in her book. As you know, I think flaky salt makes anything taste better and these crackers are no exception.  In her book, she shows the crackers with avocado on one page and smoked salmon on another.  But I think vegan cream cheese and pickled vegetables would be great, too.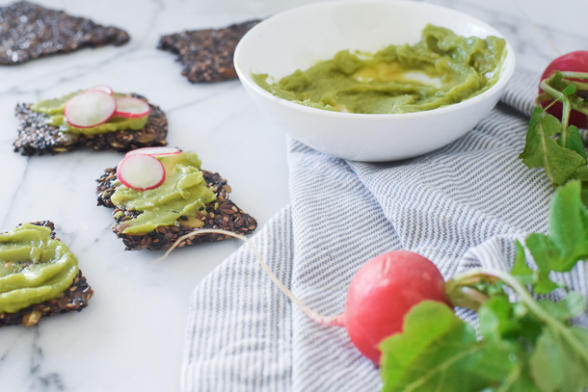 I'm definitely not encouraging anyone to do a cleanse, but instead just share an easy and healthy cracker recipe that you could keep on hand for breakfasts on the go, lunches, or even on a cheeseboard.  Or does putting cheese on a seed cracker negate the healthfulness of it??  I think a thin slice or a schmear is just fine.  Let me know if you make these, and if so, what toppings you add!
Shop the tools for this recipe by clicking on the images below:

Grain-free Seed Crackers
Author:
The Clean Plate by Gwyneth Paltrow
Ingredients
½ cup whole flaxseeds
1 Tablespoon arrowroot powder
¼ teaspoon sea salt
3 Tablespoons black sesame seeds
3 Tablespoons white sesame seeds
3 Tablespoons hulled pepitas
1 cup boiling water
Flaky sea salt
Instructions
Preheat the oven to 325 degrees.
In a medium bowl, mix together all the ingredients except the flaky salt. Let sit for 15 minutes to firm up.
Lay a large sheet of parchment paper on the counter and use a spatula to scrape the seed mixture onto the paper. Top with another piece of parchment and use a rolling pin to roll the mixture into an 8 x 11-inch, ¼-inch thick sheet. (I used a ruler to measure this.)
Transfer to a baking sheet and carefully peel off the top layer of parchment (go slowly, as a few seeds may stick to it.) Sprinkle with flaky salt and bake for 45 minutes. If the crackers don't seem dried out on the bottom, turn off the heat but leave the pan in the oven with the door closed for 30 minutes. Check the crackers and leave them in longer if necessary.
Allow to cool, then break the cracker into large pieces and store in an airtight container for up to 1 week.