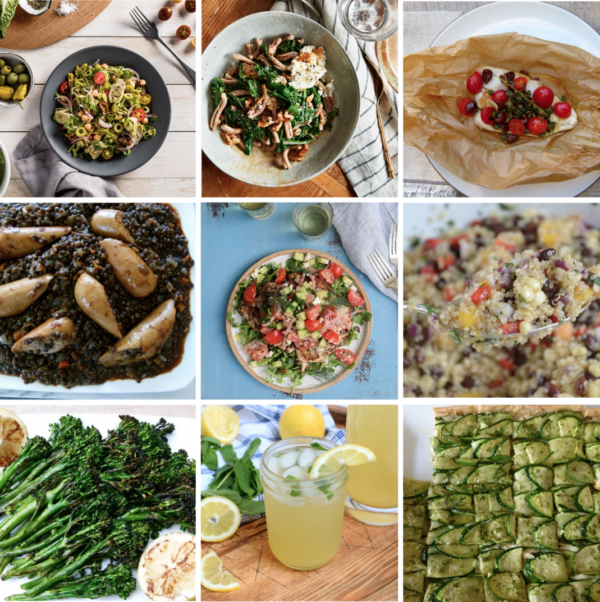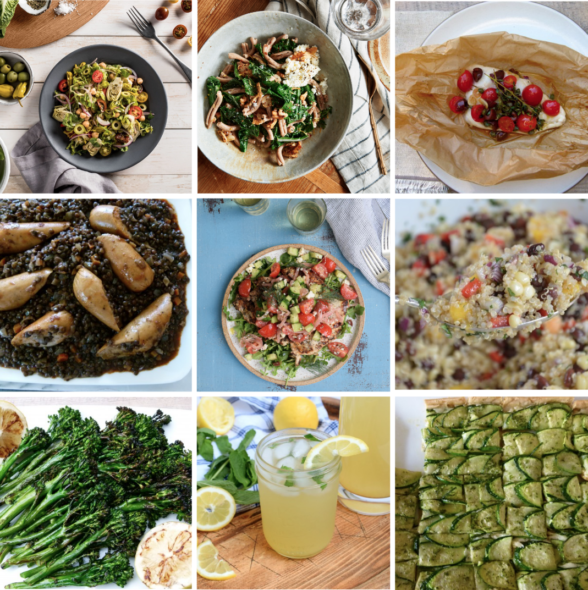 Labor Day Weekend is the last hurrah.  My son starts school on Tuesday so we're all sneaking away to Park City, Utah for a quick family getaway.  I think he's actually ready to get back to school and a routine.  And so am I.  My teaching schedule is already full for Septmeber and I'm back at it next week.  If you take my classes, I am so excited to see you!  If you don't, check out my online classes – they're the next best thing to being in the kitchen with me!
Labor Day: No-Cooking Vegan Chopped Salad from Goop, Tasty Turkey Burgers, big platter of grilled veggies, watermelon-feta bites (sub avocado for the feta to make it DF/vegan)
Tuesday: Pasta with Kale, Walnuts and Ricotta from my book. Kite Hill makes a great vegan ricotta.
Wednesday Mediterranean Fish in Parchment, serve with a side of your favorite roasted veggies.  This is good time to use up leftover crudites from your Labor Day BBQ!
Thursday:  Smoked Braised Lentils with or without turkey sausages. Serve with a side of roasted broccolini, method here, with a squeeze of lemon.
Friday: Simple grilled chicken, grilling method here, with a fresh farmers market salad, I suggest your favorite greens along with chopped crunchy veggies and mixing it with a simple unrefined olive oil, vinaigrette and sea salt.  Option to serve with a side of quinoa, method here.
Saturday Brunch/Lunch: A fresh green salad with leftover grilled chicken served with my Everyday Salad Dressing and with this Green Tea Arnold Palmer recipe 
Sunday: Zucchini Gruyere Tart serve with a side of mixed greens.
Here's what you can do ahead if you need to:
Sunday
Make all dressing, marinades, and sauces
Wash/prep vegetables
Wednesday
Make lentils
Here's a link to my previous dinner planners.
I have LOVED seeing all your creations of my recipes on Instagram.  If you make any of my recipes, please tag me @pamelasalzman #pamelasalzman so I can check them out!
Click here to learn more about my online cooking classes!
If you like my recipes, you'll LOVE my cookbook!