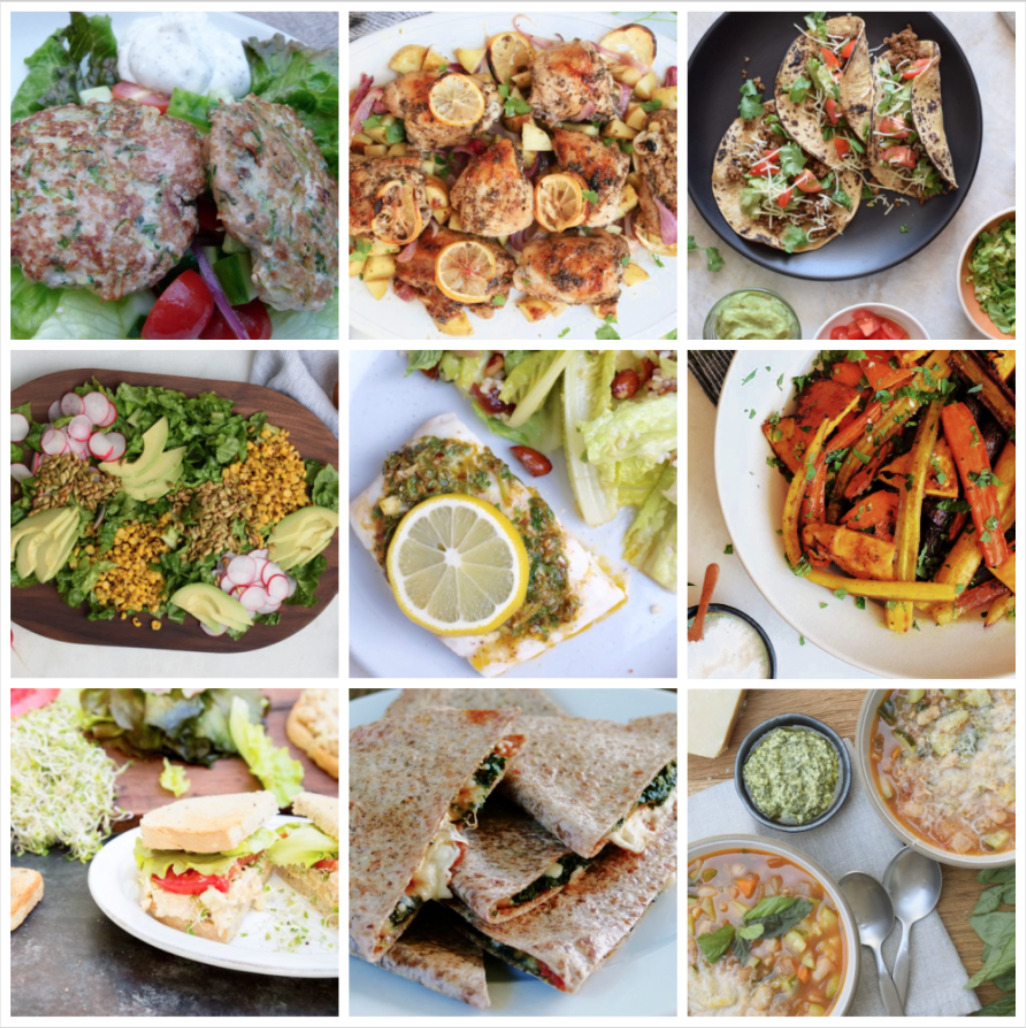 Happy Labor Day Weekend, aka the unofficial end of summer! Some people love the start of the new school year and the structure it brings, and others long for an endless summer with fewer commitments and better weather. I get it. Hubs and I are taking one last mini trip this weekend to visit friends in Aspen. The Rocky Mountains are such a magnificent part of the US and I am looking forward to spending time outdoors and having an active weekend.
My latest cooking class has been uploaded! The theme for September is "Family Dinners" and this is the flexible menu: Chicken Florentine with Spinach, Roasted Salmon over Red Lentils, Warm Brussels Sprout Caesar Salad, Zucchini-Pesto Rice Bake, and Apple Coffee Cake. I give substitution suggestions for the big allergens and dietary preferences, so even if you're vegan, dairy-free, gluten-free, or grain-free, I have you covered! Here's your dinner planner for the week:
Meatless Monday (Labor Day): Charred corn salad with tomatoes and avocados OR cauliflower crunch salad, Grilled vegetable platter with romesco or basil vinaigrette, + any protein you like such as Tasty Turkey Burgers or Turkey and zucchini burgers, Grilled Shrimp from KM, Grilled Herbed Lemon Chicken with Mint Drizzle, or do a big grazing board with a loaded hummus platter with crudites, mini avocado toasts, bruschetta and nuts and olives – or whatever you like to graze on!
Tuesday: Greek sheet pan chicken with lemon and potatoes, served with cauliflower rice or garlicky broccoli
Wednesday: Turkey, beef, or tempeh tacos, served with fiesta salad with salsa vinaigrette
Thursday: roasted fish with chermoula, Moroccan roasted carrots, and a fresh green salad
Friday: Chickpea "Tuna" Salad in lettuce cups with sweet potato fries
Saturday brunch: pizza quesadillas
Sunday: Late summer minestrone, Caprese salad
Here's what you can do in advance if it helps you:
Sunday:
Wash greens
Make marinade for Greek chicken
Measure spice mix for tacos or use your favorite taco seasoning
Monday:
Marinate Greek chicken
Tuesday:
Make salsa vinaigrette
Peel and cut carrots for Thursday
Wednesday:
Make chermoula
Thursday:
Make chickpea "tuna" salad
Saturday:
Make stock for minestrone
I have LOVED seeing all your creations of my recipes on Instagram. If you make any of my recipes, please tag me @pamelasalzman #pamelasalzman so I can check them out! I have a free Monday newsletter with my thoughts, new recipes, and things I'm loving lately. Subscribe here!
Order my cookbook, Quicker Than Quick! If you have 1 minute, would you mind leaving a review on amazon? I would be so grateful, thank you! Take a peek at my first cookbook "Kitchen Matters"!