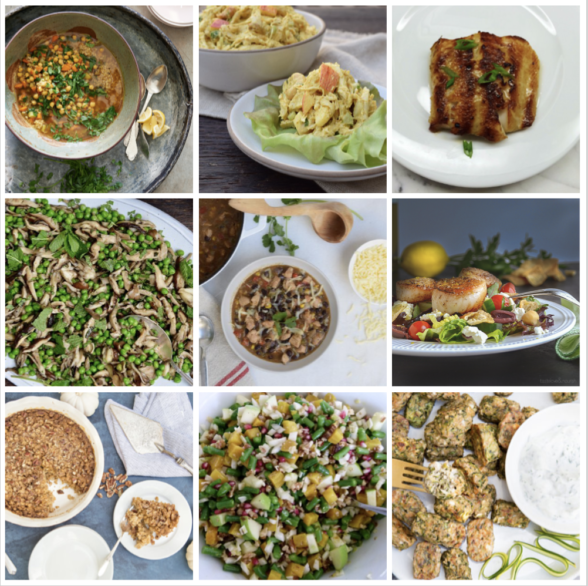 I've spent the week with my mom on Long Island and I am now in NYC to celebrate the big birthday!  I decided I just wasn't feeling up for a big, crazy birthday party this year, so I'll be marking the milestone with several small, low-key events. This weekend I am in NYC to have a birthday dinner with some of my cousins and then another with my mom, aunt, sisters and their husbands.  I also turned in the edits on the proofs of my next cookbook.  It has been a very busy week indeed!
Here's your dinner planner for the week:
Meatless Monday: Middle Eastern Vegetable Soup with Freekeh from my cookbook, side of fresh salad
Tuesday: Curried chicken salad in lettuce cups, avocado toast or  sweet potato toast
Wednesday: Miso glazed black cod, pea and mushroom sauté, black rice
Halloween: Turkey chili + topping bar and cornbread
Friday: Mediterranean chopped salad and seared scallops from Taste, Love and Nourish, jeweled rice
Saturday brunch: Baked pumpkin oatmeal, served with fresh fruit and full fat greek yogurt or non-dairy yogurt
Sunday: Grilled chicken paillard, harvest chopped salad
Here's what you can do ahead if you need to:
Sunday:
Wash greens and vegetables
Cut broccoli into florets
Clean mushrooms and slice them
Measure and combine dry ingredients for pumpkin oatmeal, store at room temp until ready to make
Monday:
Poach chicken or use already cooked chicken and assemble the salad
Tuesday:
Defrost frozen peas
Chop vegetables, jalapeño and garlic for chili
I have LOVED seeing all your creations of my recipes on Instagram. If you make any of my recipes, please tag me @pamelasalzman #pamelasalzman so I can check them out!
Click here to learn more about my online cooking classes! If you like my recipes, you'll LOVE my cookbook!  If you have 1 minute, would you mind leaving a review on amazon?  I would be so grateful, thank you!