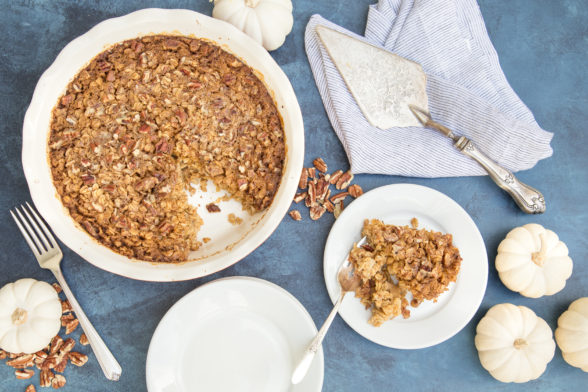 Last pumpkin recipe until next October – I swear!  In reality, I made and shot this recipe last winter, but I felt that my readers wouldn't find a baked pumpkin oatmeal as appealing in January as they would in October.  The truth is, I eat pumpkin all year long.  I love pumpkin pancakes, oatmeal, muffins, bread, smoothies and smoothie bowls, cake (coming to my classes next month!), cookies, soup, and "truffles."  Although I much prefer to bring home a sugar pie pumpkin from the market and roast it for homemade pumpkin puree, it's easy to find organic pumpkin in BPA-free containers all year.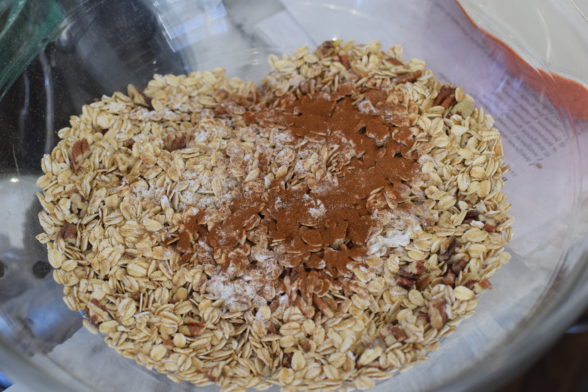 Pumpkin itself is kind of bland, but the traditional spices that accompany pumpkin are what make everything taste so good.  Cinnamon, nutmeg, ginger and cloves are classic, warming, sweet spices, but cardamom and allspice are also great.  And pumpkin doesn't have to be sweet.  I love it in chili or risotto or ravioli.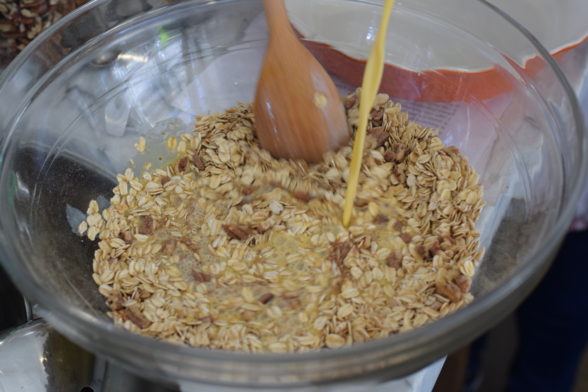 But let's leave pumpkin aside for a moment so we can talk about oats and which oats are safe to eat given their contamination with glyphosate.  If you don't know what I'm talking about, please read the Environmental Working Group's report on this toxic, antibiotic that is the active ingredient in Roundup which is sprayed on many crops in this country (and China, Mexico, and Australia, among others.)  The majority of crops sprayed (or now also in the seed itself) include corn, soy, wheat and oats.  What is shocking to most people about this report is that several organic brands of oats, such as Bob's Red Mill, contained trace amounts of glyphosate, although not nearly at the egregious and criminal levels in a product like Quaker Oats.  And I don't care that I will never get a sponsorship offer from Quaker Oats, because I wouldn't take one for all the money they could give me.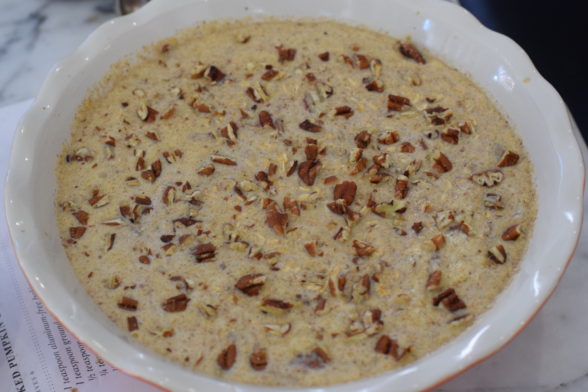 This post started off all cheery because baked pumpkin oatmeal is wonderful and fun to make and share.  But I want you all to do your research and understand how harmful glyphosate is to your health, especially to the diversity and health of the bacteria in your gut microbiome which affects every system in your body, especially your brain.  You can call companies and ask if their products have been tested for glyphosate and what the results were.  These results show that Whole Foods 365 ORGANIC Rolled Oats contained no detected amounts of glyphosate.  If you need a gluten-free source, I would opt for One Degree Organics Sprouted Rolled Oats.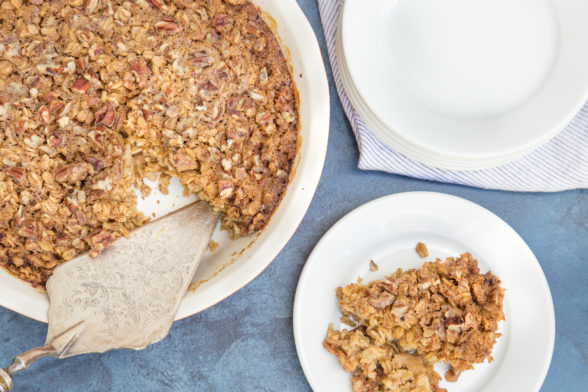 While I'm on the subject, I would stay away from all non-organic wheat and when possible, opt for wheat products imported from countries that ban the use of glyphosate, such as Italy.  I never jumped on the gluten-free bandwagon, because I didn't think it was possible for everyone to be sensitive to gluten.  But from the obsessive amount of research, science, and data I have read, I have come to the conclusion that it's not just the gluten, but the glyphosate that is contributing to out gut microbiome imbalance and the crazy increase in autoimmune issues that plague our population right now (and it's only getting worse.)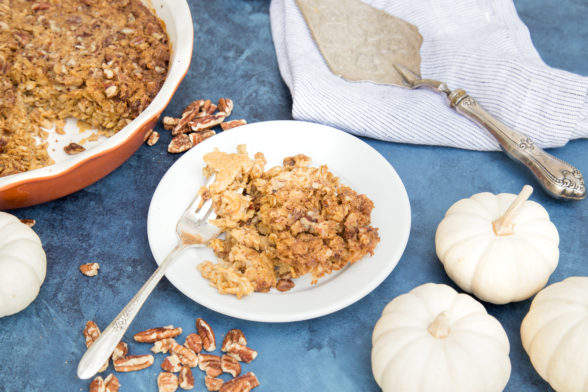 I don't mean to be a downer, but I care about you and your loved ones.  Enjoy this pumpkin oatmeal recipe.  It's delicious and has the potential to be a wonderful, healthful breakfast or snack.  My family and I love it warm or cold.  There are lots of ways you can adapt it (like most recipes.)  Tag me if you make it because it is one of my greatest pleasures to see your creations on social media.  Seriously — makes my day every time!  @pamelasalzman #pamelasalzman
Click here for information about my online cooking classes!
Shop the tools I used for this recipe by clicking on the images below!

Baked Pumpkin Oatmeal Recipe
Ingredients
1 teaspoon aluminum-free baking powder
2 teaspoons ground cinnamon (or substitute 1 TBS. pumpkin pie spice for all the spices.)
½ teaspoon ground ginger
¼ teaspoon ground nutmeg
¼ teaspoon ground cloves or allspice
½ teaspoon sea salt
2 cups ORGANIC old-fashioned rolled oats (look for gluten-free oats to make this a gluten-free recipe) - Do NOT use steel cut oats
½ cup walnuts, almonds or pecans, chopped, divided (omit if you're nut-free)
¾ cup pumpkin puree (not pumpkin pie filling)
¼ cup 100% pure maple syrup
2 cups whole milk, unsweetened hemp milk or almond milk
1 large egg (omit if you're egg free, but the oatmeal won't hold together as well)
1 ½ Tablespoons unsalted butter, unrefined coconut oil or Miyoko's Creamery (my favorite vegan butter), melted and cooled slightly, plus more for greasing baking dish
2 teaspoons pure vanilla extract
Instructions
Preheat oven to 375 degrees. Butter an 8-inch square or 9-inch round baking dish.
Combine the baking powder, spices and sea salt in a large bowl. Stir in the oats and ¼ cup nuts.
In a separate bowl, whisk together pumpkin puree, maple syrup, milk, egg, melted butter, and vanilla. (You can also combine these ingredients in a blender.)
Pour wet mixture into the the oats and combine well. Transfer to the prepared baking dish and spread evenly. Sprinkle the remaining ¼ cup nuts over the top.
Bake for 35 minutes or until the oat mixture is set and wet ingredients are absorbed.
Notes
I think it would be great to add diced apples to the mixture or serve with sauteed apples on the side.