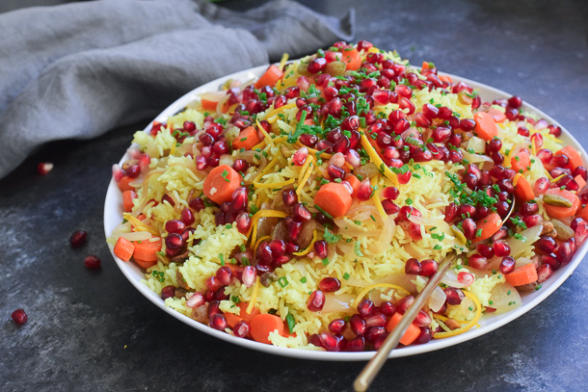 'Tis the season for show-stopping recipes and I am bringing you another favorite (after last week's whole roasted cauliflower.) This one is inspired by the Persian "Jeweled Rice," aka Javaher Polow.  As I understand it, Jeweled Rice is usually served at weddings, big family gatherings and even for new year's celebrations.  The name of the dish comes from the beautiful jewel-tone colors:  gold, pearls, emeralds, and rubies.  Let me come right out and say very early into this post that this is not a traditional jeweled rice recipe.  I didn't use saffron or barberries, and I didn't candy my orange peels in a lot of sugar.  I also use much less oil than normal and I basically created my own, easier version of Jeweled Rice.  I didn't say my version is better. It is different, not necessarily "authentic," but still absolutely gorgeous and delicious.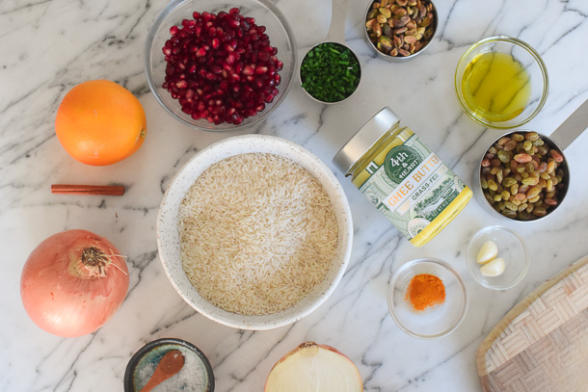 As in the traditional version, there are a lot of flavorful and colorful ingredients.  Don't confuse "a lot of ingredients" with "a lot of work."  Sometimes that is the case, but here it really isn't.  I wouldn't say you'll have this on the table in 20 minutes, but if you prep all the "jewels" in advance and make the rice hot at the last minute, you can assemble this very quickly.  I made this for a dinner party last week and I did just that.  And it really is an impressive dish.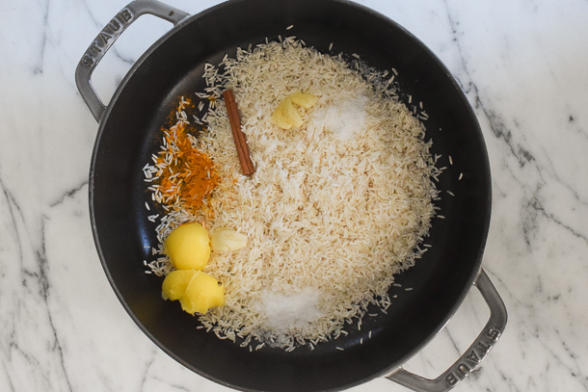 For those of you who do not do grains, I think you can make an excellent version with cauliflower rice!  I haven't done it, so you're kind of on your own, but you can follow this recipe for cauliflower rice and fold in all the jewels once the cauliflower rice is cooked.  As far as what to serve with this, anything Mediterranean, Middle Eastern, Spanish, Moroccan would be complementary.  I have served it with simple roasted salmon with herbs, Chicken Marbella from the Silver Palate Cookbook, whole roasted chicken.  If I ate lamb, that would be a fabulous pairing.  For a vegan meal, roasted seasonal vegetables and a crisp green salad with radishes is all you need.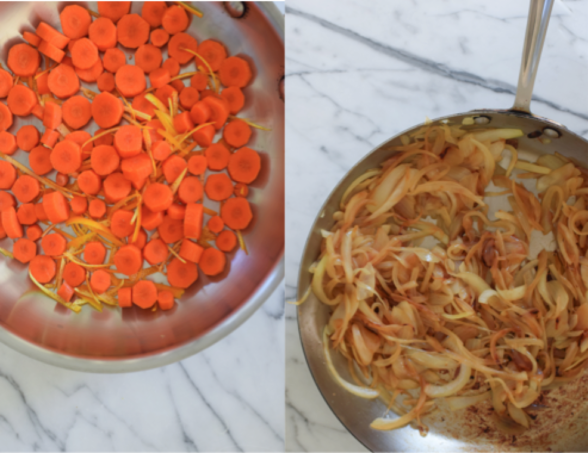 For different ways to present the rice, just google "jeweled rice" and click on the images tab to see lots of beautiful options.  Sometimes I like to make a composed version of this rice with all the elements in their own section.  I think this messy look is more fun a and lively.  I have also seen version with dried rose petals and that little hit of pink is so dramatic.  And to me, that's what the upcoming holidays are all about.  Head into 2019 with a bang, but keep healthy and vibrant.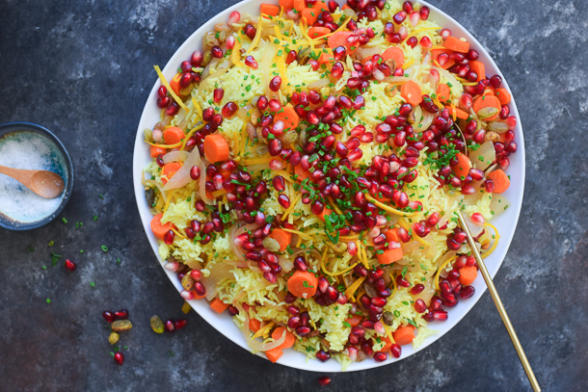 I know I say this all the time, but I LOVE seeing you recreate my recipes on Instagram or Facebook, so please tag me @pamelasalzman so I can catch a glimpse!  This one is sure to impress!
Shop the tools I used in this recipe by clicking on the images below:

Jeweled Rice
Ingredients
2 cups white basmati rice, rinsed
2 Tablespoons ghee, unsalted butter or olive oil, divided
2 cloves of garlic, smashed with the flat side of a knife
¼ teaspoon ground turmeric (this is in place of saffron which you can use instead if you have it)
1 3-inch cinnamon stick
1 ½ teaspoons sea salt + a healthy pinch for the onions
2 Tablespoons unrefined, cold-pressed olive oil
2 large onions, halved and thinly sliced
3 large carrots, peeled if desired and sliced in ¼-inch rounds
orange peel from 1 medium-sized orange, peeled using a vegetable peeler- save the fruit for another time
1 cup mixed unsulphured dried fruit such as currants, raisins, or cherries
1 cup pomegranate seeds
½ cup roasted and salted pistachios or roasted slivered almonds, chopped
¼ cup chopped fresh chives or green onions, green parts only
Instructions
Place the rice, 3 ¾ cups water, 1 Tablespoon of ghee, garlic, turmeric, the cinnamon stick and 1 ½ teaspoons salt in a large saucepan. Bring to a boil over high heat. Reduce heat to low, cover and simmer until rice is tender, about 18 minutes.
In a large skillet, heat 1 Tablespoon olive oil over medium-high heat. Add onions and a pinch of salt. Sauté on medium-high heat until tender and golden, about 12 minutes.
Thinly slice the orange peels and add it to a medium skillet with the carrots, water to cover, a drop of oil, and a pinch of salt. Bring to a boil and cook over medium high heat until carrots are tender and water has evaporated, about 10 minutes.
Remove the cinnamon sticks from the rice, add the sautéed onions combine lightly with a fork. Transfer to a large serving platter. Top decoratively with the carrot and orange mixture, dried fruits, pomegranate, pistachios and chives.