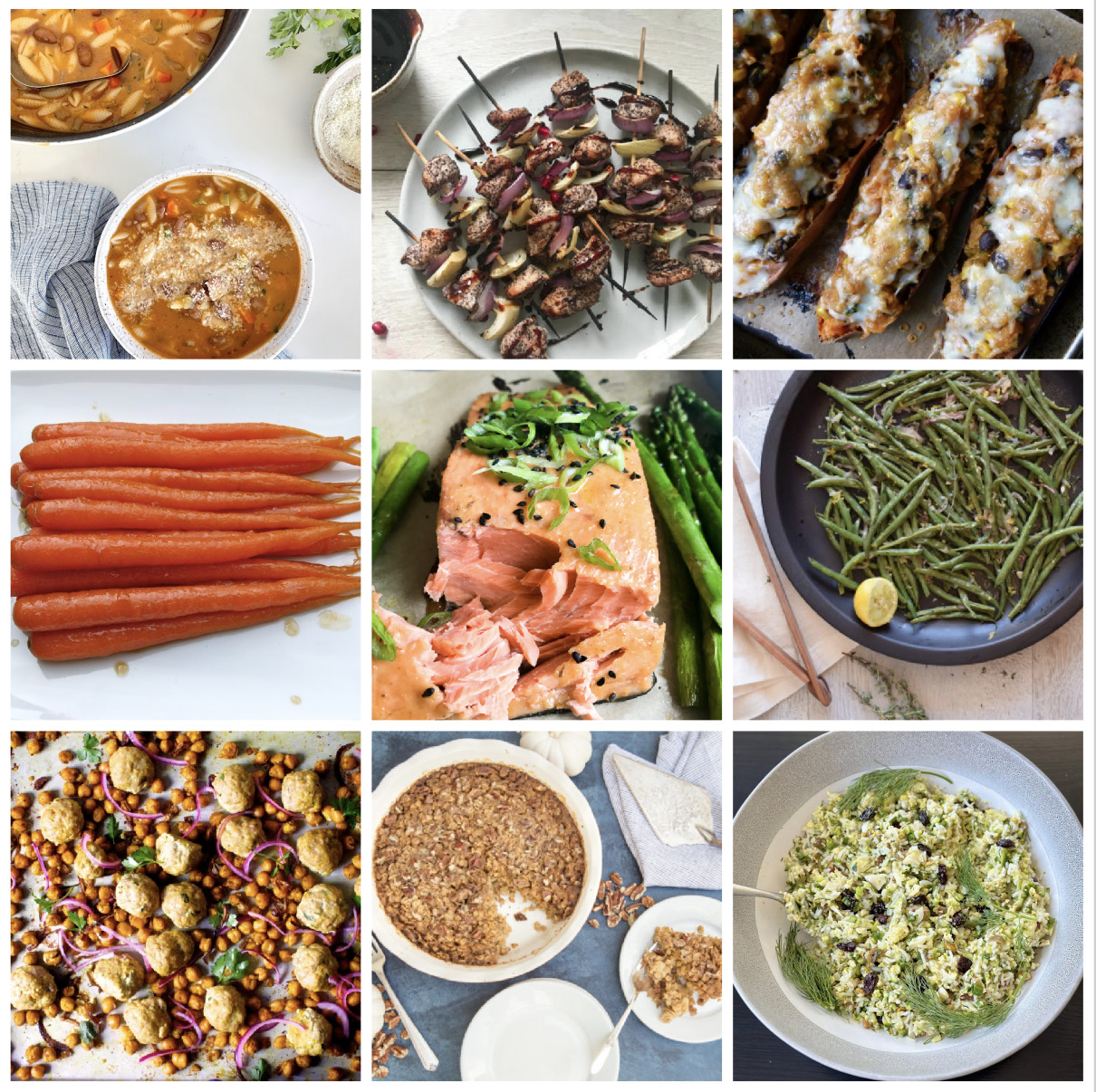 I'm currently on Long Island helping my mom so I'll have to wing it if I can manage an IG live on Monday night. Just check my stories on Monday and I'll let you know then! If you're a monthly cooking class subscriber, we are uploading the new class on October 1st! The theme is Cozy Fall Dinners at Home and the recipes include the following:
Creamy Chicken and Wild Rice Soup, Oven Roasted Salmon with Rice and Coconut-Tomato Sauce, Tamale Pie, Radicchio Salad with Olives and Parmesan, Vegan Chocolate Snacking Cake with Sweet Potato Chocolate Frosting
All the recipes can be made vegan, dairy-free, gluten-free and they are all brand-new! If you are not taking my cooking classes, you should be! Give me an hour a month, and I'll make you a better cook! Here's your dinner planner for the week:
Meatless Monday: Pasta e Fagioli Soup (we love soup for dinner! If we're hungry, I'll add a simple salad or a piece of sourdough toast.)
Tuesday: Sumac spiced chicken, baked parsnip fries. I think I'll also add carrots and sweet potatoes to the sheet pan with the parsnips.
Wednesday: Tex-mex stuffed sweet potato skins, some sort of green salad
Thursday: Brown butter miso-glazed wild salmon, asian slaw, ginger and honey glazed carrots
Friday: Sheet Pan Meat Balls with Crispy Turmeric Chickpeas from Smitten Kitchen – these use ground turkey, but I am sure ground beef or turkey would be delicious! + roasted green beans with shallots and lemon
Saturday brunch: Baked pumpkin oatmeal, served with fresh fruit and full fat greek yogurt or non-dairy yogurt
Sunday: Rice Chopped Salad – you can top this with tuna, turkey or chicken, or cooked beans to make this a complete meal. I even grated hard boiled eggs on top once and it was delicious! It lasts a good 5 days in the fridge too.
Here's what you can do in advance if it helps you:
Sunday:
Make stock if using homemade
Cook beans for soup if making from scratch
Wash salad greens
Make any vinaigrettes
Salt chicken
Wednesday:
Prep veggies for the rest of the week
You can make the oatmeal bake and reheat on Saturday or just assemble Friday and bake fresh on Saturday
Saturday:
Rice veggies for chopped salad or make the entire salad and refrigerate
I have LOVED seeing all your creations of my recipes on Instagram. If you make any of my recipes, please tag me @pamelasalzman #pamelasalzman so I can check them out! I have a free Monday newsletter with my thoughts, new recipes, and things I'm loving lately. Subscribe here!
Order my cookbook, Quicker Than Quick! If you have 1 minute, would you mind leaving a review on amazon? I would be so grateful, thank you! Take a peek at my first cookbook "Kitchen Matters"!