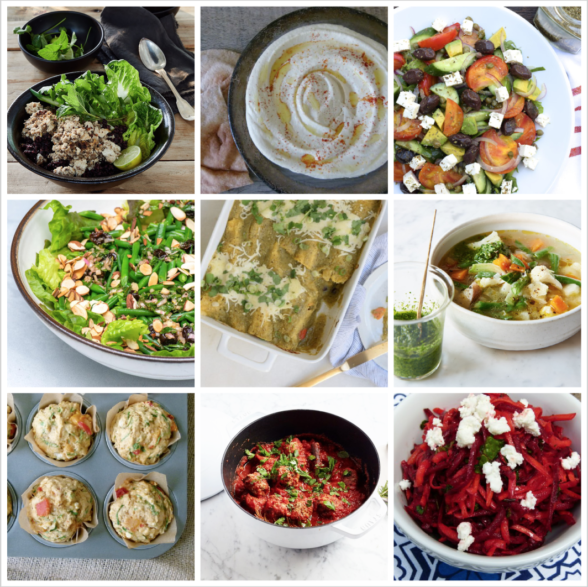 I had such a nice week with my Mom and I know she appreciated the change of scenery (and seeing us!) Some of you may have heard on my IG live last Monday that we are moving, so I am going to be getting my current house ready to put on the market very soon and packing up to move in the next month or so.  We're just moving a mile away and you'll come with us!  Here's your dinner planner for the week:
Meatless Monday: Vegetarian larb p. 283 from QTQ, served with lettuce leaves or black rice or both!
Tuesday: I love this- spread hummus on the bottom of a platter or shallow bowl.  Top with California Greek salad with or without grilled or sautéed shrimp.  The dressing mixes with the hummus and gets creamy and crazy good.  You will freak out.
Wednesday: Mixed greens with green beans and cherry vinaigrette, grilled steak or chicken or poached chicken, or white beans for vegetarians
Thursday: Roasted Vegetable and Black Bean Enchiladas Verdes and a green salad (you can easily add leftover chicken or shrimp to the enchiladas)
Friday: Hearty vegetable soup with kale pesto p. 96 from Kitchen Matters; I usually serve soup as a meal with toast, a salad, crudites and hummus or another dip.
Saturday brunch: savory muffins with feta
Sunday: Moroccan turkey meatballs from Goop served over couscous, moroccan carrot and beet salad
Here's what you can do ahead if it helps you:
Sunday:
Cook rice
Wash lettuce
Make hummus, if making from scratch
Make pesto
Monday:
Make Greek salad
Tuesday:
Blanch green beans
Make enchilada sauce if making from scratch
Make cherry vinaigrette
Wednesday:
Roast vegetables for enchiladas
Thursday:
Make stock
Cut veggies for soup
I have LOVED seeing all your creations of my recipes on Instagram. If you make any of my recipes, please tag me @pamelasalzman #pamelasalzman so I can check them out!
My cookbook, Quicker Than Quick, is discounted for the first time on Amazon!  If you have 1 minute, would you mind leaving a review on amazon?  I would be so grateful, thank you!
Take a peek at my first cookbook "Kitchen Matters"!