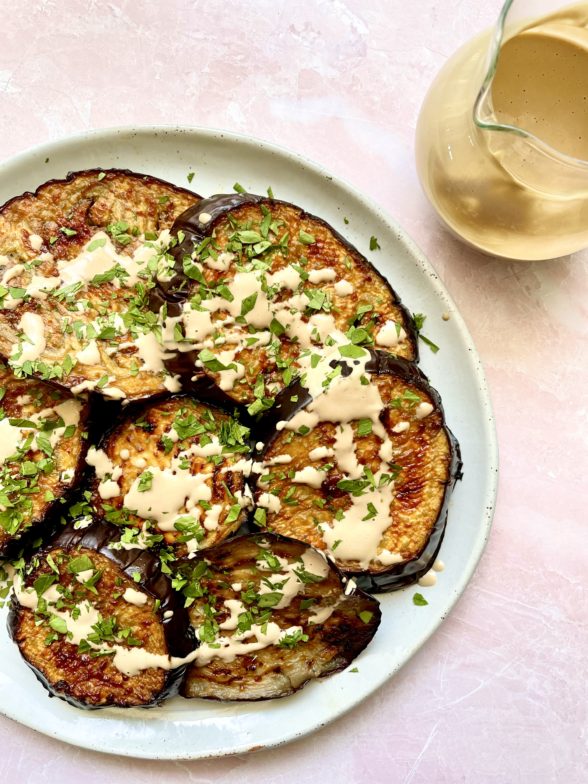 This recipe delivers big results for minimal effort.  Super tender, savory eggplant slices are bathed in a tart tahini sauce that you want to drink with a straw.  Whenever I serve this to guests, I am always asked for the recipe.  I love dishes like this!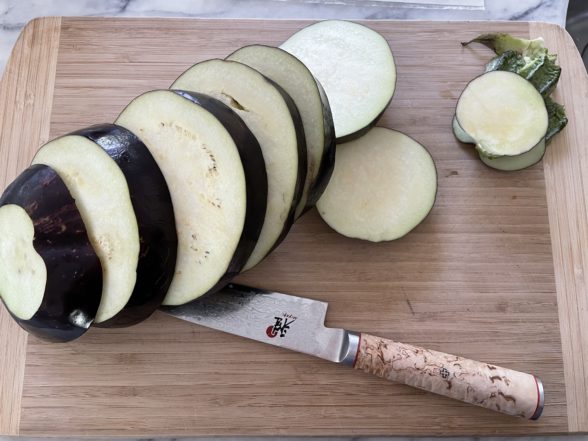 Eggplant is one of my favorite vegetables.  I especially love it roasted and grilled.  It is also meaty enough to stand in for animal protein, so it's one of my go-to's for a vegan main dish.  Eggplant is really a summer/fall vegetable, but sometimes I am craving it in the spring and I just go for it.  As long as the skin is nice and tight, shiny and free of bruises, it's usually a good eggplant.  A green stem is an indication of a fresh eggplant, so steer clear of brown stems.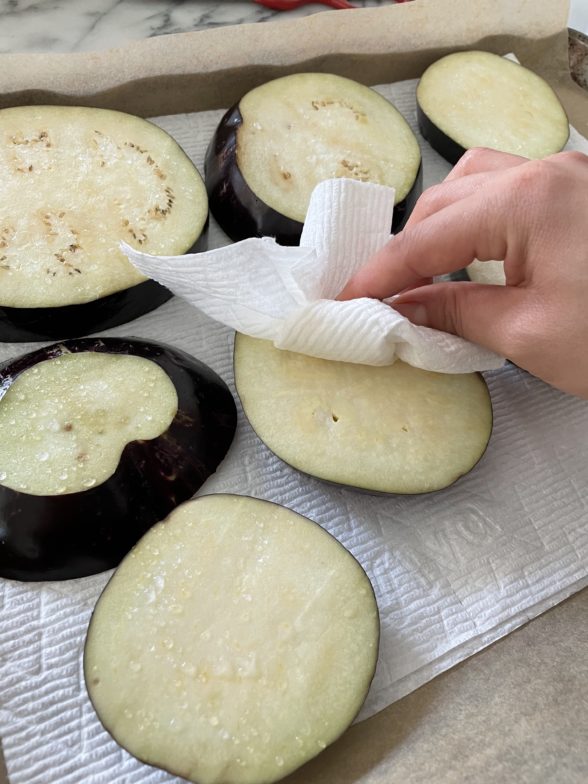 If you have time to sweat out the eggplant slices with salt, do it.  Salt pulls water out of the eggplant and makes it less bitter, but it also makes room for a marinade to get in there.  This miso paste is super simple and just tastes savory, not Asian-y.  It is totally neutral so you can pair the eggplant with almost anything.  Soy sauce or tamari is my secret weapon for making things tender.  I love this pomegranate-tahini sauce here, but you can serve it plain, with feta, with roasted tomatoes and parsley, with a creamy Dijon sauce (there's a great one in Kitchen Matters), a million options!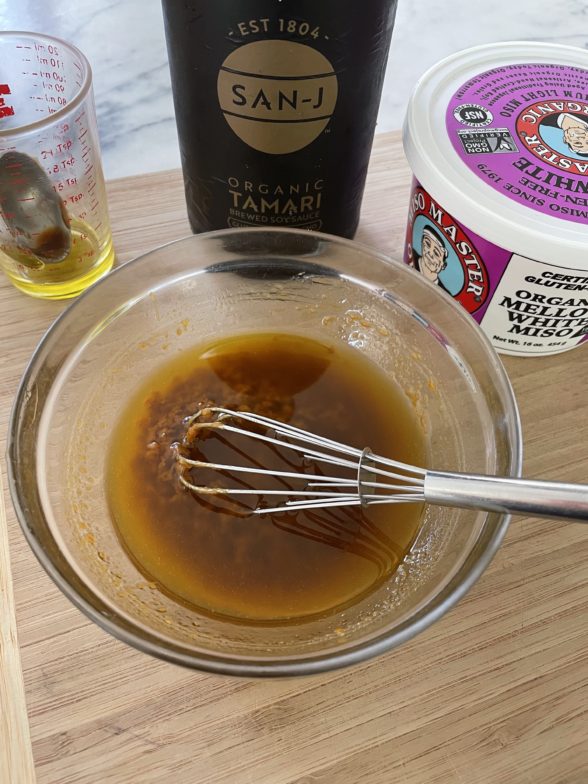 I haven't deviated too far from this recipe, but I imagine you can add a little sriracha to the miso mixture to add heat, or a little honey or maple syrup for a touch of sweet.  If you start adding sesame oil and ginger, then you take it in a less neutral direction, but it would still be great!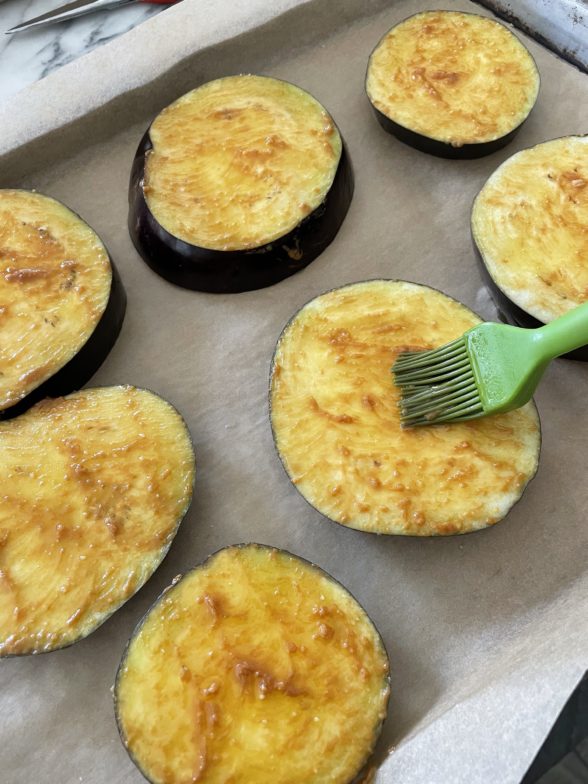 I have had leftovers of this eggplant and it's still fabulous, so it's great for meal prep or a summer get-together.  Anyone excited about entertaining again??  I am!!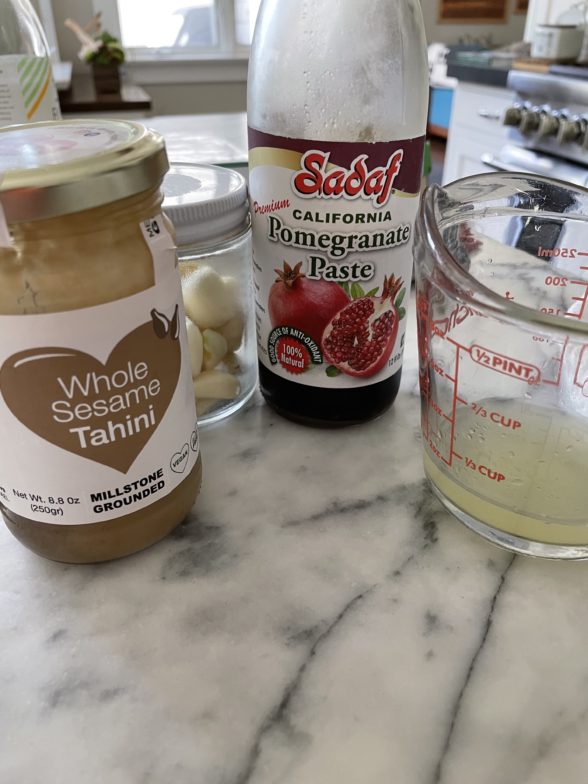 As far as brands and products, I like Sadaf pomegranate syrup/paste and after it's opened I keep it in the fridge.  If you can't find it or don't want to buy it, just make a basic lemon tahini sauce. Tahini is a sesame paste with nothing else added.  It's a great sub for nut butter in many recipes, but there are variations among brands in terms of consistency.  The more runny the tahini, the less water you need to add.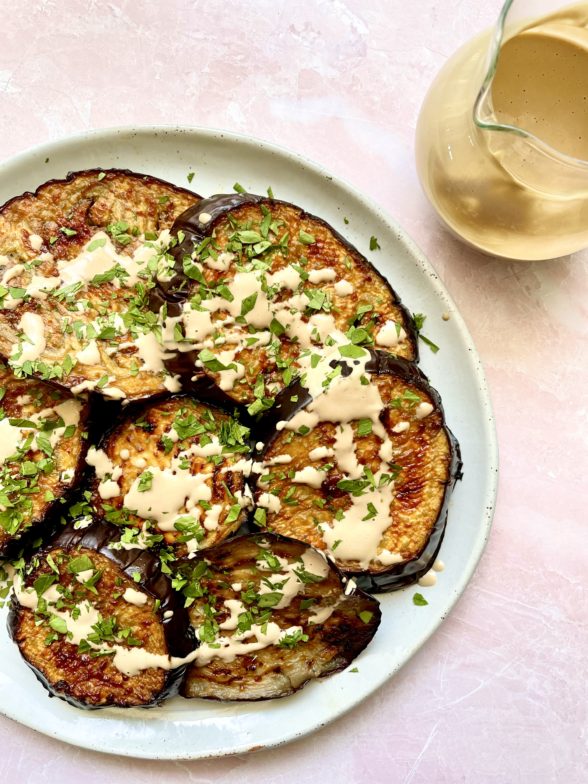 I thought this would be a perfect recipe for Memorial Day weekend, especially if you are doing any grilling.  This eggplant is fabulous with grilled proteins or if you need a vegan main dish at your BBQ!  If you make this recipe or any of my recipes, please tag me on Instagram so I can see your beautiful creations @pamelasalzman #pamelasalzman.
You can shop the tools I used for this recipe by clicking on the images below:

Miso-Roasted Eggplant with Pomegranate-Tahini Sauce
Ingredients
Kosher salt
2 medium eggplants, about 1 ¼ pounds each, unpeeled, stem removed, sliced into 1-inch rounds
¼ cup unrefined, cold-pressed, extra-virgin olive oil
1 ½ Tablespoons mild miso, such as white
1 Tablespoon shoyu, gluten-free tamari or coconut aminos
¼ teaspoon chili paste, if you'd like some heat
Pomegranate-Tahini Sauce (optional)
¼ cup tahini (I used Tahini Goddess which is pretty runny)
2 Tablespoons freshly squeezed lemon juice
1 Tablespoon pomegranate molasses
1 garlic clove (minced if your blender is weak)
¼ teaspoon sea salt
2-5 Tablespoons water (according to how thick your tahini is and how thin or thick you want the sauce to be.)
Chopped fresh flat-leaf parsley and/or mint for garnish
Instructions
Preheat oven to 450 degrees. Line a baking sheet with paper towels and arrange eggplant in one layer on the paper towels. Sprinkle the tops of the eggplant with kosher salt and allow to sit and sweat out for 30 minutes. If you don't have time, just skip this step, but it does take some of the bitterness out of the eggplant.
In the meantime, make the miso mixture: in a medium bowl, whisk together the oil, miso, shoyu, and chili paste, if using, until smooth.
Blot the tops of the eggplant with a paper towel to remove the excess moisture. Remove eggplant from the baking sheet and line with unbleached parchment paper. Brush both sides of the eggplant with the miso mixture and arrange in one layer on the prepared baking sheet. Bake for 20-25 minutes, flipping halfway, until eggplant is golden brown.
While eggplant is in the oven, make the (optional) tahini sauce: in a blender combine tahini, lemon juice, pomegranate molasses, garlic, salt and 2 Tablespoons water. Blend until creamy. Add more water if desired. Taste for seasoning.
Serve eggplant hot, warm or room temperature with herbs and tahini sauce.