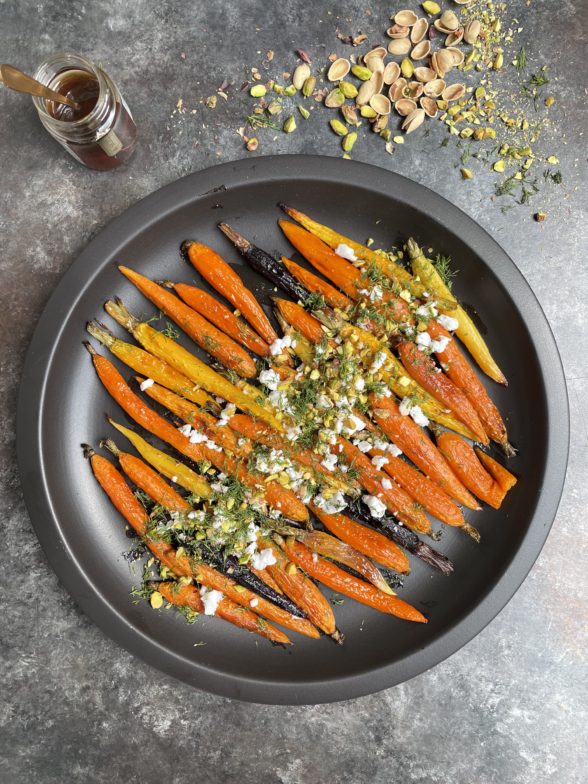 There are not many vegetables that I would call evergreen, but carrots are one of them. I always have them in my fridge and they are pretty affordable and durable.  Carrots were a pandemic staple for me for all of those reasons so we ate them A LOT.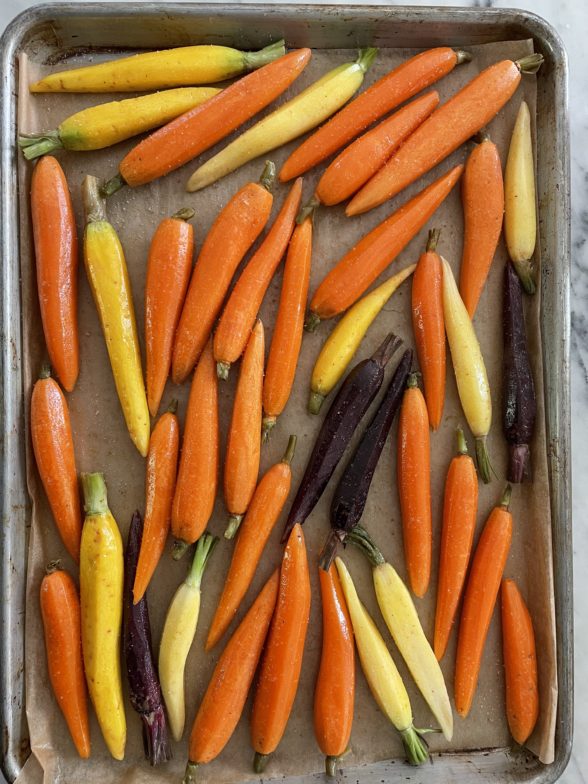 I came up with lots of ways to enjoy carrots over the last year+, but roasting them was out hands-down favorite.  If I have guests for dinner, I'll roast different colors of carrots for a fancier dish.  Everyone always says about roasted carrots, "they taste like candy!"  Everyone except my kids, that is.  They think that is the most annoying expression ever.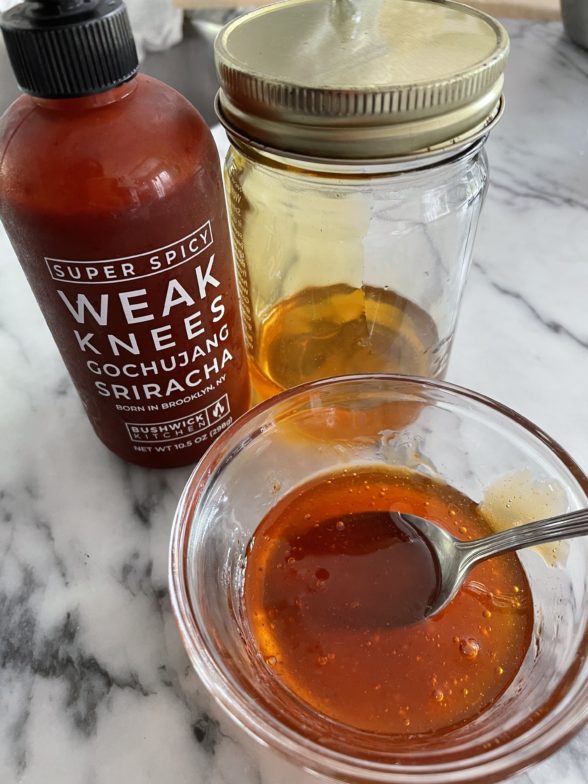 To peel or not to peel?  Here's my thinking – if the carrots are super fresh from your garden or the farmers market, I don't peel. If they are from the supermarket, they're a bit older, and I have a theory that the skin is not as sweet so I peel.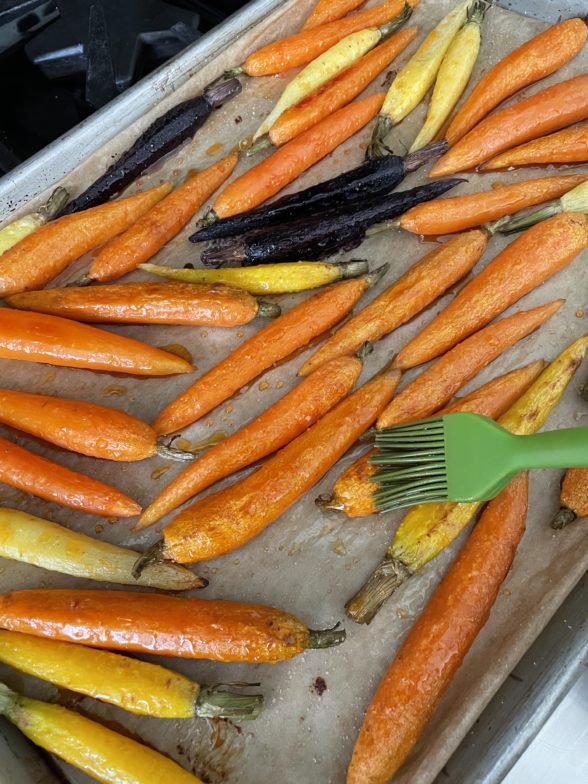 This "recipe" is barely a recipe at all.  It just adds some major flavor boosters (sweet and spicy) and great texture (creamy feta and crunchy pistachios.)  If you like the way these carrots turn out, you can treat other vegetables the same way (eg cauliflower, green beans, and baby broccoli come to mind.)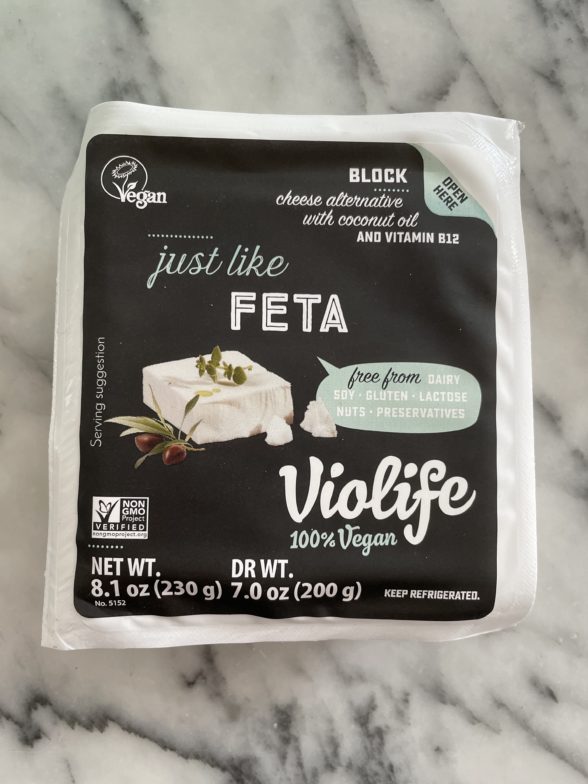 I love feta.  It's why I'll never go 100% plant-based.  I don't eat it often; but when I do, I go for the real deal sheep's milk feta, or a goat-sheep blend.  For those of you who are dairy-free or vegan, Violife (not sponsored) is my favorite plant-based feta.  Creamy, salty, and very close to the real thing!  If you don't want to do real or plant-based feta, swap with diced avocado.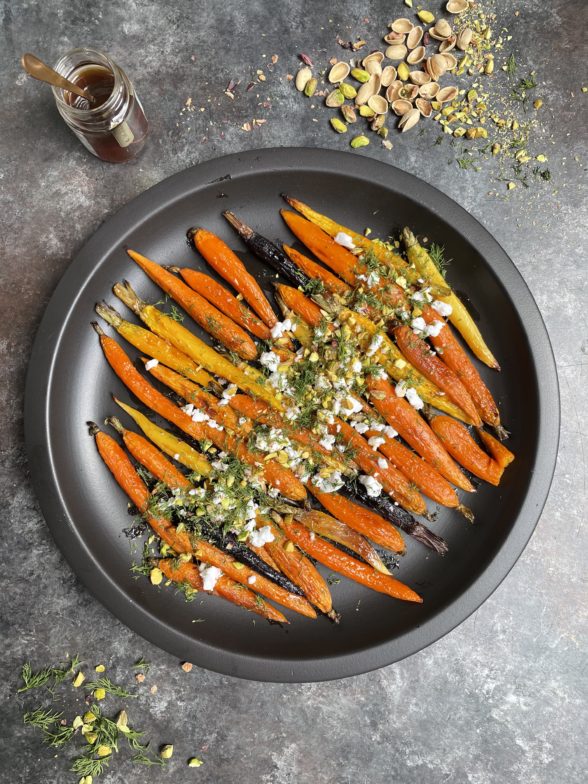 This is an easy recipe with a big payoff – nutritious, a flavor explosion and quickety quick!  Serve this with anything other than something else that is sweet and spicy so you have some balance to your meal.  If you make this recipe or any of my recipes, please tag me on Instagram so I can see your beautiful creations @pamelasalzman #pamelasalzman.
You can shop the tools I used for this recipe by clicking on the images below:

Sweet and Spicy Carrots with Pistachios and Feta
Ingredients
2 ¼ pounds whole rainbow carrots or regular carrots, trimmed and peeled, large carrots cut in half lengthwise or into 2-inch chunks
3 Tablespoons unrefined avocado oil or coconut oil
½ teaspoon sea salt, or more to taste
3 Tablespoons honey or pure maple syrup, plus more for serving
¾ teaspoon sriracha, use more if you like spicy
2 ounces feta, crumbled (sub avocado for vegan or DF)
3 Tablespoons toasted pistachios, chopped or toasted sunflower seeds
2 Tablespoons chopped chives or dill for garnish, optional
Instructions
Preheat oven to 425 degrees or 400 degrees on convection. Line a rimmed baking sheet with unbleached parchment paper. Place carrots on baking sheet and toss with oil. Season with salt. Roast the carrots for about 20 minutes or until slightly golden brown.
In a small bowl, whisk honey and sriracha until well combined. Remove the carrots from the oven and brush with honey mixture. Continue to roast carrots for 10-15 minutes, or until caramelized.
Place the carrots on a large platter. Top with crumbled feta and a drizzle of honey, if desired. Sprinkle the pistachios and herbs on top of the carrots.