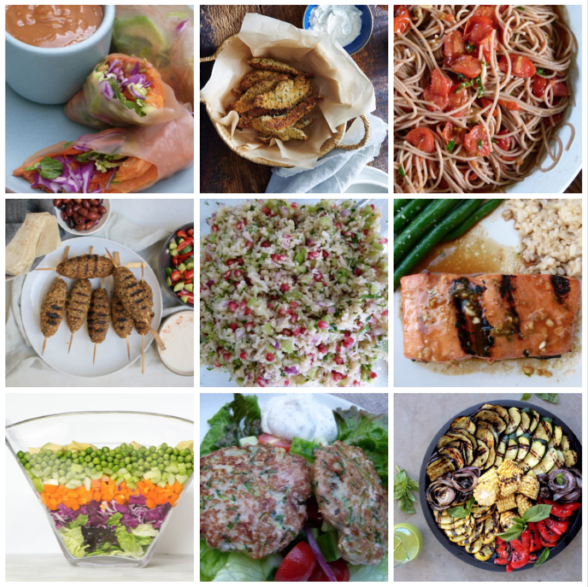 I am hoping you are all doing as well as can be expected right now.  I am loving being with all of my kids, but I miss seeing my friends.  I love sitting down to 3 meals a day with my family, but I miss going out.  I miss teaching my students in person, but the way my online community has come together makes me proud and happy every day.  I am so grateful we have all found each other!
Round 2 of the Healthy Cooking Made Quick & Easy Bootcamp is now open for sign ups.  I never imagined how much I would have enjoyed teaching this 4-week online course.  It exceeded my expectations in terms of the positive feedback I received and the progress that this first group made.  They enjoyed it so much that they asked me to teach another Bootcamp with them!  You can click here to learn more about this course, which starts this Thursday.  I am offering a $50 off early bird sign up discount with the code QUICK50.
Thank you for sharing your enthusiasm about my new book, Quicker Than Quick!  I am thrilled you are loving it as much as you are!!  Here's your dinner planner for the week:
Meatless Monday: Summer rolls with whatever you have in the fridge/pantry.  The rice wrappers are neutral in flavor so that you can add whatever you want.  Set up a DIY bar for the family!  Add black rice salad if you need more.
Tuesday: Ranch Chicken Fingers p. 227 from Quicker than Quick, coleslaw, roasted potato wedges
Wednesday: Pasta with 5 minute cherry tomato sauce with shrimp, grilled broccolini OR Shirataki noodle stir fry
Thursday: Kibbeh Kebabs with lavosh, tzatziki sauce and grain-free cauliflower tabbouleh
Friday: Lime-soy grilled fish, Asian green salad with avocado and oranges from Kitchen Matters
Saturday brunch: 7 layer salad with blue cheese dressing
Sunday: Mediterranean turkey and zucchini burgers and grilled veggies with lemon-basil dressing
Here's what you can do ahead if you need to:
Sunday:
Prep vegetables for rolls
Make crumb mixture for chicken fingers. Store at room temp in an airtight container.
Wednesday:
Make mixture for kebabs
Make tzatziki sauce
Friday:
Make blue cheese dressing
Make lemon-basil dressing
My new cookbook, Quicker Than Quick, is here!  I have LOVED seeing all your creations of my recipes on Instagram. If you make any of my recipes, please tag me @pamelasalzman #pamelasalzman so I can check them out!  If you have 1 minute, would you mind leaving a review on amazon?  I would be so grateful, thank you!
Click here to learn more about my online cooking classes! Through the end of quarantine, choose any cooking class in the library for $10 with the code SINGLE10 and a subscription for future classes for $17  (normally $27/mo.) with the code CLASSES17.
Take a peek at my first cookbook "Kitchen Matters"!