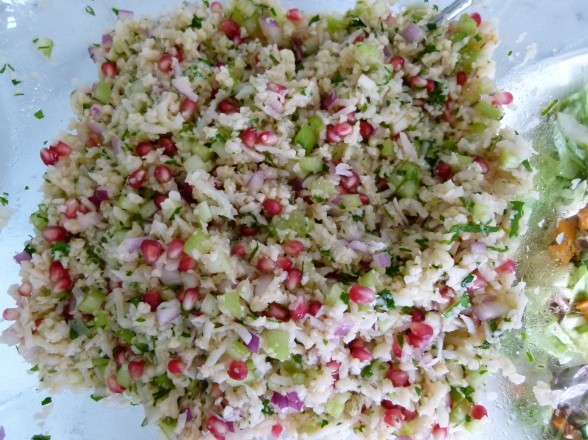 We have had some interesting discussions in my classes lately about the latest findings concerning the presence of arsenic in rice.  Arsenic is a chemical element which occurs naturally in water, air, food, and soil.  This natural form is referred to as organic arsenic.  Arsenic is also the product of contamination from manmade fetilizers and pesticides, as well as burning coal and oil.  This inorganic arsenic is what is linked to certain cancers and has many people concerned.  Inorganic arsenic has found its way into may different foods through soil, as well as into our drinking water, but for some reason rice absorbs it much more than other foods.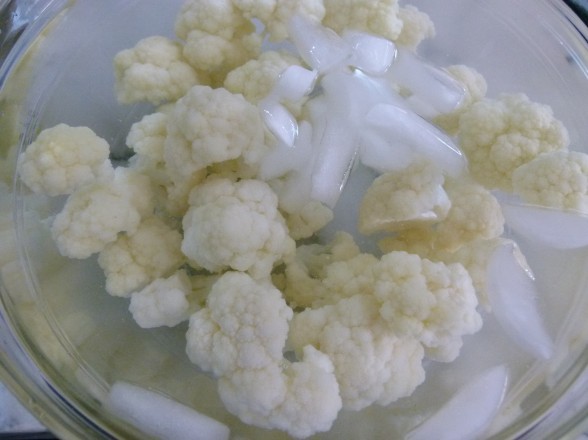 Although I don't take such reports lightly, the jury is still out on just how much arsenic is actually in rice since it varies from region to region (California-grown rice seems to contain less than rice grown in Arkansas, for example) and how much we should limit or not limit our rice consumption.  I'm generally not an alarmist in these situations, so I will be mindful of this information and continue to eat rice in moderation.  But it's a good reminder of why it's important to eat a well-balanced diet of a wide variety of whole foods (90% of the time, of course!).  I'm sure one can do research and find whatever it is we want to hear.  I like Dr. David Katz's interesting point that cancer rates are generally low where rice consumption is highest.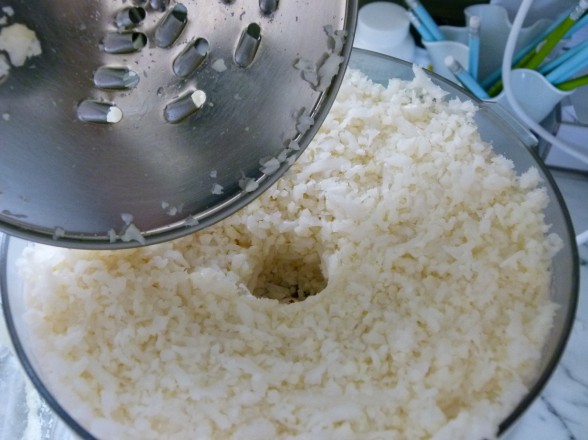 But if you are concerned about your rice intake or you're just looking to expand your horizons a little, have I got the recipe for you!  Cauliflower Tabbouleh uses barely steamed and grated cauliflower in place of the typical bulgur wheat, making this a grain-free,  gluten-free salad.  When the cauliflower is grated, it completely resembles rice in appearance and even texture a little.  It's fun serving this tabbouleh to guests who usually have no idea what they're eating and naturally assume it's rice.  Cauliflower has a fairly subtle flavor, so you really pick up everything else that's going on here with fresh herbs, juicy pomegranates and a sweet-earthy dressing.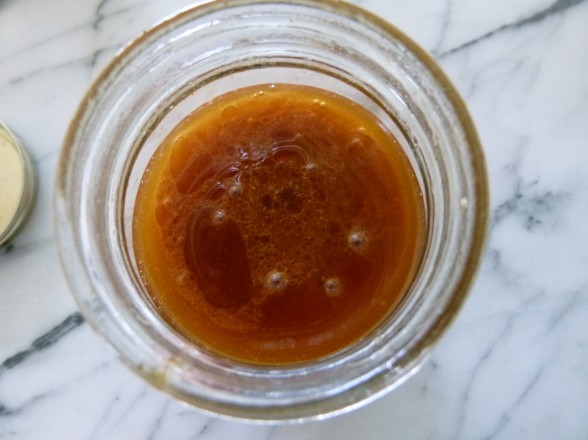 Tabbouleh is traditionally a parsley salad with bits of bulgur wheat, onion, tomato and cucumber.  It's such an awesome, healthful, fresh salad which I really enjoy when the weather is warm.  I make a really yummy version with quinoa that is one of my summer staples.  But this recipe with cauliflower is like an autumnal tabbouleh with some pomegranates for a sweet and juicy crunch.  Many "cauliflower rice" recipes call for the cauliflower to be raw, which I don't enjoy as much as giving it a quick steam or blanche.  Raw cruciferous vegetables are also a tad harder to digest than lightly cooked.  Cauliflower is is very rich in fiber, phosphorus and potassium, and a very good source of Vitamin C, Vitamin K, Folate, and Manganese.  Plus the entire cruciferous family contains powerful anti-cancer compounds.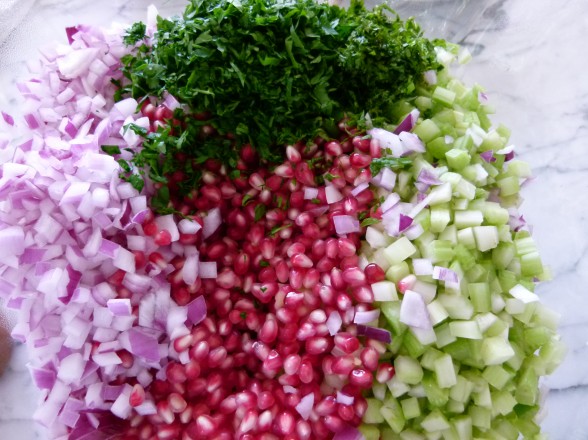 I just made this for Rosh Hashana lunch last week and served it with roast chicken and a few other salads.  The girls got it in their lunchboxes the next day mixed with a few spoonfuls of quinoa and one of them had some feta mixed in as well.  By the way, I am posting photos of the kids' school lunches once a week on Facebook and Twitter in case you're in a lunchbox rut.  I also love this cauliflower with Spice-Rubbed Salmon, grilled chicken kabobs, and even turkey burgers. More importantly, there are so many ways to have fun with this preparation of cauliflower.  I'm thinking about using it in place of rice for a vegetable fried rice, just for fun of course.    No one here is giving up rice that fast!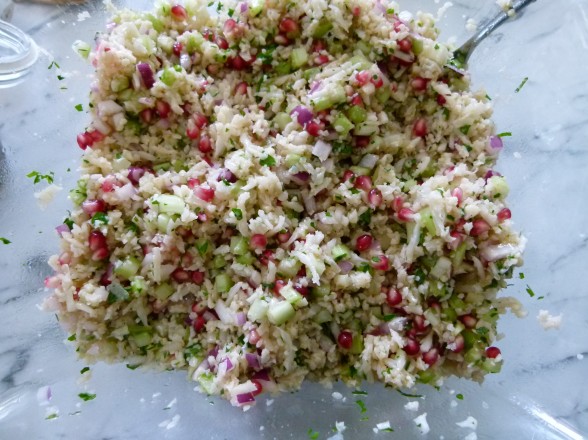 Grain-Free Cauliflower Tabbouleh
Ingredients
1 head cauliflower, cut into florets
Kosher salt for cooking cauliflower
2 cups diced celery, about 5 stalks
Seeds from 1 large pomegranate, about 1⅓ cups
½ cup finely diced red onion or shallot (you can soak in ice water for 15 minutes to take the raw edge off)
¼ cup chopped parsley leaves
2 Tablespoons chopped fresh mint leaves
¼ cup fresh lemon juice
½ cup unrefined, cold-pressed, extra-virgin olive oil
¾ teaspoon cinnamon
¾ teaspoon cumin
¾ teaspoon sea salt
½ teaspoon of freshly ground black pepper or to taste
Instructions
Prepare a large bowl with ice water. Place cauliflower in a large pot with an inch of water and a teaspoon of kosher salt. Bring to a boil and steam cauliflower for 3-4 minutes until crisp tender. Drain in a colander and immediately plunge cauliflower in ice water.
Drain cauliflower and transfer to a clean kitchen towel to dry off a little.
Fit the grater attachment in a food processor and gently grate/shred the cauliflower. It will look like barley or rice. Transfer to a serving bowl.
Stir in remaining ingredients and toss to combine. Taste for seasonings, especially if you allow this to sit. You may need an extra pinch of salt.