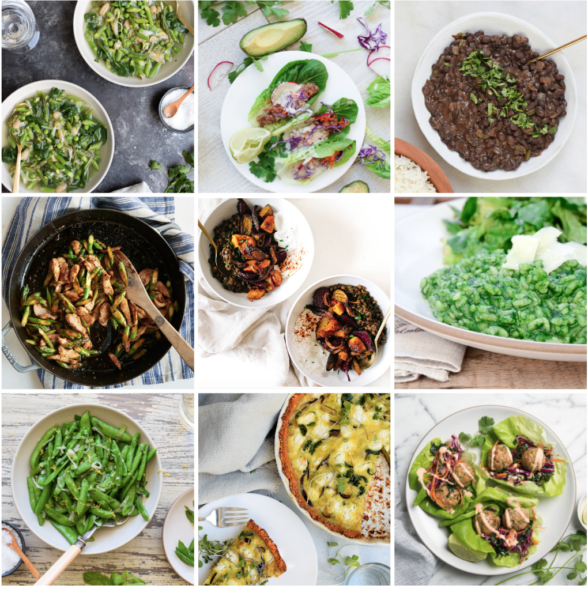 Happy weekend, friends!  For those of you in LA or Orange County, I will be doing a free cooking demonstration at the GORGEOUS Rogers Gardens in Corona del Mar on Sunday, March 17th at 10:00 am.  They also have lots of my cookbooks for purchase and I will stay after the demonstration to sign copies.  If you can't make it, feel free to call over there and reserve books which I can sign on Sunday and you can pick them up or have them sent.  Makes a great hostess gift for Easter or Passover, graduation or Mother's Day gift!
Online cooking class students, your March class is up, so log in to take the class.  I'll be posting my next FB live date soon.  I've had some requests for a weekday, so I'll probably try for this Monday.  Stay tuned!
Here's your dinner planner for the week:
Meatless Monday: Spring Green Minestrone,(since this soup is the meal, feel free to add extra beans or cooked grains like farro) serve with toasted rye bread – drizzle the bread with olive oil, sea salt and rub garlic onto the bread to give it a garlicky aroma. 
Tuesday: Raw Tacos, rice, refried beans and guacamole (recipe here). 
Wednesday: Skillet Chicken with Asparagus from my book , roasted sweet potato wedges
Thursday: Harissa Lentils with Roasted Veggies and Yogurt from Kale and Caramel
Friday: Spinach Risotto and sautéed shrimp, sautéed sugar snap peas with mint (olive oil, garlic salt and pepper + mint at the end)
Saturday brunch: Mushroom Leek Quiche with Sweet Potato Crust , serve with a side salad, olive oil and lemon juice. 
Sunday:  Baked Asian Turkey Meatballs, rice and Asian slaw. 
Here's what you can do ahead if it helps you:
Sunday:  
make stock
make vinaigrette
wash veggies for monday
cook beans unless using canned
Wednesday: 
prep veggies for rest of week
Saturday:  
make meatball mixture
prep slaw ingredients
Here's a link to all my previous dinner planners.