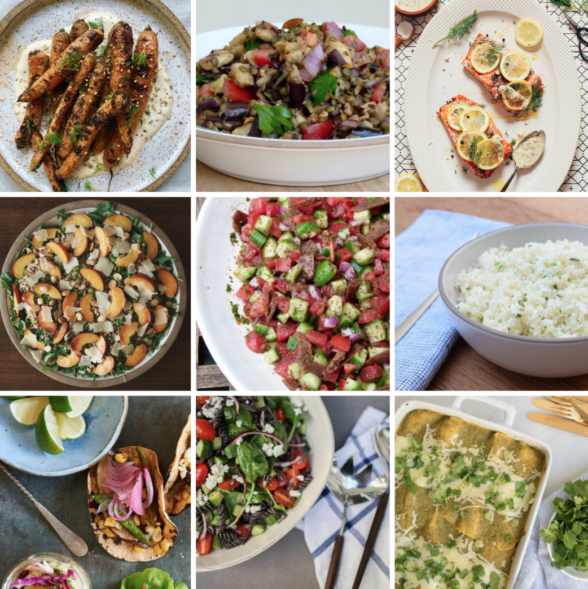 Sorry for the delay in this week's dinner planner.  Wordpress was having some glitches, but all is resolved!  I know many schools are out for summer already.  Wow!  My son still has another week and a half, but I told him I am done with making lunches.  Perhaps I am a less than ideal mother in the home stretch, but I am tapped out!  I will continue to nourish him with lovely, nutritious breakfasts and dinners, of course.
Starting Sunday, I am actually doing my second round of Prolon's Fasting Mimicking Diet this year, my fifth time overall.  So no homemade dinners for me Sunday through Thursday this week.  I have mentioned on the blog and on Instagram many times that I have obsessively researched fasting and its myriad health benefits and I never feel as good as the tail end of the Fasting Mimicking Diet.  It is not easy, but it's not impossible either, and it's also not a crash diet nor a "cleanse."  This modified fast is beneficial for stem cell regeneration, autophagy, and digestive health, among other benefits.  If you're interested in learning more, here's a link to Prolon's site.  They have given me a discount code for my followers if you're interested in trying it out. Use code pamela25 for one 5-day kit and pamela25sub for a subscription if you want 3 kits.
Here's your dinner planner for the week:
Meatless Monday: Grilled Carrots with Tahini Sauce  served with my Lentil and Grilled Eggplant Salad
Tuesday: Quick Lemon Baked Salmon with Garlic Dill Sauce from the Minimalist Baker, sautéed spinach
Wednesday: Arugula and Farro Salad with Peaches, other stone fruit works too! I usually eat this as a meal, but a little shrimp or a simple piece of fish is a nice addition.
Thursday: Fattoush Salad, chicken souvlaki, rice or cauliflower rice if you need more
Friday: Corn, poblano and mushroom tacos from my cookbook, deconstructed guacamole salad
Saturday Brunch: Greek Pasta Salad with sparking lemon water and fresh basil garnish – so refreshing!
Sunday: Roasted Vegetable and Black Bean Enchiladas Verdes and a green salad (you can easily add leftover chicken or shrimp to the enchiladas)
Here's what you can do ahead of time:
Sunday:
Make all dressings, sauces and sides
Wash and prep veggies
Tuesday:
Cook  grains
Friday:
Make pasta salad
Make enchiladas, store wrapped in fridge, bake off Sunday!
Here's a link to my previous dinner planners.
I have LOVED seeing all your creations of my recipes on Instagram. If you make any of my recipes, please tag me @pamelasalzman #pamelasalzman so I can check them out!
Click here to learn more about my online cooking classes! If you like my recipes, you'll LOVE my cookbook!  If you have 1 minute, would you mind leaving a review on amazon?  I would be so grateful, thank you!