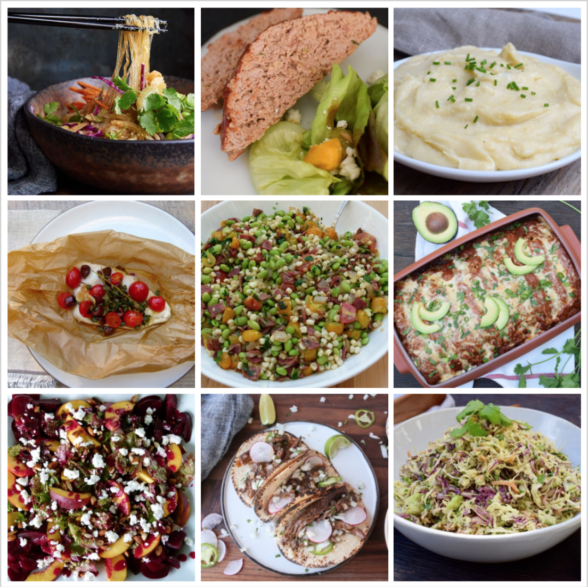 I know it's hot everywhere in the country except where I live and I am wearing a sweatshirt to go on my walks in the morning and my down vest to take the dog out at night.  We never use our air conditioning but we do light the fireplace if we sit outside after the sun goes down.  I have to remind myself that when I plan the week's dinner planner, that most of you are struggling with heat!  When in doubt, put raw veggies, a dip, cheese, tomatoes and bread on a board and call it dinner.  Add olive oil and flaky salt if you have friends over.   Here's your dinner planner for the week:
Meatless Monday: Chili-sesame kelp noodles with veggies p. 163 from Quicker than Quick
Tuesday:  The Best Turkey Meatloaf, sautéed green beans or zucchini, millet cauliflower mash
Wednesday: Mediterranean fish in parchment, Corn and edamame succotash
Thursday: Chicken Enchilada Rojas With Homemade Enchilada Sauce (You can also make this with mostly roasted or grilled vegetables.)
Friday: nectarine goat cheese salad, tomato, olive oil and salt on toasted ciabatta or other crusty bread
Saturday brunch: DIY acai bowl bar (I put out shredded coconut, nuts and seeds, granola, fresh fruit.)
Sunday: slow cooker barbacoa tacos with cabbage and avocado slaw
Here's what you can do ahead if it helps you:
Sunday:
Wash greens
Make meatloaf mixture
Make enchilada sauce
Wednesday:
Cook chicken
My new cookbook, Quicker Than Quick, is here!  I have LOVED seeing all your creations of my recipes on Instagram. If you make any of my recipes, please tag me @pamelasalzman #pamelasalzman so I can check them out!  If you have 1 minute, would you mind leaving a review on amazon?  I would be so grateful, thank you!
Click here to learn more about my online cooking classes! Through the end of quarantine, choose any cooking class in the library for $20 with the code SINGLE20 and a subscription for future classes for $17  (normally $27/mo.) with the code CLASSES17.
Take a peek at my first cookbook "Kitchen Matters"!