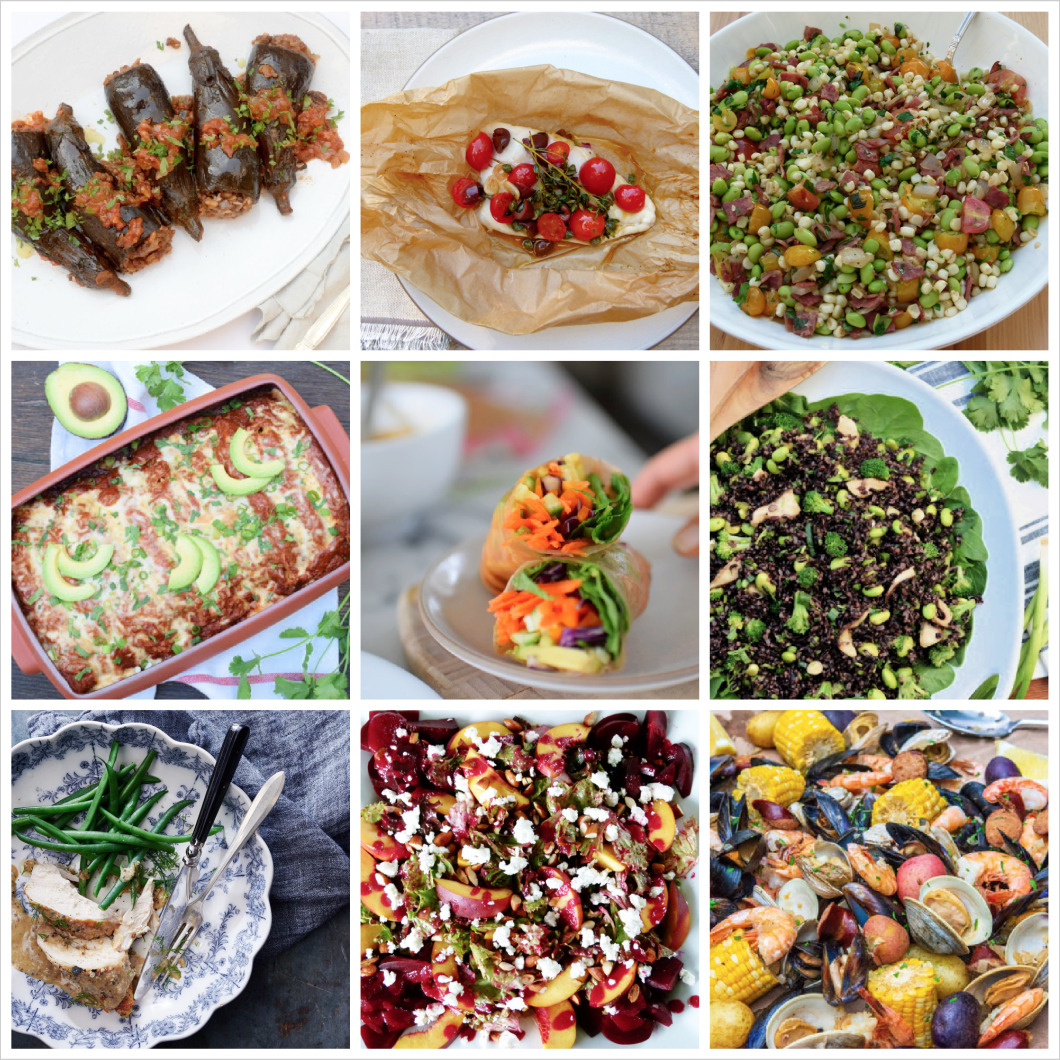 My mom, my aunt and my daughters are visiting this week and through the weekend for a family event and we are having a blast! I am hoping to convince my aunt to join me for my regular Instagram live on Monday at 5:00 pm, but we'll see. My mom needs no convincing and will be there with bells on and an Aperol spritz lol! Here's your dinner planner for the week:
Meatless Monday: Lentil and rice stuffed eggplant, green salad (click here for my favorite everyday salad dressings)
Tuesday: Mediterranean fish in parchment, Corn and edamame succotash
Wednesday: Chicken Enchilada Rojas With Homemade Enchilada Sauce (You can also make this with mostly roasted or grilled vegetables and you can buy good quality enchilada sauce like Siete Foods.)
Thursday: Summer rolls with whatever you have in the fridge/pantry. The rice wrappers are bland so that you can add whatever you want. Set up a DIY bar for the family! Add black rice salad if you need more.
Friday: Instant pot creamy dijon chicken p. 203 from Quicker than Quick, quick sauteed zucchini from Kitchen Matters
Saturday brunch: nectarine goat cheese salad, tomato, olive oil and salt on toasted ciabatta or other crusty bread
Sunday: Clamboil (easier than it looks and SO MUCH FUN!)
Here's what you can do in advance if it helps you:
Sunday:
Cook lentils and rice
Make salad dressing
Wash greens
Make enchilada sauce if making from scratch
Tuesday:
Cook chicken or roast veggies for enchiladas
Wednesday:
Cook black rice
I have LOVED seeing all your creations of my recipes on Instagram. If you make any of my recipes, please tag me @pamelasalzman #pamelasalzman so I can check them out!
My cookbook, Quicker Than Quick, is on sale for $14.99 on Amazon! If you have 1 minute, would you mind leaving a review on amazon? I would be so grateful, thank you! Take a peek at my first cookbook "Kitchen Matters"!