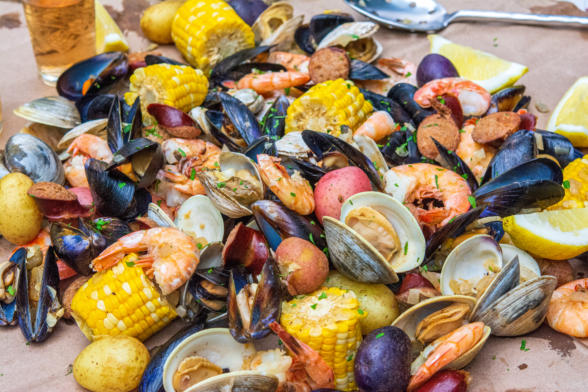 The favorite meal during my summer week on Long Island is always, hands-down, the clam boil.  What's not to love?  It's super fun, delicious, and just screams summer.  In past years my son and my nephew have actually collected mussels at the beach to contribute towards the clam boil.  They require a lot of cleaning, so that doesn't happen every year.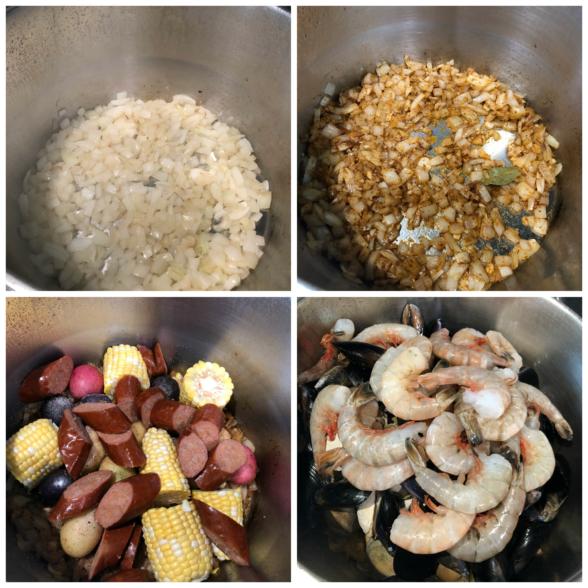 A clam boil makes a great impression with multiple types of shellfish, corn and potatoes all cooked in a savory broth.  I add turkey kielbasa because one of my sisters absolutely loves it and it does enrich the flavor of the broth quite nicely.  Lobster is also a wonderful addition, but it's a little pricey for a crowd.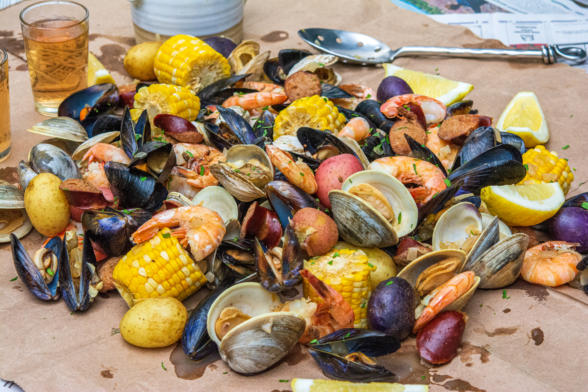 Really, the hardest part about a clam boil is cleaning all the shellfish.  I spend the time to scrub the shells with a brush.  Once they're clean, you just layer everything in a large pot and it all cooks pretty quickly.  You need to time this well because shellfish isn't great overcooked or reheated.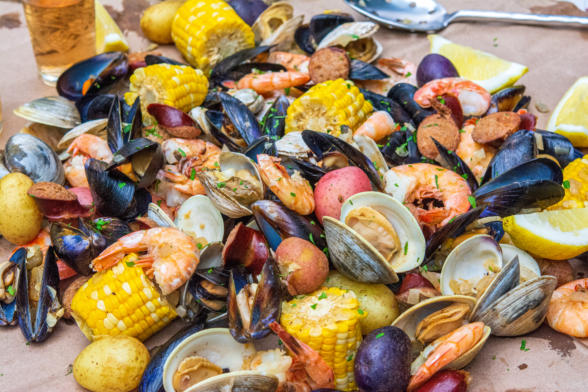 If you find good quality wild seafood and serve this with a nice green salad (I often serve it with a tomato and cucumber salad), I think this makes a light and healthy meal.  Of course, if you've been hanging out here for a while, you know my father needs (is addicted to) bread with every meal, especially one with a sauce or something that bread can sop up.  If you're trying to keep things healthy, forget the bread!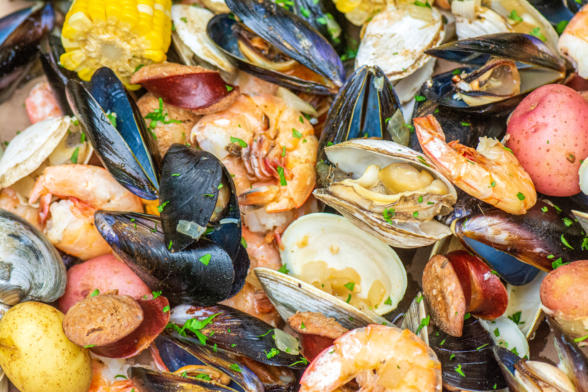 Normally I love giving you options for making recipes to suit your lifestyle, eg gluten-free, vegan, Paleo, etc.  You can certainly omit the corn and potatoes if you don't eat them, but it's hard to find a substitute for shellfish in a clam boil. If you can think of a good vegetarian sub, let me know.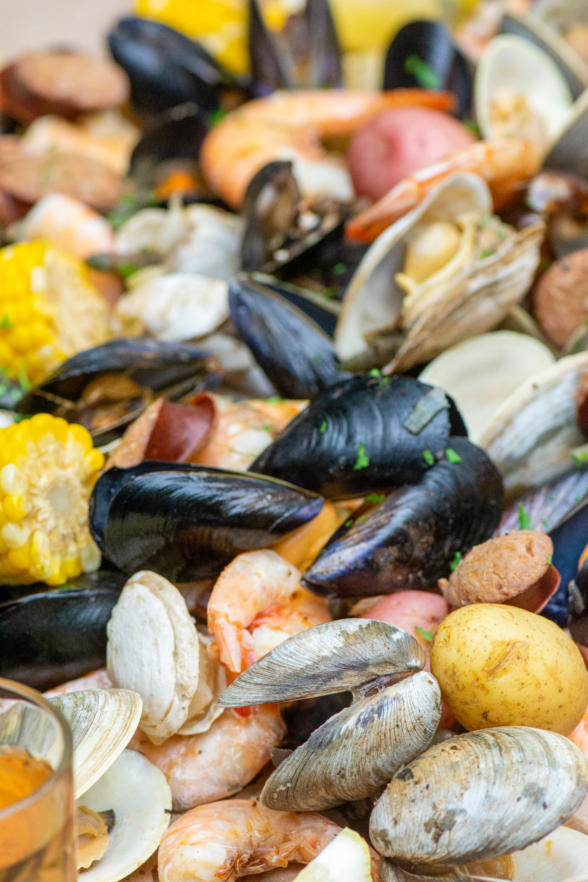 I know I went a little crazy with the photos here, but I couldn't help myself.  They all look so good! Coincidentally, I am making this for dinner tonight (or possibly tomorrow tonight) so watch my Instagram stories for details!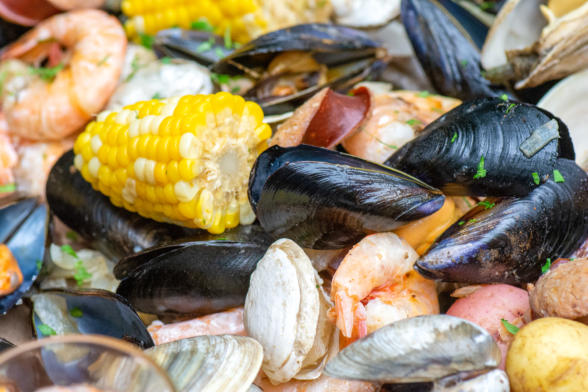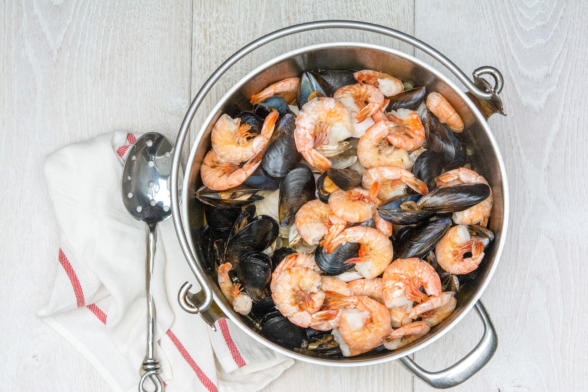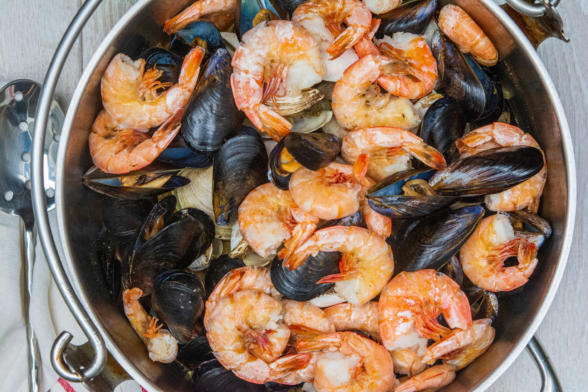 Let me know if you make this or if you have any questions about it.  If you give it a try, please tag me in your photos @pamelasalzman #pamelasalzman so I can see your beautiful creations!
Shop the tools for this recipe by clicking on the images below:

Clamboil
Serves:
6 (even 8 people if you have several side dishes)
Ingredients
2 Tablespoons unrefined, cold-pressed extra-virgin olive oil
2 Tablespoons unsalted butter (or use all oil)
3 cups chopped yellow onions (2 large onions)
6 garlic cloves, finely chopped
1 bay leaf
2 Tablespoons Old Bay seasoning (or less if you don't like any heat)
1 pound small new potatoes (a mixture of Adirondack blue, red bliss, Katahdin is pretty – or cut up Yukon Gold potatoes)
1 Tablespoon + 2 teaspoons sea salt or kosher salt
1 teaspoon freshly ground black pepper
2 ears of corn, shucked and cut into thirds
¾ pound nitrate-free kielbasa (you can find turkey kielbasa), sliced diagonally into 1- inch thick slices
2 dozen littleneck clams, scrubbed*
1 pound steamer clams, scrubbed*(or use all littleneck)
2 pounds wild mussels, cleaned and de-bearded*
1 ½ pounds large (16 to 20 count) wild shrimp, in the shell**
1 750-ml bottle dry white wine (Pinot Grigio, Chardonnay or Sauvignon Blanc) or equivalent amount of fish stock
4 lemons, halved
Instructions
Warm the oil and butter in a heavy-bottomed 16-20 quart stockpot over medium heat. Add the onions and sauté until tender and translucent, about 8 minutes. Add the garlic and sauté until fragrant, about 1 minute. Stir in the bay leaf and the Old Bay Seasoning.
Layer the ingredients on top of the onions in the stockpot in this order: potatoes, salt and pepper, corn, then the kielbasa, littleneck clams, steamer clams, mussels, and shrimp.
Pour wine into the pot.
Cover the pot tightly and cook over medium-high until steam just begins to escape from the lid, about 15 minutes. Lift the lid and check the shellfish – all shells should be wide open. If they are just barely open, cover the pot and continue to cook for another couple of minutes.
Move to your serving platter. Then with a slotted spoon remove the seafood, potatoes, corn, and sausages to a large bowl, platter or brown paper-lined table. Squeeze 2 lemons (4 halves) on top of the seafood. Place the rest of the lemon halves around the seafood for extra seasoning.
Taste the broth in the pot for seasoning. Serve in individual mugs on the side for people to dip. Put empty bowls on the table for people to discard shells.
Notes
If you have leftover broth that wasn't dipped into, use it to make seafood-infused risotto or pasta!
**Keeping the shrimp them in the shell gives them more flavor, but if you want to cook the shrimp out of the shell, ask your shrimp provider/fishmonger if they can devein and shell the shrimp for you to save time. Or, leave in the shell and slice along the backside to remove the vein, but keep the shell on.
*Notes on Buying and Cleaning Shellfish:
Buying:
Generally clams, mussels, and oysters you buy in the supermarket have been purged already. Something to always ask your provider is if the clams have been purged.
If they don't carry the shellfish you are looking for, ask for a good alternative.
How long do they stay fresh for?
Ask your fishmonger when purchasing but always smell and observe before cooking. They should smell fresh like saltwater and never too fishy. They should look and feel fresh as well – no slime or off-color. The general note is they stay fresh for 1-2 days of purchasing in the fridge at 40 degrees F or lower.
As seafood options vary by state, here is my recommended source for more information on sustainable seafood: https://www.seafoodwatch.org/seafood-recommendations/consumer-guides
Preparing:
Your shellfish should smell fresh, with closed, un-cracked shells. If any are open, lightly press together or tap the shells. If they don't close or are cracked, they should be discarded.
Don't hesitate to call your provider if you have any questions or if there are too many dead or cracked shellfish.
Clams:
Rinse your clams under running cold water to remove loose sediment. To purge, transfer your clams to a bowl of cold salted water for 20 minutes in the refrigerator. Leave them uncovered, as they will suffocate if wrapped with plastic. Then lift the clams out of the bowl and transfer to another bowl of saltwater for another 20 minutes in the fridge. After the second salt-water soak and when ready to cook, lift the shellfish out of the water so the sediment remains at the bottom of the pot.
To eat steamer clams, open the shell and remove the cooked clam. Pull off the skin covering the siphon (the little thing that sticks out) of the clam. Discard that skin and eat everything else. Some people find the siphon to be kind of tough and rubbery. You can eat it or not, but it's a convenient handle for dipping the clam in the hot broth!
Mussels:
Before cooking, pull off the beard, the fibrous material sticking out from one side, by pulling down towards the hinge of the shell and outward. Give them a quick scrub with a vegetable brush under cold running water.
Shrimp:
Rinse the shrimp in a colander under cold water, no warmer than room temperature.