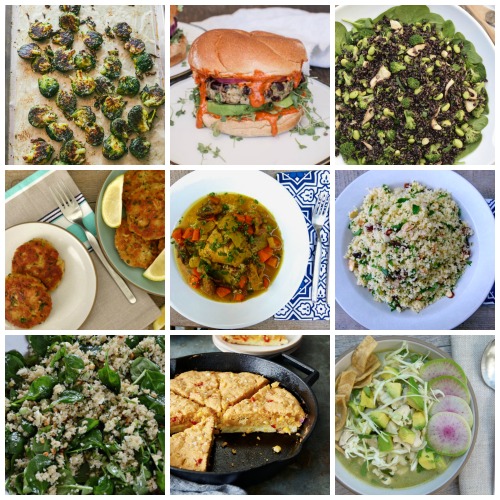 This week is the beginning of Lent.  My mother used to make us give up something for the 40 days of Lent.  We thought we were funny by saying we'd give up liver (ugh, she actually made it!) or boiled Brussels sprouts. After a lot of back and forth, my mother would ask us to give up bickering with each other.  Ha!  Fridays during Lent, I will post a fish or vegetarian/dish.
On another note, I have done an Instagram Live the past few Mondays at 5:00 pm PST.  I think that is a good time, so join me if you're free.  We have a lot of fun!  Here's your dinner planner for the week:
Meatless Monday: Black bean burgers with smoky red pepper sauce,  smashed parmesan Brussels sprouts
Tuesday: Black rice salad with edamame and broccoli and stir fried tofu (check this recipe for the tofu). You could also add any leftover animal protein from another night.
Wednesday (Lent begins): Tuna patties, green salad (I'll probably add red cabbage, radishes and carrots), Everyday Salad Dressing #2, and sweet and spicy sweet potato wedges
Thursday: couscous with dried apricots and herbs, moroccan chicken
Friday: Spinach and quinoa salad with feta and dill, roasted shrimp (toss peeled and deveined large shrimp with olive oil, salt and pepper and spread out in one layer on a sheet pan.  Roast at 400 for 6-8 minutes.)
Saturday Brunch: Tex-Mex frittata corn bread from my book
Sunday: Chicken posole verde with radish, cabbage and avocado garnishes (My son also likes tortilla chips.  We are fine eating just this, but a quesadilla or salad is a nice accompaniment if you need something more.)
Here's what you can do ahead if you need to:
Sunday:
Wash and dry all vegetables and herbs
Make stock
Make salad dressings
Cook black beans, unless using canned
Assemble black bean burgers
Make smoky red pepper sauce
Tuesday:
Cut sweet potato into wedges
I have LOVED seeing all your creations of my recipes on Instagram. If you make any of my recipes, please tag me @pamelasalzman #pamelasalzman so I can check them out!
Click here to learn more about my online cooking classes! If you like my recipes, you'll LOVE my cookbook "Kitchen Matters"!  If you have 1 minute, would you mind leaving a review on amazon?  I would be so grateful, thank you!  My new cookbook, Quicker Than Quick, is available for pre-order!