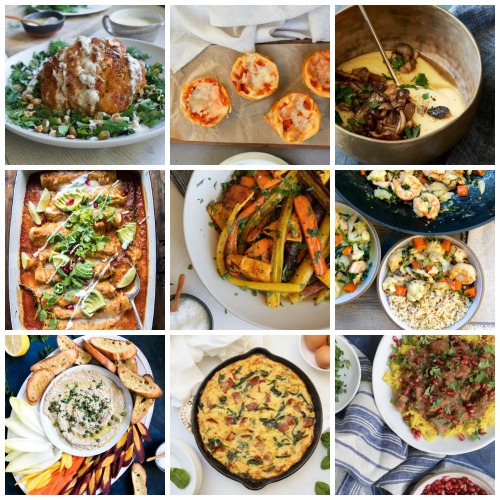 And just like that, Thanksgiving is over and it's December.  Sigh.  We still have the girls home through Sunday, so I've been a little quiet on social media so I can soak in every minute of time we have as a complete family.  It's really what I cherish most about the holidays.  I do love planning and cooking for Thanksgiving, but it all takes a back seat to being together.  Sounds corny and trite, but it's true for me.  I need a little more downtime before I start holiday shopping.  Yikes!  I came up with a mostly plant-based dinner planner for this week.  Always remember that it is easy to swap in plant foods for animal products, and vice versa if that's your eating style.  Feel free to leave me questions at the bottom if you need suggestions.  Here's your dinner planner for the week:
Meatless Monday: Whole Roasted Cauliflower with Tahini Sauce, Raisins, Hazelnuts and Green Herbs served with roasted acorn squash wedges (wash, cut and roast with coconut oil at 400 until tender, about 30-40 minutes)
Tuesday: Lasagna Cupcakes (feel free to add ground meat or a meat substitute), served with broccolini sautéed with thinly sliced garlic (if broccolini are thick, blanche for 3 minutes, drain and then sauté)
Wednesday: Soft Polenta with Mushroom Ragout from my book, garlicky kale from my book
Thursday: spicy poblano, black bean and quinoa enchiladas from Half Baked Harvest – I will use my homemade enchiladas rojas sauce from this recipe, add shredded rotisserie chicken if you'd like.
Friday: Roasted Fish, use this method, Moroccan Roasted Carrots with Orange and  cauliflower fritters
Saturday Brunch: Easy Tuna Dip spread on freshly toasted whole grain or gluten-free bread
Sunday: Fesenjan-style Chicken Stew with Walnut and Pomegranate Sauce, any cooked grain or cauliflower rice, green salad with vinaigrette of choice
Here's what you can do ahead of time if you need to:
Sunday
Make tahini sauce, enchilada sauce (or buy it), vinaigrette
Wash herbs, lettuces
Prep these veggies:  cauliflower, acorn squash, broccoli, kale
Make quinoa
Prep lasagne cupcakes
Cook black beans (or buy them jarred)
I have LOVED seeing all your creations of my recipes on Instagram. If you make any of my recipes, please tag me @pamelasalzman #pamelasalzman so I can check them out!
Click here to learn more about my online cooking classes! If you like my recipes, you'll LOVE my cookbook!  If you have 1 minute, would you mind leaving a review on amazon?  I would be so grateful, thank you!